How to make the perfect frosted berry acai smoothie bowl in a personal blender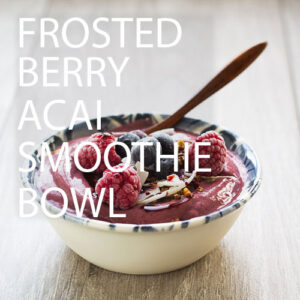 We have all seen a perfectly frosted gelato style acai smoothie bowl, with its ice cream swirls and candy colours. But unless you have a really powerful blender the reality can be quite different. A dreadful crunching noise. The smell of burning motor. By the time you tentatively crush down all the frozen bits, allowing the liquid time to do its work, you have…yay…a smoothie. One that you could drink with a very thin straw.
It is entirely possible to summon up beautifully frozen treats with a personal blender, and we are going to show you how. All it takes is a little forward planning.
To make your frosted berry acai smoothie bowl you will need…
1 large banana worth of frozen banana chunks

4 average size coconut milk ice cubes, made from thick tinned coconut milk

1 cup frozen berries, mostly large ones like strawberries

1 tbsp acai powder

1 tbsp whey concentrate protein powder

1 tsp vanilla

To garnish -

Frozen berries

Coconut flakes

Granola

Date syrup
How much time will I need?
Depending on the heat in your kitchen, you will need about 20 to 30 minutes waiting time to semi defrost your fruit and coconut ice cubes. Once that is done, it takes a few minutes to blend your acai smoothie bowl.
Step by step recipe for frosted berry acai smoothie bowl
Step 1 – semi-defrost
The crucial stage of getting a good texture in your smoothie bowl base is the partial defrosting of the ingredients. Leave the ingredients out to defrost slightly for about 20 to 30 minutes. If your kitchen is hot, they may need less time. You are looking to just take the edge off the hardness so that your personal blender can cope.
If you put the bowl into the freezer it will keep your frosted smoothie colder for longer.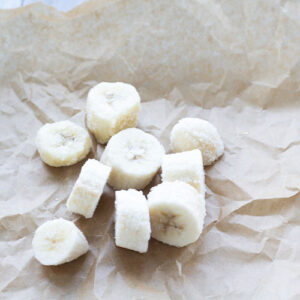 1 large banana, frozen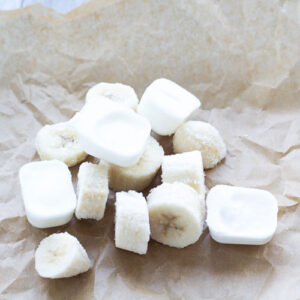 4 coconut milk ice cubes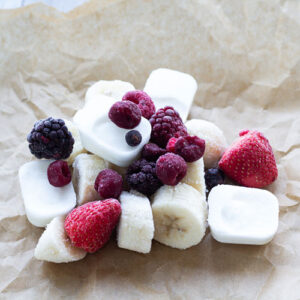 frozen berries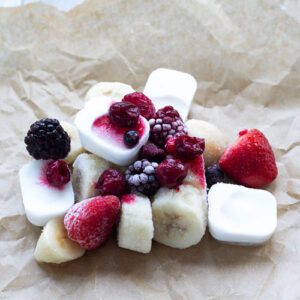 Step 2 – begin blitzing the ingredients
The coconut ice cubes are blended down first as they are harder than all the other ingredients. The whey concentrate and the acai powder add not only nutrients but help with the texture too.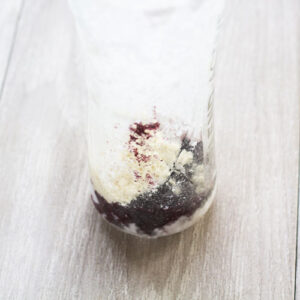 Add the powders and blitz to a fine snow.
Step 3 – add the semi-frozen fruits
Add the semi-frozen fruits to the blender and pulse until the smooth. The combination of the ice and the powders, plus the softened fruits, helps the blender to cope without the ingredients melting down. Notice that we are not adding any liquid at all.
Step 4 – garnish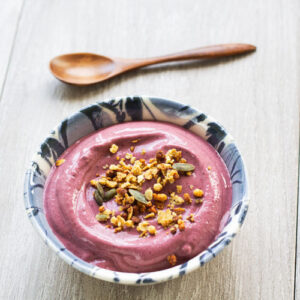 Add a little granola for crunch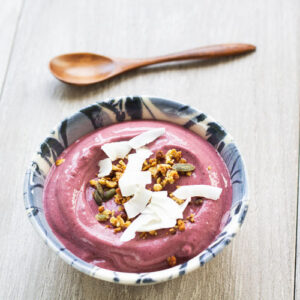 some creamy coconut flakes
beautiful frozen berries
A drizzle of date syrup for extra sweetness.
Eat and enjoy. We hope you have fun experimenting with flavours and textures. Don't forget to visit our bulk buy store for all your acai bowl ingredients.