Acai Bowl
now browsing by tag
There are many good reasons to choose acai berry powder for smoothies.
Yes, as we shall see, acai (pronounced ah-sah-EE) is one of the most concentrated sources of antioxidants that nature has provided. And yes, it has flavour and textural qualities that make it the perfect ingredient for making smoothies. Yet there is another reason that we should feel good about consuming acai. Quite simply, acai is good for the rainforest, good for the farmers, and good for the communities they call home.
In this post we examine all of these reasons and then let you decide for yourself if acai really is amazing. Let's start at the beginning.
What is acai?
Acai is the fruit of the acai palm, a towering tree native to Amazonian forests. A tall thin tree that grows up to 25m, with beautiful slender palm fronds several metres in length. Known as acai berries, but actually stone-fruits like plums or cherries, the inch-round fruits grow individually along grouped branches. Green when growing, purple-black when ripe, the acai berries contain mostly seed surrounded by a thinner layer of pulp.
Where does acai grow?
Acai grows in the forests across the Amazon basin. Largely thought of as a Brazilian superfruit, acai is actually grown in all the areas of the Amazon. Brazil makes up over half of the area, but the rainforest stretches through Peru, Colombia, Bolivia, Venezuela, Ecuador, Guiana, French Guyana, and Suriname.
How are acai berries harvested?
Acai berries are harvested by hand, by local ribeirinhos using traditional methods. With a palm leaf wrapped around the foot for traction they scale the trees, cut down the huge laden branches, and slide back down again. Then they pack the berries into woven baskets where they are taken by boat to be processed. Acai berries are a staple food in these regions, where they are soaked to soften the skin and then mashed. The fruits deteriorate within 24 hours so those destined for export are pulped and frozen within hours of harvesting.
The rising popularity of acai
Acai berries began to be exported in the late 1990s and have become one of the most economically important products of the region. Across the western world, demand for acai has continued to rise and with it the value. It seems that we just can't get enough of this little Amazonian superfruit and the purple pulp finds its way into everything from juices and smoothies to soap and skin cream.
More often than not, when popularity of an indigenous product rises (like palm oil for example) it creates a monoculture. With all of the social and environmental issues that go with it. But acai resists mass production and will only survive and thrive within the biodiversity of the rainforest. Helping to rebuild vital ecosystems, rather than destroying them, the demand for acai has had a positive impact on the regions economy. Initiatives supporting sustainable production have sprung up across the Amazon basin, creating a stable income for the forest families.
Why acai is good for you.
But what fuelled this desire for acai, a little fruit from the far flung corners of the Amazon? Its nutrient dense status as a superfood. High in healthy fats (remember this a fruit we are talking about) and low in sugar, acai is a source of low calorie fibre that comes in at about 70kcal per cup.
One of natures most concentrated sources of antioxidants, acai is true glow food; inside and out.
Anthocyanins, that give produce its purple colour, lower oxidative stress and inflammation. By improving blood flow they have a positive effect on everything from wrinkles to heart health and memory.
Acai is full of anti-ageing vitamins A and vitamin E, as well as calcium. Essential fatty acids slow down release of the fruit sugars providing slow steady energy. Fibre keeps you fuller for longer.
Acai berries are a true superfood. Find out just why superfoods are so good for you.
What does acai taste like?
Described as a creamy berry flavour with bitter chocolate notes, acai shares flavour compounds with red wine and cacao. The fats give it the creamy taste and texture that make it so perfect for smoothies, with a rich fruity tartness that can only berries can bring. It has an earthy element, with tones of blackberry, raspberry and pomegranate.
What is the best acai for smoothies?
Although the rise of the acai bowl was built upon frozen acai pulp, it is freeze-dried acai powder that has made its home in our pantry. Highly concentrated, and easy to blend, a little acai powder goes a long way. Avoid juice, even unsweetened with no additives it does not have the nutrient value of pulp or powder.
Take a look at our organic acai berry powder.
How to use acai for smoothies
Add a tablespoon of acai to your smoothies and acai bowls for a pretty purple hue, massive nutrient boost, and fantastic flavour. Acai pairs particularly well with the sweet creamy flavours of bananas, milks and dates. As well as the sharp fruity flavours of other berries. It also likes chocolate. But who doesn't. Because of its fat content, acai brings a surprising richness to the palate.
So, as you can see, acai is about way more than just the spring in our step or the glow on our skin. And we think that is truly amazing.
Check out our range of superfoods Australia and take advantage of some great value bulk buys.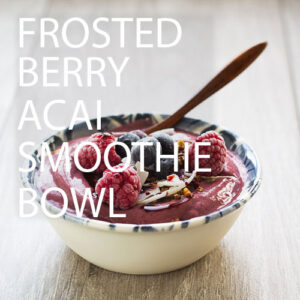 We have all seen a perfectly frosted gelato style acai smoothie bowl, with its ice cream swirls and candy colours. But unless you have a really powerful blender the reality can be quite different. A dreadful crunching noise. The smell of burning motor. By the time you tentatively crush down all the frozen bits, allowing the liquid time to do its work, you have…yay…a smoothie. One that you could drink with a very thin straw.
It is entirely possible to summon up beautifully frozen treats with a personal blender, and we are going to show you how. All it takes is a little forward planning.
To make your frosted berry acai smoothie bowl you will need…
1 large banana worth of frozen banana chunks

4 average size coconut milk ice cubes, made from thick tinned coconut milk

1 cup frozen berries, mostly large ones like strawberries

1 tbsp acai powder

1 tbsp whey concentrate protein powder

1 tsp vanilla

To garnish -

Frozen berries

Coconut flakes

Granola

Date syrup
How much time will I need?
Depending on the heat in your kitchen, you will need about 20 to 30 minutes waiting time to semi defrost your fruit and coconut ice cubes. Once that is done, it takes a few minutes to blend your acai smoothie bowl.
Step by step recipe for frosted berry acai smoothie bowl
Step 1 – semi-defrost
The crucial stage of getting a good texture in your smoothie bowl base is the partial defrosting of the ingredients. Leave the ingredients out to defrost slightly for about 20 to 30 minutes. If your kitchen is hot, they may need less time. You are looking to just take the edge off the hardness so that your personal blender can cope.
If you put the bowl into the freezer it will keep your frosted smoothie colder for longer.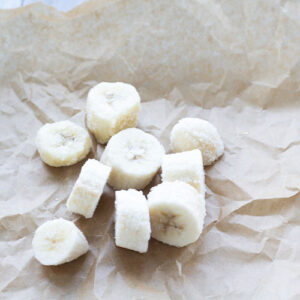 1 large banana, frozen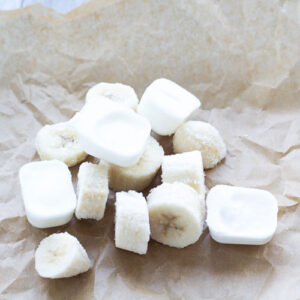 4 coconut milk ice cubes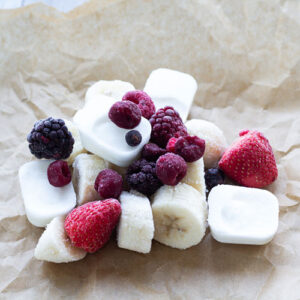 frozen berries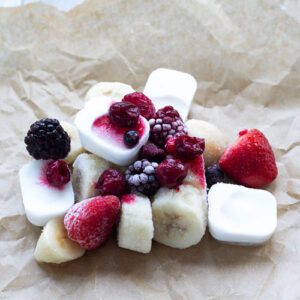 Step 2 – begin blitzing the ingredients
The coconut ice cubes are blended down first as they are harder than all the other ingredients. The whey concentrate and the acai powder add not only nutrients but help with the texture too.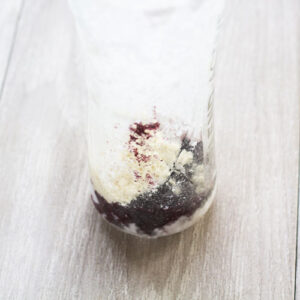 Add the powders and blitz to a fine snow.
Step 3 – add the semi-frozen fruits
Add the semi-frozen fruits to the blender and pulse until the smooth. The combination of the ice and the powders, plus the softened fruits, helps the blender to cope without the ingredients melting down. Notice that we are not adding any liquid at all.
Step 4 – garnish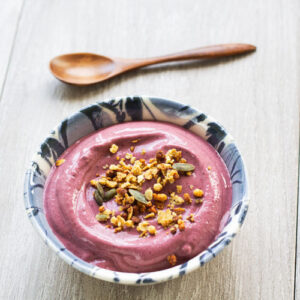 Add a little granola for crunch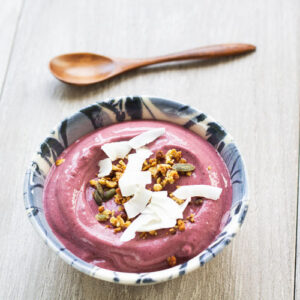 some creamy coconut flakes
beautiful frozen berries
A drizzle of date syrup for extra sweetness.
Eat and enjoy. We hope you have fun experimenting with flavours and textures. Don't forget to visit our bulk buy store for all your acai bowl ingredients.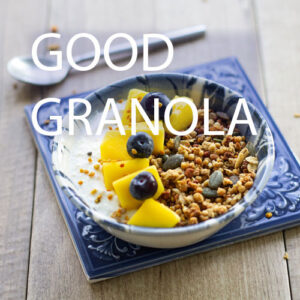 In this article we look at why good granola is the key to a great healthy acai bowl, but first we should probably clear up some of the semantics surrounding all things bowl and breakfast. And explain just where granola sits in the grand scheme of things.
Then we can talk about why it is really important to get the good stuff.
Let's jump straight in…
What's the difference between an acai bowl, a granola bowl, a bowl smoothie, and a breakfast bowl?
The difference between all these terms is really just semantics. The original acai bowl was made with acai and kickstarted the trend for healthy fruit based bowls at breakfast. Hugely similar to the bowl smoothie, the base contained acai puree blended into a semi-frozen almost gelato-textured  thick smoothie. The top was dressed with insta-ready fruits, nuts and seeds. Strictly speaking the acai bowl should still be focused on acai, although now it can feature acai powder instead of puree. In reality though, the term acai bowl covers many bases.
The granola bowl is really more of a yoghurt/fruit combo, dressed in the same way as an acai bowl with plenty of fruit and, you guessed it, granola. The granola bowl is fairly interchangeable with the smoothie bowl, featuring a stiff smoothie base instead of yoghurt. The arrival of fruit powders has allowed this line to blur quite considerably as yoghurt mixes well with fruit and superfood powders.
A smoothie bowl is a thick smoothie, again with that semi-frozen gelato like texture, topped with an insta-ready array of fruit, nuts, seeds, and/or granola.
Breakfast bowl is a catch all term for the above and beyond. Often used to denote the fruit based bowls we have discussed above, but also anything that goes in a bowl served as breakfast. Anything from buddha bowls to a full on fry up. Granola optional.
Does an acai bowl always contain granola?
As we have seen, just as an acai bowl does not strictly require acai, it does not necessarily need granola. But granola is a great addition to these smoothie bowls, whatever name you call them by. Already chock full of nuts, grains and seeds, it is a handy shortcut to adding them all one-by-one. Not only that, granola has textures and tastes of all its own and is way more than the sum of its parts.
What goes into a good granola?
So here the crowd divides. A good granola is largely a matter of personal taste. Some like a lot of cereal. Some like a lot of sugar. Many prefer a soft chewy more-ish ness to a crisp crackling crunch. Others don't like nuts. Others are allergic to nuts. Certain people choose not to eat grains with gluten. Some of them don't eat grains at all. Really though, a good granola will be packed with a balance of high quality ingredients and will reach an acceptable level of nutrient density. Oats, butter, and sugar (and not in that order) may be delicious but they won't be winning the superfood sweepstakes any time soon. On the other hand, a good proportion of nuts and seeds, fruit, and low sugar ingredients and flavours will get you plenty of nutritional bang for your buck.
Granola will generally contain, in varying amounts, the following ingredients…
Cereal base
Sometimes softly moreish, sometimes with more of a crunch, it is the grains in granola that give it texture and bulk. Although sometimes deemed gluten-free, as it is the processing of oats not the grain itself that can contain gluten, oats are often the main cereal in granola and are considered a gluten grain. Other cereals are present in granola and can add interest and texture, as well as nutrient diversity. True cereal grains such as rye, spelt, barley and rice all contain gluten. Pseudo grains such as buckwheat, amaranth, quinoa and millet tend not to contain gluten. On a Paleo diet, most grains are not allowed, although personal preference and nutritional tolerance is take into account.
Nuts
Although many varieties of nuts appear in granola, you would usually only find one or two types at a time. Nuts can be fairly strongly flavoured and too many varieties at once will just confuse the palate. Some people prefer no nuts as they can have a heavy going kind of crunch. But if you do like nuts in your granola, then plenty of them is a good indicator of quality as they are an expensive ingredient. Almonds, pecans and hazelnuts are particularly popular.
Seeds
Seeds are a particularly nutrient dense addition to any granola, and they add a particularly pleasing kind of crunch. Paleo granola will contain many seeds in place of cereal to make up bulk.
Fruit
Another crowd divider. Although fruit can be nutrient dense, it also brings with it more sugar. There is also the question of texture – some people just don't like the chewy bits. Raisins are the mainstay of basic granola, but look out for berries such as blueberries, cranberries or even raspberries. Apple is a nice addition to a granola, and of course there is the tropical trilogy of pineapple, mango and papaya. Apricots, dates and sour cherries have all been known to make an appearance.
Other bits
Chocolate chips (or their superfood cousin cacao nibs) are another crowd divider. There are those who do and those who just don't. Coconut flakes tend to be present in tropical type mixes but can also find their way into other types of granola too. If you like coconut then it can be a good way of adding sweetness.
Sweeteners
Most granola will have some form of sweetness added to it, other than the natural sweetness of dried fruit. It is the toasting of ingredients and the addition of fat and sugar that makes granola granola and not muesli. Honey and maple syrup bring more depth of flavour. Alternatives may include agave or date syrup. A good quality granola will be sweetened with unrefined sugars such as honey or maple and keep these to a minimum.
So, although choice of granola for your healthy acai bowl is a personal thing, quality is important. Look for low sugar varieties made with plenty of good quality ingredients such as nuts, seeds, alternative grains and dried fruit.
Is it important that my granola is organic?
Organic, or at the very least minimum intervention, is important in terms of flavour, quality, and also for the environment. What this means is that although farmers may strive to follow organic farming methods, actual certification may be financially out of reach and take years to achieve. Modern intensive farming methods have been particularly over used in cereal cropping and that has led to a decline in biodiversity and natural habitat. Most farmers understand the importance of the slower more natural approach and by supporting the smaller farmers we are making a bid for better quality food.
What are the different types of granola?
There are many types of granola you could choose for your healthy acai bowl.
Classic granola (R.A. C.  perfect for the acai bowl or smoothie bowl)
Then there is always porridge, muesli and bircher muesli for the days when you want a change. Breakfast will never be boring…
Get a wide range of the better quality healthy granola products online at operafoods.com.au
Check out all of our acai bowl ingredients or buy in bulk online from our store.
Organic Cacao Nibs by Boost Nutrients is amoung ideal organic wholefood ingredients & toppings for an acai bowl or granola bowl and nutritious breakfast smoothies. The only ingredients of organic cacao nibs organic are of course organic cocao beans.  Cacao Nibs are tiny chunks of crushed cacao beans which contain a chocolaty as well as slightly bitter flavour. These cacao beans are a natural plant food produced from beans of the cacao tree. Our Organic Cacao Nibs contain 300 photochemical, flavonoids as well as 4 times the antioxidants of dark chocolate. Cacao nibs are regarded as the greatest source of antioxidants of natural plant products. Great foods to boost your immune system
Antioxidants are helpful for preventing age symptoms as well as assisting with several kinds of disease. Raw cacao is also good for the central nervous system; hence, the professionals of health suggest having raw cacao every day. Raw cacao nibs are gluten-free.
Boost Nutrient brand Organic Cacao Nibs are  packed in resealable bags. We always suggest keeping all unopened packs in a cool and dry place.  Never keep the bags open as it may get moisture.
Visit the Boost Nutrients website for more details. Buy Organic Cacao Nibs wholesale now and grab online discounts for bulk orders.
Organic Acai Powder by Amazon Power, available from Boost Nutrients is 100% pure acai fruit freeze dried. Organic Acai Powder truely is a magnificent concentrated natural food supplement. The perfect way to boost your nutrients with an easy healthy breakfast.
It is termed as an antioxidant power house and it contains no preservatives. Amazon's Organic Acai Powder is ideal for a home made acai bowl or granola bowl topping and for smoothies and juices.
This Organic Acai Powder 250g is a magnificent concentrated natural food supplement. Our high quality Organic Acai Powder helps to develop immune system of individuals and will increase your energy. It is rich in protein, fiber, carbohydrates, minerals and vitamins.
Opera Foods delivers Organic Acai Powder to Consumers Direct and to retailers in Brisbane, Sydney and Melbourne overnight along with our Boost Nutrient brand products. Boost Nutrients also provides consumers directly from our online store.
Visit our online organic store for more information. Book your favorite product now and get online discounts on this and many other products.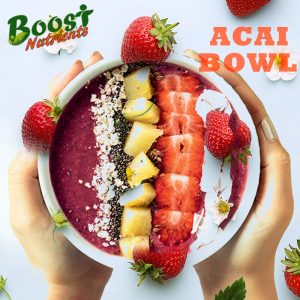 Boost Nutrients are an established brand, who provides powdered Fruits & Vegetables for smoothies along with protein powders, healthy cereals, organic ingredients, and café foods.
There are numerous superfood toppings available with us that can be used to make Acai bowl ingredients, Granola bowl, and Smoothie bowls. These will make your breakfast healthy as they will be loaded with anti-oxidants which will improve our cholesterol levels and boost brain function. Acai bowls are filled with vital vitamins which prevent wrinkles, dark spots, lines, and dryness on face.
Boost Nutrients are an Australian owned company; all our products are Australian made from real pulp of vegetables and fruits with a unique low-temperature drying processes.
To avail discounts and offers, buy through Boost Nutrients or its parent company Opera Foods.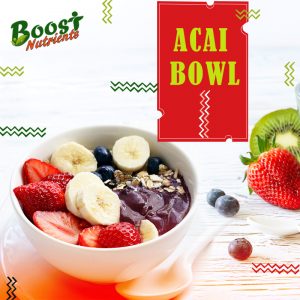 Acai Bowl is a variation of Smoothie Bowl. The main ingredients in an Acai Bowl are pureed Acai Berry (also available as powdered acai berry puree), then they are topped with Granola and sprinkled with goodies. Boost Nutrients offers a large amount of acai bowl or acai porridge ingredients which can be found in our online store. The choice of the toppings can be selected according to one's taste.
You can create your own Acai Bowl with our quick and easy acai bowl recipe. You can buy the Organic Acai Berry Powder which is easily available in our online store. Add some mixed berry powder and add one fresh banana or banana Powder, to create a thick smoothie. Then add some protein powder into the mix, you can add the Hemp nutrient powder. Mix the mixture and add a bit of nut butter for taste. Finally add various toppings in the Acai Bowl like Chia Seeds, Coconut Chips, Pepitas, and Sunflower Kernels. Blend all of it together and you have the perfect healthy breakfast ready within some minutes.
You can buy all the ingredients and toppings through Boost Nutrients or its parent company a wholesale food Suppliers, Opera Foods.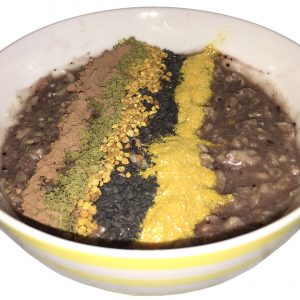 It is a cold wet day in June here at Lake Macquarie and the lady lake is totally grey from an overcast sky. On days like this my breakfast ideas quickly look to a nice smooth warm porridge. But for a cancer survivor, or someone wanting to avoid cancer, I am thinking about all the other great nutrients and antioxidants that I can include. So I am thinking an Acai Porridge for a winter Acai Bowl with some of the typical super-food ingredients for toppings.
I love an oaten porridge as your rolled oats quickly stirs into a smooth porridge that is high in protein and nutritionally sound.
Ingredients for Oaten Acai Porridge:
1 cup of Plum Foods organic oats.
1 teaspoon of Amazon Power organic Acai Berry Powder.
1 teaspoon of Boost Nutrients Australian Mango Powder.
1 teaspoon of Boost Nutrients Black Sesame Seeds.
1 teaspoon of Boost Nutrients Australian Bee Pollen.
1 teaspoon of Boost Nutrients Hemp Protein Powder.
1 teaspoon of Boost Nutrients Organic Cacao Powder.
1 1/2 cups of Water, Milk, or Almond Milk.
Method for oaten Acai Porridge:
Add your organic rolled oats to the small saucepan. (This is your biggest ingredient by volume and high quality organic oats are not expensive. So make it organic oats).
Add your choice of fluids. Either water, milk or almond milk. Then stir for 5 mins as you bring it to the boil.
Add your acai berry powder and stir it through. Then pour it into you bowl and sprinkle on your toppings.
Each of these ingredients adds a food that brings you a highly nutritious boost, plus a boost in protein. Additionally, overall your Acai Porridge or winter Acai Bowl is a low GI meal that helps to sustain your energy through the day. Most importantly this combo will give you a high dose of antioxidants that can assist you to heal your body and ward of free radicals
With majority ingredients grown organically or pesticide free your eating clean.
All of these ingredients are grocery lines stocked by Opera Foods in our Smoothie Ingredients Category. and can be purchased consumer direct.
---
Note:This article was reprinted with permission from, Author: healthydiet.net.au. "Acai Porridge Your Winter Acai Bowl.", healthydiet.net.au. Accessed 2019. Healthy Diet, Eat Healthy Live Longer.
The Boost Nutrients business is a wholly own subsidiary of wholesale food Suppliers Opera Foods Pty Ltd.
Let's start from the smoothie beverage. A smoothie is a richly blended beverage with high consistency. It is first pureed in a blender containing fruits and supplemented sometimes with vegetables. Added liquid such as fruit or vegetable juice, milk or yogurt makes it a complete beverage suitable for consumption as a highly nutritional meal. Without the liquids, the smoothie is much thicker and entails the use of a spoon and a bowl.
Nowadays, a healthy breakfast starts with Gourmet granola which is low on GI (Glycemic Index) and an array of nuts and seeds.
An Acai bowl is one whose main ingredient is pureed Acai berry. Essentially, an Acai bowl is a thick smoothie, sometimes loaded with Granola to give you the crunchy feel. Other fruits and protein powder may also be included to complete the meal. Acai berries powder is a stand-alone superfood of South American origin now grown in Australia.
The convenience is that has driven practice that powdered fruits and vegetables are now NOT freeze dried. Boost Nutrients' slow drying process ensures that the colors are not lost nor the efficacy of the nutrients.
The toppings for a smoothie Acai Bowl is dictated by the needs of the concerned consumer, say, a bodybuilder would vouch for proteins in the form of hemp seeds or protein powder whereas those with a fetish for anti-cancer foods would ingredients rich in antioxidants. Other possible toppings include Organic  Matcha tea powder, Organic Acai berry powder, Linseed, sunflower and Almond meal and a host of other possibilities ranging from coconut chip flakes, Chia seeds Bee pollen, etc.
Acai Bowl with acai berry powder as an ingredient is now available from Boost Nutrients and distributor Opera Foods wholesale food Suppliers Sydney Melbourne and Brisbane