Acai Bowl Recipes
now browsing by tag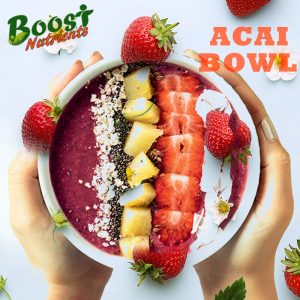 Boost Nutrients are an established brand, who provides powdered Fruits & Vegetables for smoothies along with protein powders, healthy cereals, organic ingredients, and café foods.
There are numerous superfood toppings available with us that can be used to make Acai bowl ingredients, Granola bowl, and Smoothie bowls. These will make your breakfast healthy as they will be loaded with anti-oxidants which will improve our cholesterol levels and boost brain function. Acai bowls are filled with vital vitamins which prevent wrinkles, dark spots, lines, and dryness on face.
Boost Nutrients are an Australian owned company; all our products are Australian made from real pulp of vegetables and fruits with a unique low-temperature drying processes.
To avail discounts and offers, buy through Boost Nutrients or its parent company Opera Foods.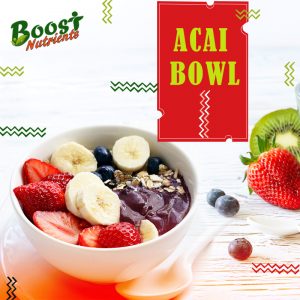 Acai Bowl is a variation of Smoothie Bowl. The main ingredients in an Acai Bowl are pureed Acai Berry (also available as powdered acai berry puree), then they are topped with Granola and sprinkled with goodies. Boost Nutrients offers a large amount of acai bowl or acai porridge ingredients which can be found in our online store. The choice of the toppings can be selected according to one's taste.
You can create your own Acai Bowl with our quick and easy acai bowl recipe. You can buy the Organic Acai Berry Powder which is easily available in our online store. Add some mixed berry powder and add one fresh banana or banana Powder, to create a thick smoothie. Then add some protein powder into the mix, you can add the Hemp nutrient powder. Mix the mixture and add a bit of nut butter for taste. Finally add various toppings in the Acai Bowl like Chia Seeds, Coconut Chips, Pepitas, and Sunflower Kernels. Blend all of it together and you have the perfect healthy breakfast ready within some minutes.
You can buy all the ingredients and toppings through Boost Nutrients or its parent company a wholesale food Suppliers, Opera Foods.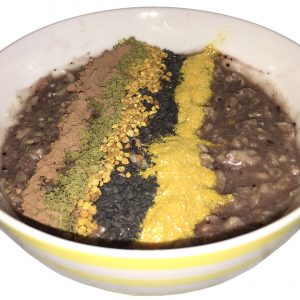 It is a cold wet day in June here at Lake Macquarie and the lady lake is totally grey from an overcast sky. On days like this my breakfast ideas quickly look to a nice smooth warm porridge. But for a cancer survivor, or someone wanting to avoid cancer, I am thinking about all the other great nutrients and antioxidants that I can include. So I am thinking an Acai Porridge for a winter Acai Bowl with some of the typical super-food ingredients for toppings.
I love an oaten porridge as your rolled oats quickly stirs into a smooth porridge that is high in protein and nutritionally sound.
Ingredients for Oaten Acai Porridge:
1 cup of Plum Foods organic oats.
1 teaspoon of Amazon Power organic Acai Berry Powder.
1 teaspoon of Boost Nutrients Australian Mango Powder.
1 teaspoon of Boost Nutrients Black Sesame Seeds.
1 teaspoon of Boost Nutrients Australian Bee Pollen.
1 teaspoon of Boost Nutrients Hemp Protein Powder.
1 teaspoon of Boost Nutrients Organic Cacao Powder.
1 1/2 cups of Water, Milk, or Almond Milk.
Method for oaten Acai Porridge:
Add your organic rolled oats to the small saucepan. (This is your biggest ingredient by volume and high quality organic oats are not expensive. So make it organic oats).
Add your choice of fluids. Either water, milk or almond milk. Then stir for 5 mins as you bring it to the boil.
Add your acai berry powder and stir it through. Then pour it into you bowl and sprinkle on your toppings.
Each of these ingredients adds a food that brings you a highly nutritious boost, plus a boost in protein. Additionally, overall your Acai Porridge or winter Acai Bowl is a low GI meal that helps to sustain your energy through the day. Most importantly this combo will give you a high dose of antioxidants that can assist you to heal your body and ward of free radicals
With majority ingredients grown organically or pesticide free your eating clean.
All of these ingredients are grocery lines stocked by Opera Foods in our Smoothie Ingredients Category. and can be purchased consumer direct.
---
Note:This article was reprinted with permission from, Author: healthydiet.net.au. "Acai Porridge Your Winter Acai Bowl.", healthydiet.net.au. Accessed 2019. Healthy Diet, Eat Healthy Live Longer.
The Boost Nutrients business is a wholly own subsidiary of wholesale food Suppliers Opera Foods Pty Ltd.
Let's start from the smoothie beverage. A smoothie is a richly blended beverage with high consistency. It is first pureed in a blender containing fruits and supplemented sometimes with vegetables. Added liquid such as fruit or vegetable juice, milk or yogurt makes it a complete beverage suitable for consumption as a highly nutritional meal. Without the liquids, the smoothie is much thicker and entails the use of a spoon and a bowl.
Nowadays, a healthy breakfast starts with Gourmet granola which is low on GI (Glycemic Index) and an array of nuts and seeds.
An Acai bowl is one whose main ingredient is pureed Acai berry. Essentially, an Acai bowl is a thick smoothie, sometimes loaded with Granola to give you the crunchy feel. Other fruits and protein powder may also be included to complete the meal. Acai berries powder is a stand-alone superfood of South American origin now grown in Australia.
The convenience is that has driven practice that powdered fruits and vegetables are now NOT freeze dried. Boost Nutrients' slow drying process ensures that the colors are not lost nor the efficacy of the nutrients.
The toppings for a smoothie Acai Bowl is dictated by the needs of the concerned consumer, say, a bodybuilder would vouch for proteins in the form of hemp seeds or protein powder whereas those with a fetish for anti-cancer foods would ingredients rich in antioxidants. Other possible toppings include Organic  Matcha tea powder, Organic Acai berry powder, Linseed, sunflower and Almond meal and a host of other possibilities ranging from coconut chip flakes, Chia seeds Bee pollen, etc.
Acai Bowl with acai berry powder as an ingredient is now available from Boost Nutrients and distributor Opera Foods wholesale food Suppliers Sydney Melbourne and Brisbane