Organic beetroot vegetable powder
now browsing by tag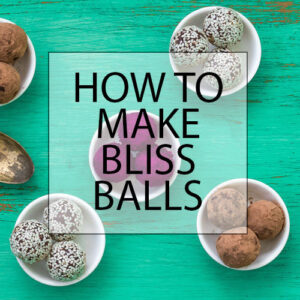 Healthy bliss balls are the perfect boost and organic fruit powders are ideal for amping up the mix. Get creative, get colourful and get a superfood boost the easy way.
What are bliss balls?
Bliss balls are an easy to make snack food, perfect for keeping up energy levels during the day or as an easy way to boost your intake of superfoods. Instead of reaching for chemical-laden sugary snacks when energy levels are low, grab one or two delicious homemade energy balls as a nutritious alternative.
Are bliss balls healthy?
Packed full of nutrient dense ingredients, bliss balls are a great way to stave off hunger without resorting to empty calories. Not only do they provide a balance of carbohydrates, proteins, and fats but they also come with a whole host of benefits.
Switching it up with different recipes and superfood ingredients ensures you will never get bored and you will cover the whole spectrum of micronutrients and phytochemicals from these powerful plants.
Stick to one or two a day though as they are high in calories and natural sugars.
How to make bliss balls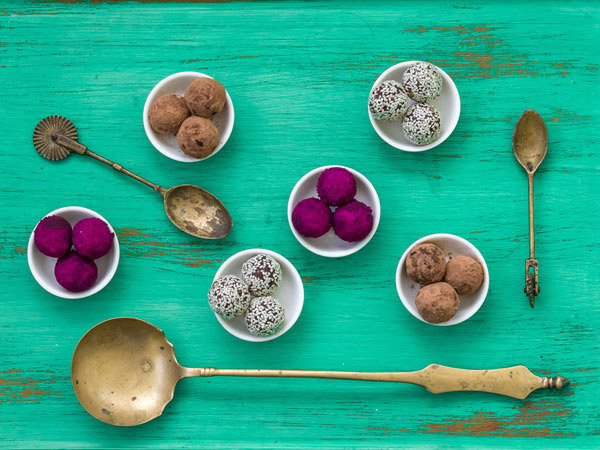 Can you freeze bliss balls?
Bliss balls can be kept in the freezer for up to 3 months. They will keep in an airtight container in the fridge for 2 weeks though, so freezing is not really necessary unless you want to make up a huge batch.
Basic bliss ball recipe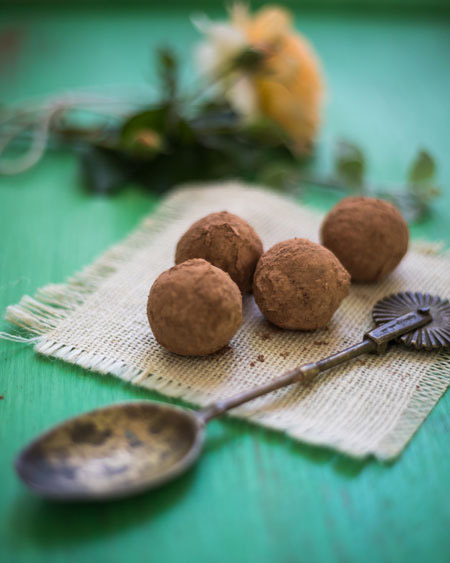 Bliss balls could not be easier to make. All you need is a handful of store cupboard ingredients and a food processor. The basic recipe already provides plenty of macro and micronutrients but from there you can boost flavour, texture and nutrient value by adding in extra superfood powders.
Be aware that if you choose to roll your energy balls in powder they may look pretty but the eating experience is just as important. It is largely a matter of personal preference so test things out before you commit. Raw powders can be bitter or powdery, which sometimes works but not always.
Adding in extra ingredients will affect the mixture so if it becomes too dry to stick then simply add a few drops of water until it comes together. If your mixture is too sticky, add in some more powder.
Makes roughly 18.
6 large dates, pitted
1/2 cup almond butter 
1/2 cup shredded coconut
1 tbsp LSA mix
1 tbsp goji berry powder
1 tbsp chia seeds
1 tbsp hemp protein powder
Blitz all of the ingredients together in a food processor until they come together in a sticky ball. Feel free to adjust to the quantities if the texture is not quite right.
Divide into teaspoon sized clumps and roll in your hands to form balls.
Keep in an airtight container in the fridge.
Cacao bliss balls
Because…chocolate. Experiment with cacao nibs for extra crunch. You can easily add 2 tbsp of cacao powder, but you may need to blend in a little water to prevent it being too dry.
Banana bliss balls
Banana powder is an excellent natural sweetener. A few teaspoons of concentrated fruit powder is plenty.
Berry bliss balls
A boost of berry flavour, not to mention all those lovely antioxidants, makes for perfect bliss. Add one or two teaspoons of berry powder, or roll your bliss balls. Also goes particularly well with cacao.
Beetroot powder bliss balls
Using raw beetroot powder not only adds a beautiful colour but lends a delicious earthy sweetness too. And it is super good for you. It is really good when blended with cacao.
Mango bliss balls
Mango and coconut anyone? Try adding a few teaspoons of mango powder to the mix and roll in finely shredded coconut.
Inspired to get creative with healthy bliss balls? We have plenty of other organic fruit powders and superfood ingredients for you to try. You can also buy wholesale organic food at our online store.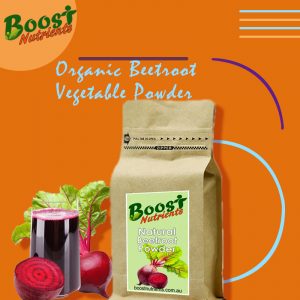 Organic beetroot vegetable powder by Boost Nutrients is perfect for healthy breakfast smoothies. It is manufactured from premium organic beetroot juice. Healthy smoothies can be easily made with the help of naturally dried vegetable powders. Besides this, it is ideal for an acai bowl and granola bowl toppings.  The products of Boost Nutrients are made under certain HACCP certified grounds and it is also manufactured from respective organic certified manufacturers as well as processors in which organic products are shown. Organic beetroot vegetable powder contains high nutrient retention and it is a gluten-free and allergen-free product. The ingredients of organic beetroot vegetable powder are 100% organic beetroot juice. It is rich in protein, fibre, calcium, minerals and vitamins.
Organic beetroot vegetable powder has a long shelf life if respective products are stored properly. This product is sealed in foil-lined resealable bags. Please never left the bags open as it may get expired due to absorbing moisture from respective air.
Visit Boost Nutrients website for more information to know more details about the product.  Book your favourite product now and get online discounts on this product.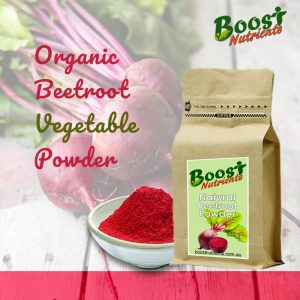 Organic beetroot powder is a vegetable powder product of the Boost Nutrients brand. Boost nutrients are the distributors of respected superior quality food powders to retailers as well as cafes.
Boost Nutrients is conducted and owned by an Australian Family Food Business Opera Foods. Organic beetroot vegetable powder is basically allergen-free as well as gluten-free. Healthy and nutritious smoothies can be produced with the help of organic beetroot powder.
Healthy smoothies can be regarded as a healthy breakfast as it contains protein, carbohydrates, sugars, sodium. It contains high nutrient retention owing to the unique process of drying technology. It is produced from the natural pulp of organic beetroot. It helps to increase immune power as well as the vitality of an individual. Its another vegan food ingredient for vitality.
Our 500g bag is pictured and also available in 100g pouch for consumer direct orders.
Buy it online from Opera Foods, Australia's wholesale cafe foods suppliers.