Smoothies
now browsing by tag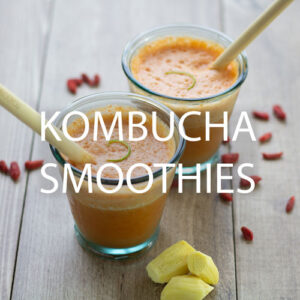 One of the best ingredients for a smoothie, kombucha is an excellent way to bring an interesting twist to your smoothies and acai bowls.
Kombucha is said to offer many health benefits whilst the fizzy texture and sweet sour flavours can bring endless interest to your smoothie recipes.
A mildly fizzy sweet/sour drink made from fermented tea, kombucha is brewed by adding a live culture, known as a scoby, to sweetened tea. A live mixture of bacteria and yeasts, this converts the sugar into a very small amount of ethanol and acetic acid. This accounts for the slightly vinegary taste. People have been drinking fermented tea for thousands of years and it is through increased interest in gut health that we are seeing a revival.
What are the health benefits of using kombucha as a smoothie ingredient?
Kombucha is one of the best ingredients for a smoothie for digestion because kombucha is an excellent source of probiotics. Live organisms that can improve digestion, probiotics help to balance the gut flora. Made from green or black tea, kombucha is also full of the antioxidant benefits these teas provide.
How can I use kombucha as an interesting ingredient in my smoothies?
Kombucha adds interest in the form of fizz. It also brings a sweet yet sharp taste. It makes an excellent alternative to water, juice or milks as a base. When added before blending, the result will not be fizzy but the bubbles form a nice cappuccino style froth on the top. Poured in as a top-up after blending, kombucha adds a nice fizzy edge. Try mixing fruit powders straight into kombucha for a quick nutrient boost.
Because kombucha comes in a range of flavours, you can make interesting combinations. Try mixing peach and goji powders with mango flavoured kombucha. Or add acai powder to apple and pomegranate. In the recipe below we use ginger kombucha alongside fresh ginger. Ginger is also know for its digestive properties so its a double whammy.
Recipe for pineapple and ginger kombucha smoothie
A refreshing blend of pineapple, lime and ginger with a hint of mint. Boosted with goji berries for extra antioxidant action, and enlived with the pep of ginger kombucha.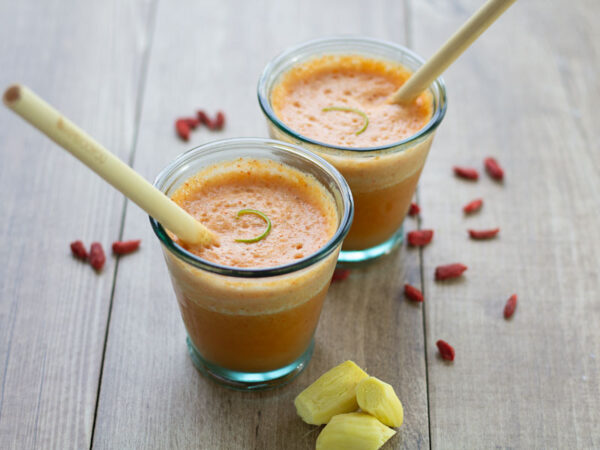 Makes 2 x 150ml servings, or 1 x 300ml serving
1 cup frozen pineapple

1 inch peeled fresh ginger

1 teaspoon lime zest

1 cup ginger kombucha

1 teaspoon goji powder

2 sprigs fresh mint
Blitz all of the ingredients in a blender and serve.
If you haven't tried using kombucha in your healthy smoothies and shakes, why not give it a go?
We have many other great smoothie ingredients and you can buy bulk food online at our wholesale store.
There isn't always time to mess about with chopping boards and blenders so we created five of the best recipes for smoothies that you won't need to chop or blend.
Some ingredients, such as maca or hemp powder, blend into liquid less readily than others so a few of the recipes require a jug and a wire whisk. Fruit and vegetable powders blend far more easily, so they need nothing more than a spoon and a glass.
Thickening ingredients such as protein powders, chia or oats may be used to create a thicker or creamier texture.
Five of the best recipes for smoothies
Banana, maca, almond butter no-blend smoothie recipe
A creamy blend of milk, oats and banana powder with added maca powder for hormone balance. Enriched with a spoon of almond butter and garnished with crunchy sweet bee pollen.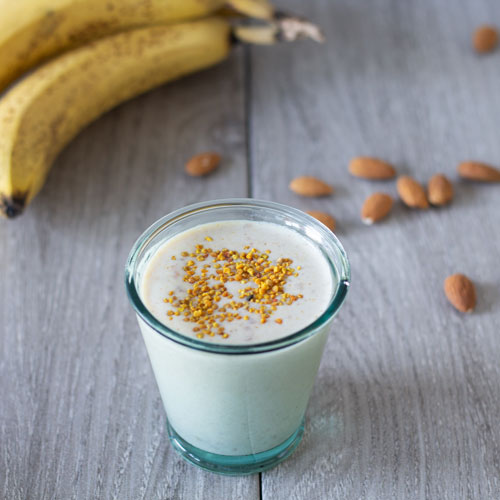 200ml oat milk
1 tbsp banana powder
2 tbsp quick porridge oats
1 tsp maca powder
1 tsp almond butter
Drizzle of honey
Scatter of bee pollen
Whisk all of the ingredients, except the bee pollen, together in a jug using a wire whisk.
Pour into a glass and garnish with the bee pollen.
If you wish, allow the smoothie to stand for 20 minutes to soften the oats to a creamier texture.
Pomegranate, berries, and acai no-blend smoothie recipe
More of a boosted juice than an actual smoothie this will however provide a blast of antioxidant berries and sharpen the senses with its zingy flavours.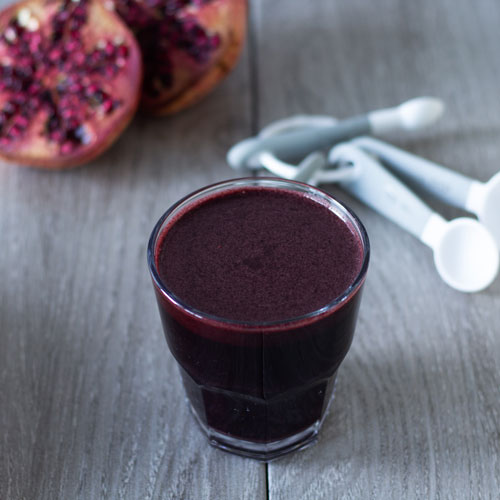 200ml pomegranate juice
1 tbsp mixed berry powder
1 tbsp acai powder
Stir all of the ingredients together until blended.
Cacao, date and chia no-blend smoothie recipe
Calming cacao provides energy and boosts your mood, with a touch of sweetness from date syrup, and chia to keep you feeling fuller for longer.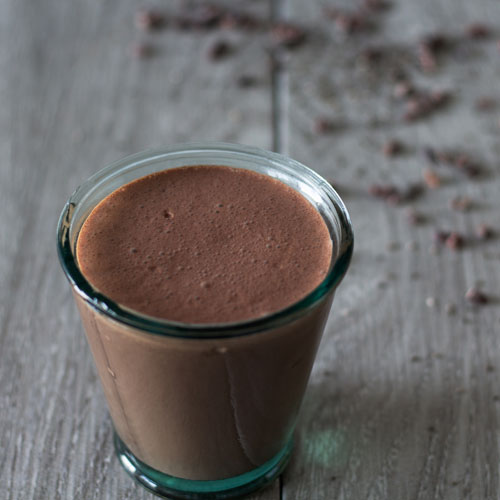 200ml milk
2 tbsp cacao powder
1 tbsp chia seeds
1 tsp date syrup
Whisk all of the ingredients together in a jug using a wire whisk.
Pour into a glass and, if preferred, stand for 20 minutes to allow the chia to thicken.
Kombucha, mango and goji no-blend smoothie recipe
Fizzy and fruity, this no-blend smoothie is full of anti-oxidant power. Kombucha brings its unique flavours and gut healing qualities to the glass.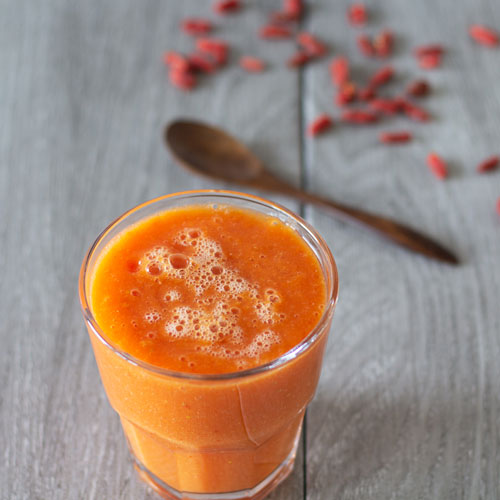 200ml kombucha, flavour of your choice
2 tbsp mango powder
1 tbsp goji powder
Stir the powders into the kombucha until smooth.
Apple, hemp and greens no-blend smoothie recipe
Sweet apple juice takes the edge off the green flavours whilst hemp adds texture and protein.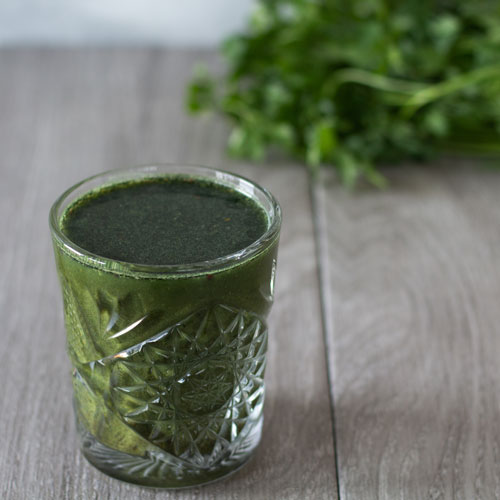 200ml pressed apple juice
2 tsp spinach powder
1 tbsp hemp powder
Whisk all of the ingredients together using a wire whisk.
Pour over ice to serve.
We hope you try these no-blend recipes for yourself and see how easy it can be to make the most of fruit and vegetable powders.
Find out more about these smoothie ingredients or head straight to our sister site for wholesale organic food.
Although a smoothie made in a blender is a beautiful thing, there are times when you really need your smoothie recipes to be more grab and go. With a wide range of powders beyond the protein variety now available, it is perfectly possible to make all kinds of smoothies straight in the shaker or glass.
Let us talk you through the process so that you can create your own no blend smoothie recipes at home.
Step by step smoothie recipes straight from your pantry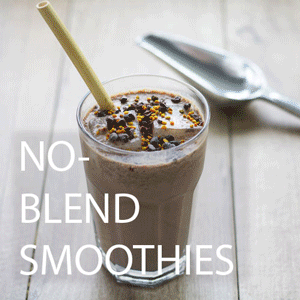 When creating blender smoothie recipes you make a series of decisions. When making smoothies without a blender you follow this same procedure yet think a little more carefully about how those ingredients will blend together by stirring of shaking. Consider what you want from your smoothie; do you want a refreshing fruity drink or something creamy and full of protein? Many superfood powders such as maca or hemp have quite strong flavours that blend best in sweet creamy concoctions, whilst fruit powders and berries such as acai or goji are well suited to the less creamy sharper end of the spectrum.
Step 1 – Choose your liquid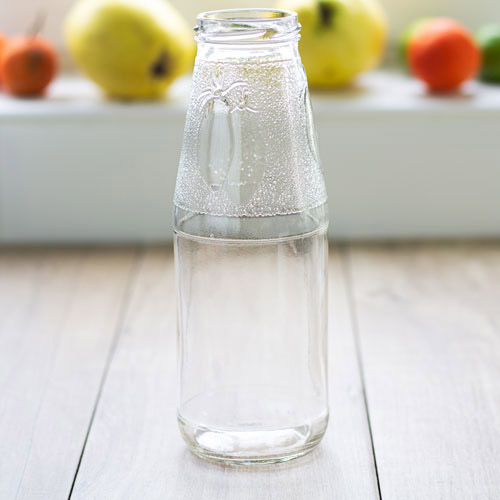 Depending on the overall result you want to achieve, there are so many options available to you. On the heavier milky side, you have the obvious choice between dairy or non-dairy. Non dairy milks tend to have a thicker texture so will affect the end consistency of your smoothie recipes. Coconut milk out of the can is the creamiest thickest option, and the full coconut flavour it brings can be quite decadent. You could also consider kefir, or just plain old yoghurt thinned down with milk or water.
On the non-creamy side think kombucha, cold teas, or fruit juice. Or even just water.
Here, we chose dairy cow milk.
Step 2 – Choose your fruit or vegetable powders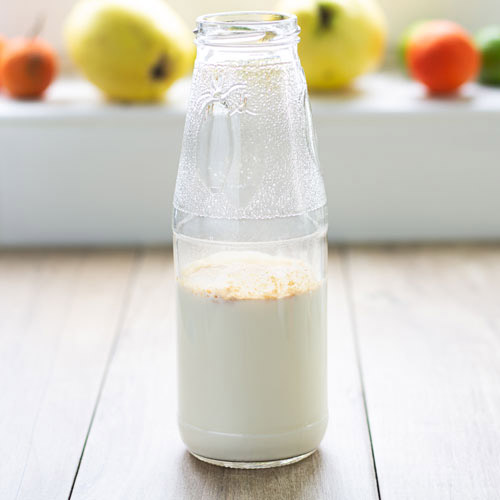 Again, you will have some idea of where you are going based on those original decisions. Because here we have taken the creamy route, we chose banana powder. There is absolutely nothing to stop you mixing any fruit or vegetable powder with a creamy liquid of course. Vegetable powders would go particularly well with yoghurt or kefir for example. And berries go beautifully with coconut milk. Mmm peaches and cream…
Step 3 – Choose your superfoods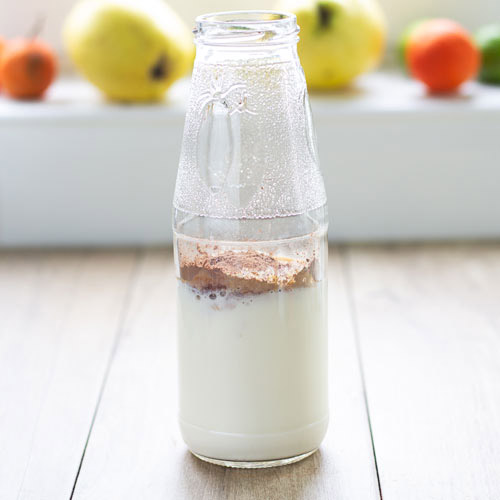 Not that fruits and vegetables aren't the original superfoods, but we are talking about all those little extras now available to us. Some superfood powders need a milky creamy base to taste their best. Maca, for instance, can be overpowering, but in a thick creamy banana shake it lends a hint of malty goodness. Hemp has a distinct flavour that can be almost grassy. Cacao goes with most things, but sits particularly well in creamier concoctions. Goji powder and acai powder are deeply fruity and acidic, so go particularly well with fruit juices, teas and kombucha. Don't forget that making great smoothie recipes is all about flavour. Chugging something down just because it is good for is not the aim here at all. So, superfood powders. We chose cacao, maca, and hemp to go with our banana and milk.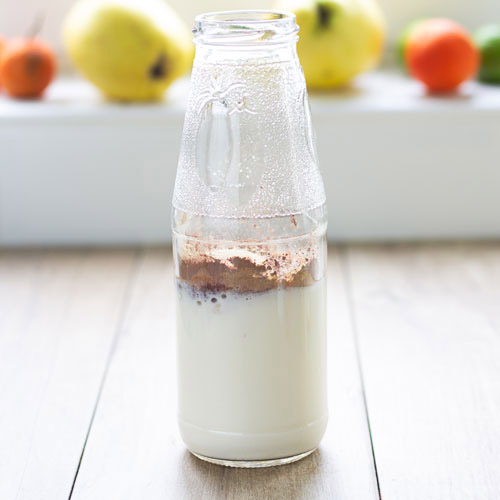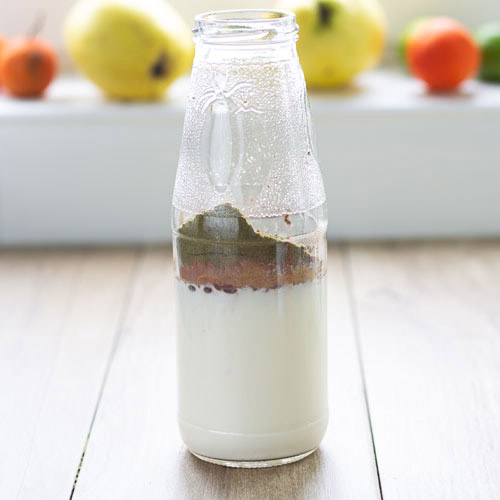 Step 4 – Choose any sweeteners and additional flavours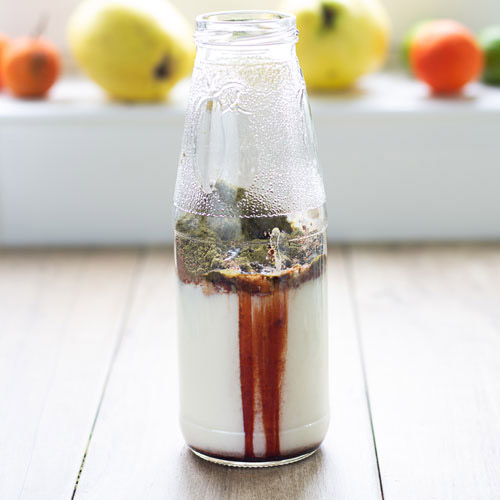 You may need to sweeten your smoothie to suit personal taste or simply to bring the best out in all the flavours. Maybe you want a specific flavour like mint, or rosewater. Maybe you want to bring in a bit of texture with a nut butter. Keep sweetener to a minimum to hold on to nutrient value and keep excess calories to a minimum, and choose all natural extracts.
Here we added a teaspoon of date syrup for sweetness, and a teaspoon of vanilla extract.
Step 5 – shake or stir
That's it. Shake or stir it all together until well blended.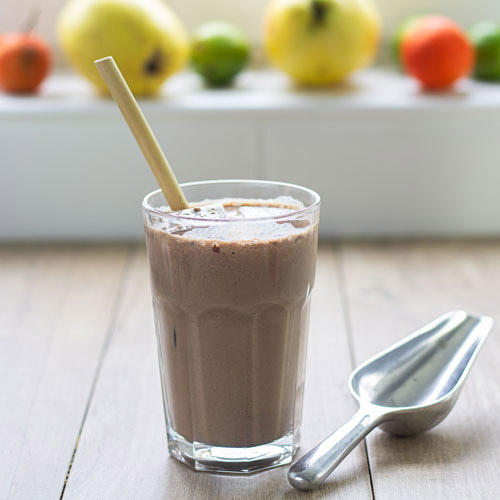 Pour over ice. You could pour it through a strainer to get rid of any small lumps of powder that did not so mix so well.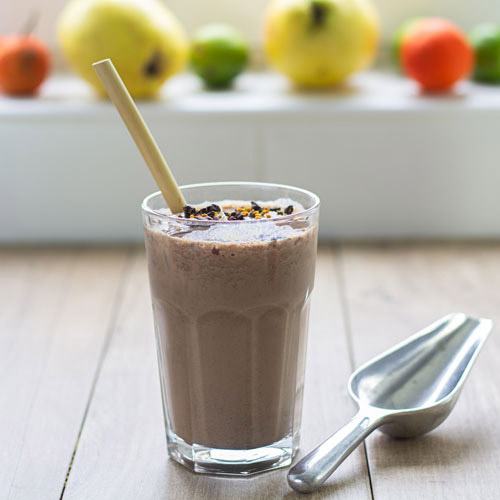 Add a garnish if you wish. Here we added a boost with cacao nibs and bee pollen. A bit of texture and some extra nutritional benefit.
We hope you learned from this post how easy it can be to think a little differently and make some fantastic smoothie recipes without the mess or fuss of a blender.
Head on over to find some fantastic no-blend smoothie ingredients on site, or buy direct from the wholefoods bulk store.
Gone are the days when smoothies were purely a way to get your 5-a-day in liquid form. A convenient nutrient booster yes, but mother nature, via modern nutritional science, has given us so much more to play with. These three healthy recipes for smoothies are not only delicious and nutritious in their own right, but also make the most of some clever superfood nutrient boosters to really up the ante. With little or no chopping, and a quick blitz in the blender, these super smoothies will keep you going for the day.
Be prepared!
Alongside your larder of smoothie ingredients, there are a few easy tips you can follow to get the most from these healthy recipes for smoothies. A little quick and easy advance preparation is all it takes. Some of the best smoothies are ice cold and full of semi-frozen texture so make good use of both the freezer as well as the cupboard and you will always be good to go.
Frozen fruits are the mainstay of many a good smoothie. In these recipes we make use of frozen berries and frozen banana slices. Freeze 1 inch chunks of banana laid flat in a freezer bag. Once solid you can fill the bag and store away in the freezer for easy use. This is an excellent way to use up those browner bananas in the fruit bowl, and they taste sweeter that way too. Ditto berries. Whilst you may use commercial bags of frozen berries, freezing those you have left over from fresh is also a great waste saver.
Ice cubes are another good way to get frosty flavour into your healthy smoothie recipes. We make use of coconut milk in these recipes, but you can experiment with anything that might make life a little easier and even control kitchen waste. Try freezing cold teas such as green, earl grey or herbal blends. Think of liquids that you might use and could freeze to give maximum flavour to your smoothies rather than dilute them with ice made from water.
What will I need to make these healthy recipes for smoothies?
As well as coconut milk ice cubes, frozen mixed berries, and frozen banana chunks, here's the list of ingredients we used for these 3 smoothie recipes. Most of the ingredients came straight from the storecupboard for minimum waste and maximum speed.
Vanilla Extract
Flaxseed powder, or LSA mix
Chia seeds
Maca powder
Hemp powder
Acai powder
Goji powder
Spinach powder
Cacao powder
Cacao nibs
Dried mulberries
Dried dates
Milks; coconut, oat, cow
Juices; pomegranate
Whole limes
Pom berry smoothie recipe
Full of fruity sharp flavour, this berry based smoothie is packed with antioxidant power. Best served immediately whilst still semi frozen, yet still great later if you need to put it a bottle and go.
Makes 1 serving
1 cup pomegranate juice
1/2 cup frozen berries
1 tablespoon acai powder
1 tablespoon goji powder
2 tablespoon dried mulberries
Blitz all ingredients in a blender until smooth and slushie thick.
Lime and green smoothie recipe
A great tasting green smoothie thanks to a healthy shot of lime juice and the creamy calm of coconut. The chia adds an almost ice cream texture and lots of fibre.
Makes 1 serving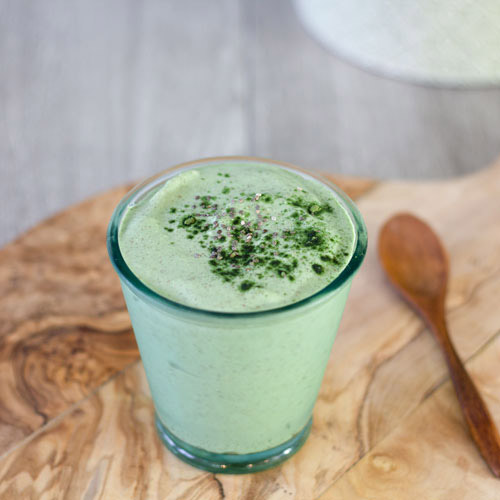 1 cup coconut milk
1 tablespoon flax seed or LSA mix
1/2 cup coconut ice
Flesh of 2 whole limes, plus the zest
2 teaspoon chia seeds
1 tablespoon spinach powder
Blitz all ingredients in a blender until smooth and ice cream thick.
Choc date shake smoothie recipe
Like your favourite chocolate shake with nutritional powerhouse cacao, the sweetness of dates and a kiss of vanilla. The maca powder gives it a hint of malted flavour.
Makes 1 serving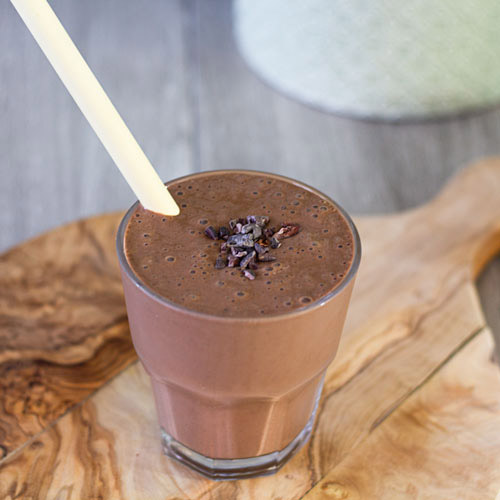 1 cup milk (dairy or non-dairy)
3/4 cup frozen banana
2 tablespoon cacao powder
1 tablespoon cacao nibs
1 teaspoon vanilla extract
2 pitted dates
1 tablespoon hemp powder
1 teaspoon maca powder
Blitz all ingredients in a blender until smooth and shakey thick.
We hope you are inspired to try these three healthy recipes for smoothies. Let us know how you get on. Our post on top ten acai ingredients looks at the benefits of some of the ingredients used here.
Don't forget to check out our range of smoothie ingredients, or buy your wholefood bulk groceries online.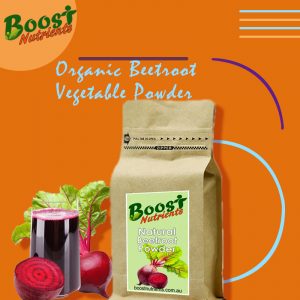 Organic beetroot vegetable powder by Boost Nutrients is perfect for healthy breakfast smoothies. It is manufactured from premium organic beetroot juice. Healthy smoothies can be easily made with the help of naturally dried vegetable powders. Besides this, it is ideal for an acai bowl and granola bowl toppings.  The products of Boost Nutrients are made under certain HACCP certified grounds and it is also manufactured from respective organic certified manufacturers as well as processors in which organic products are shown. Organic beetroot vegetable powder contains high nutrient retention and it is a gluten-free and allergen-free product. The ingredients of organic beetroot vegetable powder are 100% organic beetroot juice. It is rich in protein, fibre, calcium, minerals and vitamins.
Organic beetroot vegetable powder has a long shelf life if respective products are stored properly. This product is sealed in foil-lined resealable bags. Please never left the bags open as it may get expired due to absorbing moisture from respective air.
Visit Boost Nutrients website for more information to know more details about the product.  Book your favourite product now and get online discounts on this product.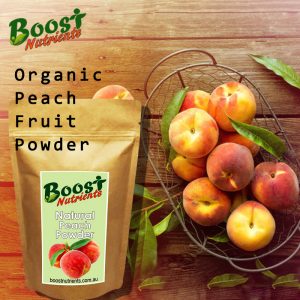 Boost Nutrients produce great fruit and vegetable powders, toppings for acai bowl, and smoothie ingredients. The Organic Peach Fruit Powder is very popular among and provides a superior taste and fine nutrition. Boost Nutrients utilize completely different technologies for drying products and it is generally made with low temperature with the constant process of evaporation that does not destroy nutrients.
Fruit Powder Re-hydration Rate
Understanding fruit powder re-hydration rate. Our Organic Peach Fruit Powder  has a high re-hydration rate. Add 572ml of water to 100g of this product to give 672 of re-hydrated product. So you can literally pull a fresh highly nutritious fruit juice out of your pantry to make the basis of your smoothie. Not fruit to fetch and carry and chop or squeeze?
Organic Peach Fruit Powder is produced from organic peaches which is perfect for making healthy smoothies. It is also an ideal for acai bowl and granola toppings. This Organic Peach Fruit Powder is GMO free, vegan friendly, gluten free as well as allergen free. It is rich in protein, fiber, vitamin E, minerals and more that helps to build natural immunity to resist illness. Organic Peach Fruit Powder contains no chemicals and other preservatives.
Boost Nutrients produce great ingredients for smoothie, acai bowl toppings, fruit and vegetable powder and natural goji berry powder is very popular among those that taste superior and fine foods.
Boost Nutrients, a division of Opera Foods are health ingredient distributors of Australia.  They provide products for gourmet grocery as well as organic food in Sydney, Brisbane as well as Newcastle. With the help of natural goji berry powder, healthy smoothies can be made for breakfast and also it can be used for toppings for acai bowl or granola bowl.
Goji berries have been utilized as a kind of medicine herb in China for many decades. It is usually given with tea and many others in China. The Chinese medicine was believed on perceived results without any scientific analysis as well as information. According to the researches of modern science, goji berries possess distinctive level of respective anti-oxidants namely Lycium barbarum polysaccharides that help to increase an immune system of an individual.
Goji berries are rich in protein and moreover these super berries contain significant amount of amino acids that is higher than other berries.
Natural goji berry powder is rich in protein, fats, carbohydrates, sugars, sodium that aids to prevent against illness. It is also gluten free as well as allergen free. Natural Goji berry powder contains certain health benefits including improves healthy skin, lowers blood sugar, and reduces anxiety.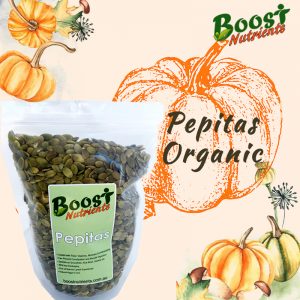 Boost Nutrients produce great smoothie ingredients, vegetable powders, fruit powders; toppings for acai bowl. Our organic pepitas are very much popular among them. They taste superior and fine and are easy to sprinkle on meal with a great boost to nutrition.
Organically grown Pepitas are rich in vitamins, fiber, antioxidants and minerals that helps to strengthen your immune system and so prevent illness. It is considered as a perfect superfood topping for smoothies and acai bowl.
It is generally utilized for nutritious breakfast smoothie as well as acai bowl ingredients.  Organic Pepitas can be sprinkled on acai bowl, salads, smoothies, oatmeal, cereal, chicken as well as vegetable platters. It is also great for stews and soups and it adds a superior consistency in cookies, puddings and several other desserts. Buy Organic Pepitas online now.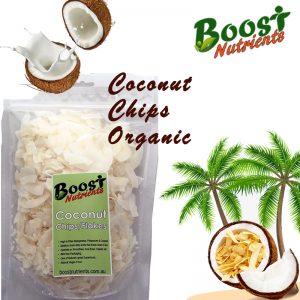 Organic Coconut  Chips is another prime acai bowl ingredient product of a Boost Nutrients brand. Boost nutrients are organic food and ingredient distributors and suppliers to Australian retailers and groceries. Opera Foods are the parent company of Boost Nutrients.
Shaved Organic Coconut  Chips contain protein, fats, carbohydrates, sugars, sodium all natural wholefood goodness that helps our immune system to resist against illness.
Organic Coconut Chips an ideal ingredient
Organic coconut is an ideal food for morning breakfast and snacks that can be taken with muesli or granola, moreover, it can be used for the purpose of baking as well as desserts and sometimes as a garnishing for an exotic dishes.
The highly nutritious acai bowl, as well as smoothies, can be topped with the help of Organic Coconut  Chips. Organic Coconut  Chips are rich in zinc and other minerals that help to advocate the natural defense system of an individual. It aids to control blood sugar as well as cholesterol level of an individual.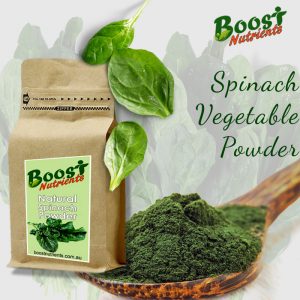 Boost Nutrients produce multi-varied items such as vegetable powder, fruit powder and several kinds of smoothie recipes. Boost Nutrients is basically an Aussie brand which consumes mainly garden-fresh raw ingredients, from Australia where possible, and it also consumes high-quality ingredients from respective overseas suppliers. The main goal of Boost Nutrients is to provide healthy energy drinks and meal toppings and to ease the respective process of producing smoothies.
Spinach vegetable powder is one of the vegetable powders that help to prevent blood pressure, cancer, and several other severe diseases. Spinach vegetable powder is rich in phytonutrients, antioxidants, flavonoids as well as carotenoids. It is produced by the process of drying whole spinach leaf pulp. Spinach powder is green in color and it has a mild flavor of spinach. Using this powder, people can make smoothies and juices of spinach. Moreover, it can be used in soups, salad dressings as well as savory dishes.