cacao powder
now browsing by tag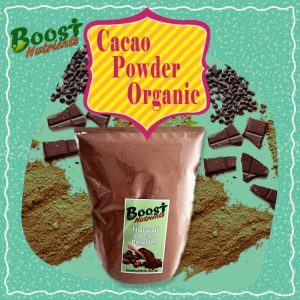 Organic Cacao powder is a product of offered by Boost Nutrients that makes a perfect smoothie or acai bowl topping or ingredient. Cacao powder is produced from the Cacao beans that originated in South America.
It can now be available in every shop in Australia; moreover, people can purchase it from our online store. The powdered form of the product has become popular across different countries as it is easy to sprinkle on meals to increase your intake. Organic Cacao powder is considered as a healthy nutrient intake.
People can upgrade the nutrient value of smoothie shakes with the help of Organic Cacao powder. It can be used in smoothie bowl ingredients, toppings for granola bowl and Acai bowl. Organic Cacao powder is made up from crushed respective cacao beans which is slightly bitter and chocolate in flavor. According to research packs of Organic Cacao powder are considered to contain more calcium than cow's milk. Organic Cacao powder helps to prevent depression, stress, blood pressure, heart attack, and several other severe diseases.
Buy Organic Cacao powder online from our Parent company online health food store at Opera Foods.
Boost Nutrients is a subsidiary of wholesale food suppliers Opera Foods Pty Ltd.