smoothie ingredients
now browsing by tag
A potent, raw, superfood, Australian bee pollen is packed full of nutrients that provide a welcome boost for our wellbeing.
What is bee pollen?
Bee pollen is the pollen from flowers, mixed with small amounts of nectar, honey, wax, and bee secretions. Stored in the hive, it provides vital food for the bees, giving them essential protein and fats.
How bees collect pollen
A bee can carry over half its bodyweight in pollen, stored in a pollen basket on each of their back legs. As pollen collects on its body, the bee brushes it into the baskets for transportation back to the hive. An entire colony of bees can collect up to 50kg pollen in a season. Along the way, they pollinate our flowers and crops. Only female honey bees have pollen baskets on their legs for collecting pollen.
The bees bring the pollen back to hive and pass it to the worker bees. They pack it into storage chambers in the hive, mixing it with nectar and bee secretions. In this way the tiny grains of pollen are broken down to make the nutrients more readily available.
How bees make honey from pollen
Bees make honey from nectar, not pollen, yet both nectar and pollen are vital to the survival of the colony. Most bees collect either pollen or nectar. The nectar is sucked into a separate stomach specifically designed for this purpose. If the bee needs to feed, a little of the nectar is released into the actual stomach. Back at the hive, the bees gather to process the nectar, chewing it and passing it from bee to bee. This, along with enzymes in the saliva, reduces the moisture content. Like making syrup. The reduced nectar is packed into cells in the hive and then fanned with wing activity until the total moisture content is just under 20%. The nectar has become honey. Each wax cell in the honeycomb is now sealed off with more wax.
Honey provides a winter food source for the bees. It provides carbohydrates alongside the fats and protein provided by the bee pollen.
What does bee pollen taste like?
Owing to the diversity of the flora from which the bees collect pollen and nectar, the taste of Australian bee pollen can vary not only between batches, but also between granules. Overall, bee pollen has a fruity, floral flavour with a slightly grainy texture. Like a soft crunch. It is subtly sweet and vaguely reminiscent of honey.
The benefits of bee pollen in smoothies
Bee pollen is the ideal addition for your healthy smoothies, adding a little texture as well as a nutrient superboost. In some countries it is actually recognised as a medicine and it is claimed to contain over 250 active substances.
Whilst research evidence on all the benefits of bee pollen is mixed, it cannot be denied that it is full of nutrients and is a rich source of amino acids, fatty acids, vitamins and minerals. The nutritional content varies widely as it depends on the nutritional content of the flora from which the pollen is collected. Bee pollen from beekeepers that produce raw wild honey, free from pesticides, is more likely to come from a wide and diverse range of flora.
Full of antioxidants, bee pollen has also shown to be effective in lowering LDL cholesterol. Many people take bee pollen to counteract allergies such as hayfever, and it may be useful in easing menopausal symptoms.
Organic bee pollen
Bee pollen is a by-product of the honey industry, so falls under the same legislation as honey. The Australian rules for organic honey certification state that the hives must be within no less than a 5km radius of sources of pollution such as conventional orchards and crops, or towns. Regulations also apply to hive construction and maintenance.
All of our Australian bee pollen comes from beekeepers that make raw wild honey. Their hives are in the bush, at least 6km away from crops treated with pesticides. This makes it not only pesticide free, but with all the benefits of a wild and varied flora.
Is bee pollen vegan?
A vegan lifestyle is about more than just choosing not to eat meat or dairy. Although that is fine too. According to PETA 'living vegan means embracing every opportunity to reduce the suffering of all animals, regardless of their species'.
So no, honey and bee pollen cannot be considered strictly vegan. Whether or not you choose to include it in your diet is entirely up to you.
Honey, royal jelly and beeswax are all secreted by bees so are not actually vegan in any sense of the word. Anymore so than dairy milk, for example. Bee pollen is collected, not secreted, yet it does contain small amounts of beeswax and even honey.
How to take bee pollen granules?
You can add bee pollen to smoothies, acai bowls and granola bowls. Sprinkle them onto your breakfast shakes, or scatter over yoghurt and fruit. They look pretty over ice cream, or even desserts with a few edible flowers. Although you can add them anywhere for their nutritional benefit, to really experience the flavour think about subtle flavours that will set off the floral tones. Like a simple banana smoothie or vanilla protein shake for example. They go great with chocolate too. There are several ways to make your banana smoothie more interesting.
A touch of golden decadence, bee pollen will add a slight crunch and floral undertones. Texture and taste, plus the added bonus of being totally insta-friendly too. Win win.
Some people can be sensitive to bee pollen. Others, such as those on blood thinning medications or pregnant women, should not be taking it at all. If in any doubt, please always consult with your healthcare professional. If you feel that you may be sensitive to bee pollen, because you have allergies for examples, build up your dose a few grains at a time.
Most people will tolerate a tablespoon of bee pollen daily.
How to store bee pollen
We recommended that you store your bee pollen in the freezer, taking out what you need on a per-use basis. At the very least keep it air-tight and/or in the fridge for optimum freshness and crunch.
You can buy Australian bee pollen online right here. It is just one of our many healthy smoothie ingredients. You can save money when you buy bee pollen granules in bulk.
---
Note:This article was reprinted with permission from,
Author: Opera Foods. "Australian Bee Pollen for Superfood Smoothies", Opera Foods Wholesale Suppliers. Accessed 2021. BUY Bee Pollen the Smoothie ingredients, Acai Bowl ingredients,
The Boost Nutrients business is a wholly own subsidiary of Opera Foods Pty Ltd.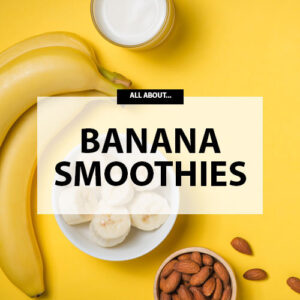 Bananas are one of the most used ingredients in smoothies, milkshakes and smoothie bowls. Their soft texture is instantly creamy and they have a sweet flavour that goes with everything.
You can make a banana smoothie with fresh or frozen banana or you can use a dehydrated banana powder for instant store-cupboard convenience.
We take a look at why bananas deserve superfood status, and the many ways you can use them in your smoothies.
Are bananas good for you?
Because of their sugar content bananas became a bit of a dirty word with the anti-carbohydrate crowd. Yet bananas contain both quick release sugars and slow release sugars so provide a great overall energy boost. Higher in calories than other fruits, they also provide more fat, more fibre and more protein.
Bananas are an excellent source of potassium which is essential for controlling fluid balance and blood pressure. A natural prebiotic, they also contribute to gut health by feeding the good bacteria in your tummy. Bananas also contain antacids which are why they are so good for indigestion and soothing an upset stomach. A great beauty food, they contain antioxidant lutein that boosts skin elasticity and controls sebum levels. Ripe bananas have higher levels of antioxidants.
One medium banana provides, on average, 105kcal, 0.4g fat, 10g sugars, 3g fibre and 1.3g protein. It is rich in vitamin B6 and C, biotin, copper, manganese, potassium, fibre and lutein.
Basic banana smoothie recipe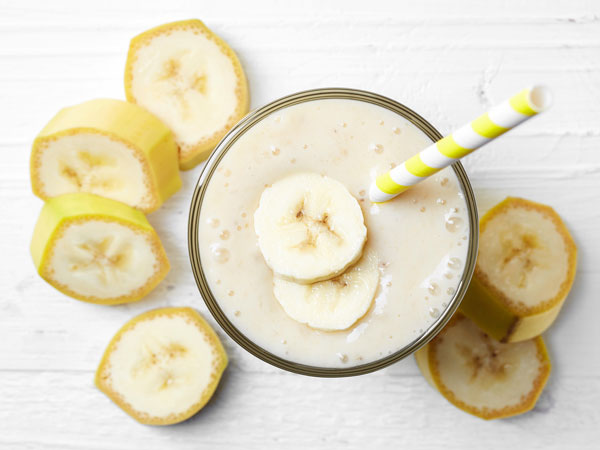 A basic banana smoothie is made from milk (dairy or otherwise) and bananas. Fresh banana will thicken and sweeten, whilst frozen banana will thicken, cool and sweeten. The frozen banana will have a less pronounced sweetness and banana flavour because the cold dulls the senses a little. Banana powder will not thicken, but it will flavour and sweeten. It also contains all the nutritional value of a fresh banana.
For a basic banana smoothie
1 cup milk
1 banana, frozen or fresh
or
1 tbsp banana powder
Banana powder, and other powders, are useful if you don't have a blender. Just put the ingredients in a shaker and shake to blend. Or put them in a bowl and whisk together. Other ingredients such as peanut butter, vanilla extract, or seeds and grains such as oats or chia, can also be added without a blender.
Make your banana smoothie more interesting by adding…
Mango
Add fresh, frozen or powdered mango to your smoothie. Not only will it add extra tropical flavour, but is also full of antioxidant beta-carotene and vitamin C. Mango is also full of fibre and a good-for-your-gut prebiotic.
Nut butter
Adding a nut butter such as peanut butter to your banana smoothie will add a lovely creamy nutty texture and salty flavour. Nuts are high in essential fatty acids and are super good for your skin.
Berries
Berries bring additional fruity flavour and you can add them in fresh, frozen or powdered form. Full of antioxidant plant power, berries are immune boosting, inflammatory fighting superfoods.
Oats
A few tablespoons of oats added to your smoothies will help to thicken and add extra creamy texture. Oats will slow down the release of blood sugars and lower LDL cholesterol levels. They also add as a natural sedative. Oats are the original comfort food.
Protein powder
Protein powder will help to thicken your smoothies and help keep you feeling fuller for longer. Choose dairy or non-dairy but the nutrient values will differ.
Maca
Maca powder has a unique malty flavour that goes particularly well with bananas and milk. It is a powerful adaptogen that helps to balance stress and hormones as well as enhancing energy.
Chia seeds
Chia seeds will help to thicken your smoothie and boost the levels of essential fatty acids and protein. Leave it to stand once mixed in order for the chia seeds to swell.
Cacao
Cacao, the raw form of chocolate, goes well with banana and turns your banana smoothie or shake into chocolate heaven. Don't be put off by the fact that it is raw as the flavour is actually less bitter than cocoa powder. Or you could add cacao nibs for crunchy texture. Either way you get a healthy dose of powerful antioxidants.
Honey
You can add extra sweetness with a spoonful of honey, or add an interesting crunch with bee pollen. Both have a range of natural nutrients than can only enhance the quality of your smoothie.
Vanilla
Vanilla adds a comforting sweetness to anything, especially banana. Use good quality extract. Freshly grated nutmeg also gives a comforting sweetness to the milk/banana combo.
You could choose just one of these elements to make your banana smoothie more interesting, or combine a few. The variations become endless.
You will find these smoothie ingredients and more here at Boost Nutrients, or head over to the online store to buy bulk food online.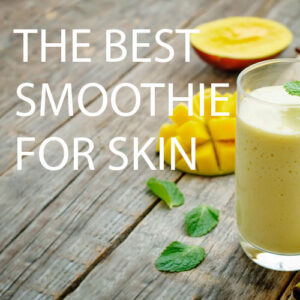 We all know that the key to good skin is healthy eating and hydration. And that drinking smoothies regularly can help to increase our nutrient intake. But what makes the best smoothie for beautiful skin?
A balanced intake from a broad spectrum of healthy wholefoods will cover many of the bases for optimum nutrition but there are certain ingredients and superfoods that will target the specific needs of your skin.
From flushing out toxins for a clear complexion to boosting the nutrients needed for cell renewal and repair, these are the ingredients that make up the best smoothie for skin.
What does my skin need to look its best?
Other than enough sleep, a healthy diet, and plenty of water, your skin needs certain nutrients to help get that radiant glow.
Antioxidants
Unstable chemicals, known as free radicals, within the body can cause, amongst other things, rapid acceleration of aging; the exact opposite of everything that glowing skin needs. Loss of tone, lines and wrinkles, and a dull complexion can all be down to the chaos caused by free radicals. Collagen and elastin break down, affecting elasticity. Surface circulation is diminished, leading to lack of nutrients and loss of that rosy vibrant glow.
Antioxidants protect the body from this damage and can even reverse the signs pretty quickly. Amongst these are flavonoids, carotenoids, vitamin E and vitamin C. Vitamin C is a powerful antioxidant that is key to collagen production. It aids cellular growth and strengthens blood vessels, restoring skins firmness and resilience. It also offers UV protection.
Hyaluronic acid, a favourite ingredient of the beauty industry, works best from within. A water holding molecule, produced by the body, it helps skin to retain moisture, absorb nutrients, and get rid of waste. Also an antioxidant, hyaluronic acid stimulates collagen production so improves elasticity. Good to know.
Essential fatty acids
The components of healthy fats, essential fatty acids such as omega-3, -6, -7 and -9, support the skins natural barrier known as the lipid layer. This is what gives us hydrated, plump, smooth and supple skin. The right balance of EFAs is important and the modern diet can be overloaded with inflammatory omega-9. Increase omega-3 and omega-9, and rarer omega-7, to reap the benefits to the appearance of your skin.
Protein
Skin is made largely of protein so it goes without saying that eating plenty of protein can help with signs of aging such as loss of skin tone and wrinkles.
Sulphur
The mineral sulphur is essential for cell renewal and also helps to clear skin by detoxification and reduce age spots or sun damage.
The best smoothie ingredients for fabulous skin.
Nuts and seeds 
Chia seeds are the richest known source of omega-3. They are anti-inflammatory, help to balance sebum production, and create an even skin tone. Flax seeds, pumpkin seeds, sunflower seeds and sesame seeds are also full of essential fatty acids that are beneficial to your skin. Almonds are an excellent source of antioxidant vitamin E. Macadamia nuts are a good source of rare omega-7, and also omega-9. Look out for LSA mix, a blend of flaxseeds, almonds, and sunflower seeds that you can easily add to smoothies.
Fruits  
Berries are one of the best smoothie ingredients for skin there is. Blueberries, strawberries, and raspberries are all powerful antioxidants that boost circulation and increase uptake of skin nutrients for increased radiance and vitality. Strawberries contain skin firming silica. Blueberries contain pigments that can improve the appearance of dark circles around the eyes.
Kiwi fruit are an excellent source of vitamin C that aids collagen production. Bananas contain lutein that boosts elasticity for supple skin. Pomegranate is a known rejuvenator, helping cells to renew and rebuild. Pineapple is another great source of vitamin C.
Make use of melon and watermelon for its rehydrating properties. They are also a great low calorie base for smoothies. Avocado contains skin healthy fats and lutein to regenerate and nourish.
Lemon juice is one of the best smoothie ingredients for bright clear skin. Not only does it aid detoxification but it also boosts absorption of minerals and is a good source of vitamin C.
Dried berries and powders
There are certain berries that we use in dried or powder form, rather than fresh. Usually categorised as superfoods, these can be a powerful addition to your skin food regime. Goji berries contain zeaxanthin, to help with dark circles around the eyes. Full of vitamin C, and other antioxidants, goji berries are known to stimulate human growth hormone to stimulate cell turnover and minimise fine lines and wrinkles. Goji berries also moisturise and hydrate. Mulberries are a good source of resveratrol, an antioxidant known to help prevent aging. Acai berries are also a major source of vitamin C and other antioxidant compounds.
Vegetables
The minerals in celery help with fluid regulation. Celery also contains skin-firming silica. As does cucumber. Another important ingredient for hydration and also a source of skin-strengthening sulphur. Sweet potato may sound like a strange smoothie ingredient, but roasted it can add a smooth creamy sweetness. Do try it, as it is one of the few ingredients that can boost production of hyaluronic acid.
Green leafy veg such as spinach and kale are full of cleansing chlorophyll for bright clear skin. Try adding a spoon of greens powder as an easy way to boost your smoothies.
Carrots are full of anti-oxidant beta carotene that helps to rejuvenate skin cells. Try using carrot powder as an easy way to boost nutrients in your smoothies.
Oils and fats
If you have dry skin, or combination skin, you may want to boost your intake of healthy fats. Coconut oil is not only nourishing for dry skin but also contains a natural steroidal hormone that promotes skin elasticity. Olive oil contains anti-inflammatory vitamin E as well as omega-9 that aids the absorption of those all important omega-3s.
Extras  
Green tea is an excellent source of polyphenols that boost blood flow to the skin. Matcha tea, the dried concentrated form of green tea has ten times the antioxidant power of green tea. Cacao, the raw unroasted form of cocoa is also a powerful antioxidant. Coconut water contains electrolytes for fast rehydration. Bee pollen is a source of bioflavonoid rutin, that also aids circulation and boosts blood flow to the skin. The proteins in bee pollen help to renew collagen and elastin for a firmer skin tone.
Oats have long been a traditional skin food, with B vitamins, calcium and collagen building silica. The carbohydrates in oats attract water and keep the skin hydrated; hence their amazing skin softening properties.
Now that you have an idea of what to put into the best smoothie for your skin, why not check out our smoothie ingredients? You can also buy gourmet groceries from our online store at wholesale prices.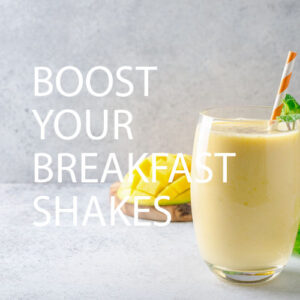 Breakfast. If there was ever a time to indulge in a delicious healthy shake this is it. The best breakfast shake will set you up for the day with all the nutrients you need for sustained energy. And it should taste good too.
A good breakfast should be as nutrient dense as it is delicious, and ideally cover all the macronutrients of protein, fats and carbohydrates, with plenty of essential vitamins and minerals. A few additional superfood boosts will keep you firmly on track until lunch.
But what are the best ingredients to include in your breakfast shakes for a balanced morning meal?
What should my ideal breakfast shake contain?
To fuel the first part of your day you are looking for something that will fill you up without feeling sluggish and keep you fuller for longer. You want sustainable energy without stimulation. And you want that to come in a package that contains as many micronutrients as possible. Grains, nuts and fruits should cover it. Add a little milk, dairy or non-dairy is up to you, and you are good to go. More than ready.
Ten great ingredients for a healthy breakfast shake
Oats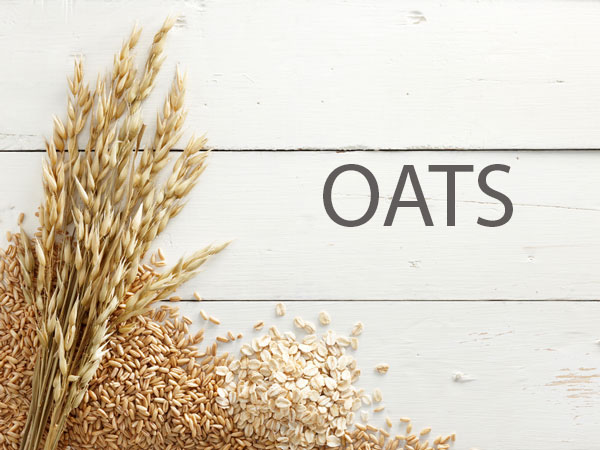 Quite possibly the best breakfast food there is, oats are ridiculously good for you. Rich in vitamins and minerals, oats are a great source of antioxidant polyphenols. The soluble fibre in oats, beta-glucan, leads to an increased feeling of fullness, delays glucose absorption and is even known to promote gut health.
As part of your breakfast shake they lend a thick creamy texture especially if left to stand for a while after blending. They also add a milky sweetness.
Banana
Banana is another breakfast champion. High in heart-healthy potassium, mood-enhancing magnesium, Vitamin C, and Vitamin B6 they also contain soluble fibre, in the form of pectin, that helps to control blood sugar and promote gut health. Bananas contain tryptophan, another mood-enhancing nutrient, the precursor to serotonin the feel-good neurotransmitter.
Like oats, they add creamy texture and milky sweetness to your breakfast shake. Plus, they taste like banana so its all good.
You could substitute banana for our banana powder…
Milk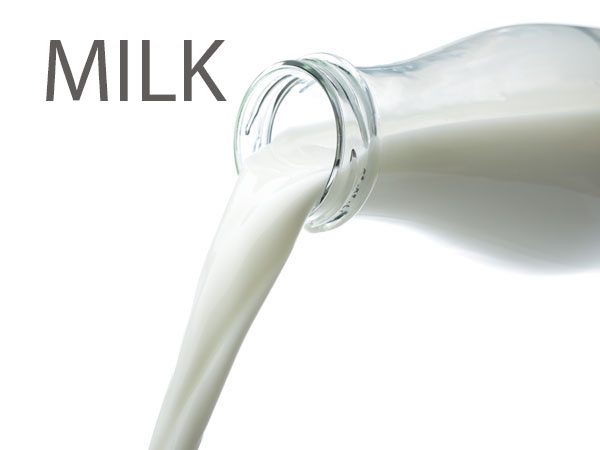 To turn your breakfast into a shake you will need a liquid. Any liquid is good, but for a thick breakfast shake with all the creamy elements like bananas and oats, milk is the obvious choice. Cow milk is a source of easily available calcium and is often fortified with Vitamin D. It is also a good source of protein, with a full spectrum of essential amino acids. Because of food intolerances, allergies, and also ethical choices, non-dairy milk is a popular alternative. They vary widely in nutrient content and flavour according to the manufacturer.
In your breakfast shake, milk will add creamy body and silky texture.
Protein powder
Protein powder is the modern way to add easily digestible protein, and therefore all essential amino acids, to your foods. You can choose whey concentrate, derived from cow milk, or vegan pea protein which is derived from um…peas. Extra protein will add to the satiety value of your shake, making you feel full and keep hunger away for longer. Whey concentrate contains no lactose so is an alternative for those with lactose intolerance.
Both types of protein powder will add creamy body to your shake. If you have no reason to stay away from dairy then choose whey protein for flavour and texture.
Almonds
Almonds are high in fibre, protein and heart-healthy monounsaturated fats. Full of antioxidant Vitamin E that supports the immune system and is great for skin, the skin of almonds also boasts many other antioxidant compounds. High in magnesium, almonds can help to control blood sugar.
Keep the skin on and blitz in your breakfast shake or add a spoonful of whole almond butter for extra body and a nutty taste.
Maca powder
Maca. Superfood of superfoods. From a group of healing plants known as adaptogens, maca adapts to the body strengthening and balancing its systems as needed. It gives energy without stimulation, regulates stress and balances hormones. And is also full of powerful phytonutrients.
In a creamy banana breakfast shake maca powder adds a malty undertone.
Honey
A natural sweetener, honey contains as many calories as sugar but also has a host of nutritional benefits. Composition of honey varies wildly, as does quality, yet it is full of bioactive plant compounds and antioxidants. Look for good quality, local varieties of honey – darker honey may contain more beneficial compounds.
Add just a teaspoon of honey for sweetness and nuance of flavour.
Mango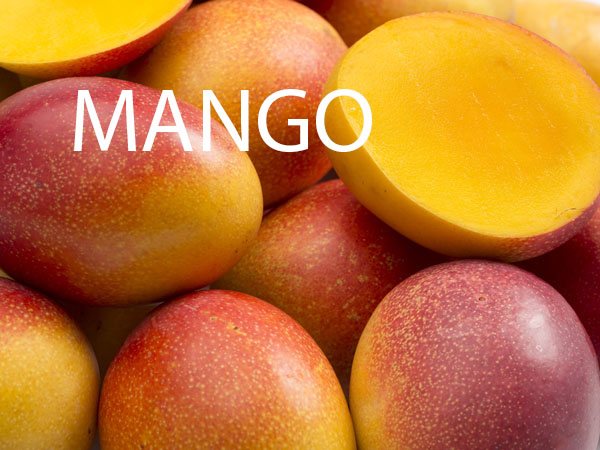 Mango is one of the highest food sources of vitamin C. Packed with fibre, vitamin A, and potassium as well as plenty of antioxidant phytochemicals, mango is a superfruit any time of day.
The richly textured flesh of mango makes it an ideal addition to a thick breakfast shake. Or choose our mango powder for an easy vitamin C boost.
Berries
Who doesn't love berries. Among the most nutrient dense foods on the planet, berries are little powerhouses of vitamin C, vitamin A and antioxidants. Boasting the highest levels of antioxidants in all fruits, berries will help support your immune system and are also anti-ageing. They also taste amazing. Berries deterioriate quite quickly so freeze any fresh berries you have leftover.
Frozen berries add icy cold texture to your smoothies and go surprisingly well with creamy sweet flavours. For an instant flavour and nutrient boost add a few teaspoons of berry powder to your breakfast shakes.
Flax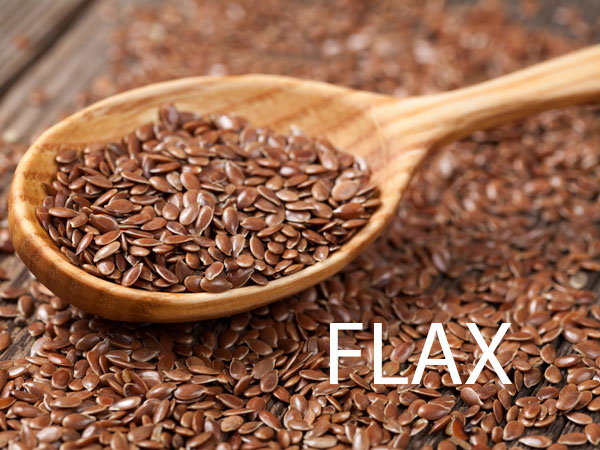 Bursting with anti-inflammatory essential fatty acids (aka EFA's) flaxseed is really good at keeping your brain, heart and joints all healthy. With vitamin E for glowing supple skin, and a decent amount of fibre, flaxseed powder is a good addition to any smoothie, breakfast or otherwise.  Flax is also hormone-balancing too, so is an excellent addition to any superfood arsenal.
Flax has a mild taste that is well hidden in smoothies, although it does particularly the thick and creamy variety with its vaguely nutty tones and thickening capacity. Try our LSA mix for flax, sunflower seed and almond all in one handy powder.
We hope you are feeling more confident to blitz up some healthy breakfast shakes.
Take a look at our smoothie ingredients or head on over to our wholefoods bulk store.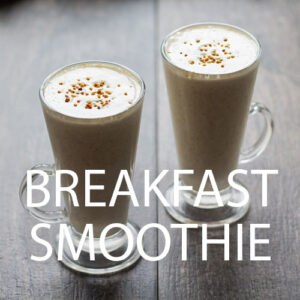 This breakfast healthy smoothie recipe is ready in minutes and can even be made using only store cupboard ingredients.
A thick and satisfying smoothie makes the perfect breakfast, quick to make and easy to digest it gives you everything you need in one delicious go.
So why not start your day the right way with all the nutrients you need to be at your best.
Breakfast healthy smoothie recipe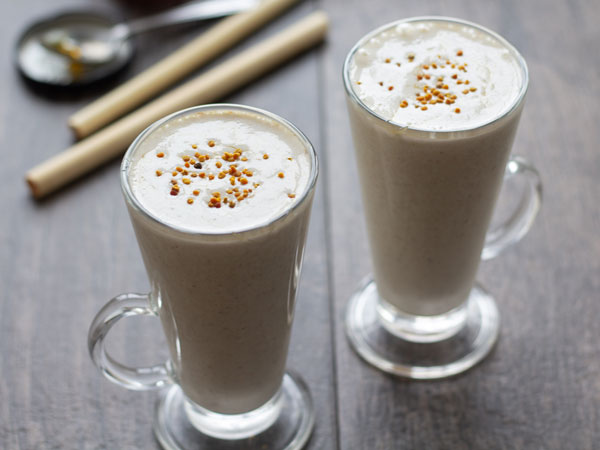 Easy to drink, and easy to digest, this breakfast smoothie will fill you up and keep you feeling fuller for longer. Made with milk as a base, it is up to you whether you go dairy or non-dairy. With added protein powder for a creamier texture and extra amino acids, again you can choose whether to go dairy or plant-based. Banana is the ideal fruit for breakfast, particularly in a smoothie where it blends into creamy sweetness. Not just about flavour though, banana packs a punch in the nutrient department with resistant starch for blood sugar control and plenty of heart-healthy potassium. Oats deliver that all important carbohydrate energy, but in the slow-release form of beta-glucan.
Throw in some maca powder for its magical powers and add in a dash of flax for fibre. By the way, did you know that both of these superfoods helps to balance hormones? Yeap. And that is just as relevant for men as it is for women. 
To make this recipe you will need…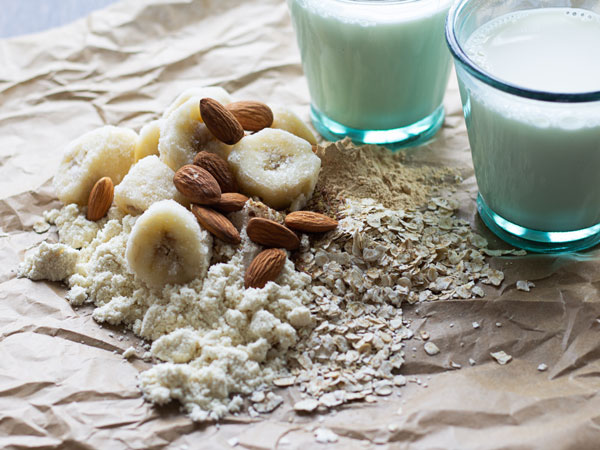 2 cups milk, dairy or non-dairy
1 banana, frozen in chunks or 1 tbsp banana powder
1/3 cup oats
3 tbsp whey concentrate or vegan protein powder
1 tbsp maca powder
1/4 cup raw almonds
1 tbsp flax powder or LSA mix
For the garnish
Drizzle of honey
1 tbsp bee pollen
And now for the method…
There's only 3 steps.
Blitz
Pour
Garnish with bee pollen and a drizzle of honey
Take a look at all of our ingredients for smoothies or you can even bulk buy online direct from us.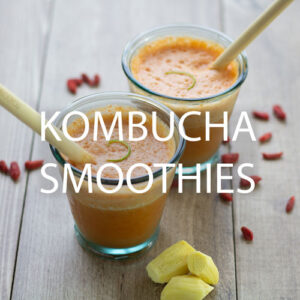 One of the best ingredients for a smoothie, kombucha is an excellent way to bring an interesting twist to your smoothies and acai bowls.
Kombucha is said to offer many health benefits whilst the fizzy texture and sweet sour flavours can bring endless interest to your smoothie recipes.
A mildly fizzy sweet/sour drink made from fermented tea, kombucha is brewed by adding a live culture, known as a scoby, to sweetened tea. A live mixture of bacteria and yeasts, this converts the sugar into a very small amount of ethanol and acetic acid. This accounts for the slightly vinegary taste. People have been drinking fermented tea for thousands of years and it is through increased interest in gut health that we are seeing a revival.
What are the health benefits of using kombucha as a smoothie ingredient?
Kombucha is one of the best ingredients for a smoothie for digestion because kombucha is an excellent source of probiotics. Live organisms that can improve digestion, probiotics help to balance the gut flora. Made from green or black tea, kombucha is also full of the antioxidant benefits these teas provide.
How can I use kombucha as an interesting ingredient in my smoothies?
Kombucha adds interest in the form of fizz. It also brings a sweet yet sharp taste. It makes an excellent alternative to water, juice or milks as a base. When added before blending, the result will not be fizzy but the bubbles form a nice cappuccino style froth on the top. Poured in as a top-up after blending, kombucha adds a nice fizzy edge. Try mixing fruit powders straight into kombucha for a quick nutrient boost.
Because kombucha comes in a range of flavours, you can make interesting combinations. Try mixing peach and goji powders with mango flavoured kombucha. Or add acai powder to apple and pomegranate. In the recipe below we use ginger kombucha alongside fresh ginger. Ginger is also know for its digestive properties so its a double whammy.
Recipe for pineapple and ginger kombucha smoothie
A refreshing blend of pineapple, lime and ginger with a hint of mint. Boosted with goji berries for extra antioxidant action, and enlived with the pep of ginger kombucha.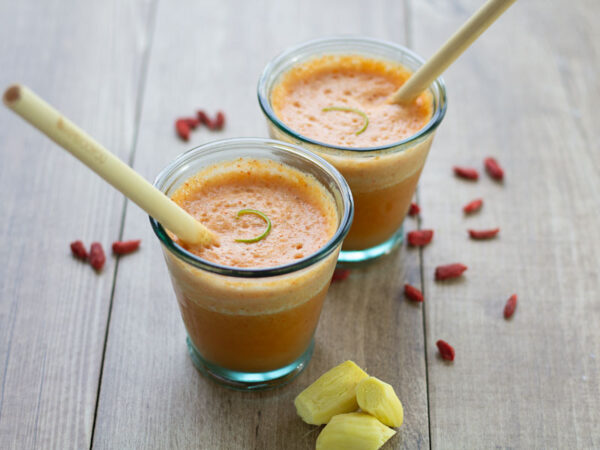 Makes 2 x 150ml servings, or 1 x 300ml serving
1 cup frozen pineapple

1 inch peeled fresh ginger

1 teaspoon lime zest

1 cup ginger kombucha

1 teaspoon goji powder

2 sprigs fresh mint
Blitz all of the ingredients in a blender and serve.
If you haven't tried using kombucha in your healthy smoothies and shakes, why not give it a go?
We have many other great smoothie ingredients and you can buy bulk food online at our wholesale store.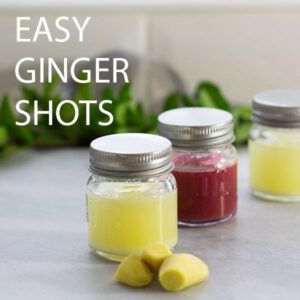 Fresh ginger is a powerful ingredient, one that in the quest for optimal nutrition you will want to include in your repertoire of superfood smoothie ingredients.
A powerful antioxidant, in recent years ginger has been somewhat eclipsed by its carotene cousin turmeric. But ginger has been used for its medicinal properties for thousands of years and can help with everything from fighting the common cold to controlling blood sugar.
One of the best ways to benefit from the anti-inflammatory properties of ginger is to pack it into juices and smoothies. A one-a-day must, especially in the winter months, ginger shots are a handy way to make the most of ginger. Boosted with superfood powders, simply stirred in, they are an essential addition to your nutritional arsenal.
Essential smoothie ingredients – ginger
Making a range of healthy ginger shots is quick and easy. It is up to you whether you choose to juice your ginger, or blitz it in a blender; we use a blender and trap the inevitable fibres in a sieve. There are so many flavours you could add to your ginger shots, all with additional nutritional benefits of their own, but we have used apple, lemon and pomegranate respectively. Boost the recipes with additional superfood powders, to make a green shot for instance. A quick way to get your daily dose of superfoods.
Three easy ginger shot recipes
To make 3 x 60ml ginger shots you will first need to make a batch of ginger juice. Once the pulp is sieved away you can then stir in additional juices, plus superfood boosters if you wish.
To prepare the ginger juice in a blender, blitz 200g peeled ginger together with 120 ml water. Press the resulting liquid through a sieve (use the pulp in stir fries and other dishes; it may not be as potent but still a good source of flavour and fibre). You should yield 120ml ginger juice. Clearly you can make more if you wish, to prepare an infinite number of shots, but do bear in mind that after 48 hours the quality of your juice will begin to deteriorate.
Ginger and apple shot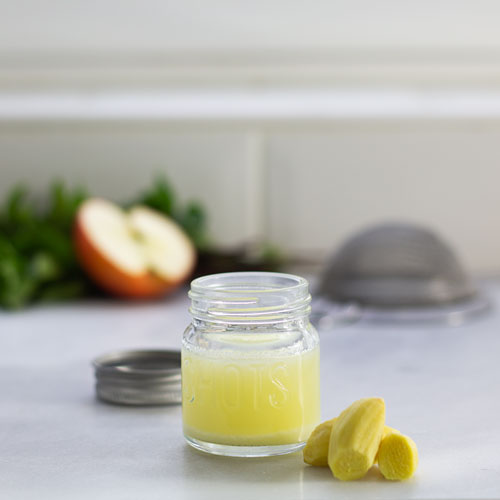 Add 20ml pressed apple juice to 40ml ginger juice and stir/shake to combine.
Superboost bonus – add 1/2 teaspoon green powder such as kale or spinach
Ginger and lemon shot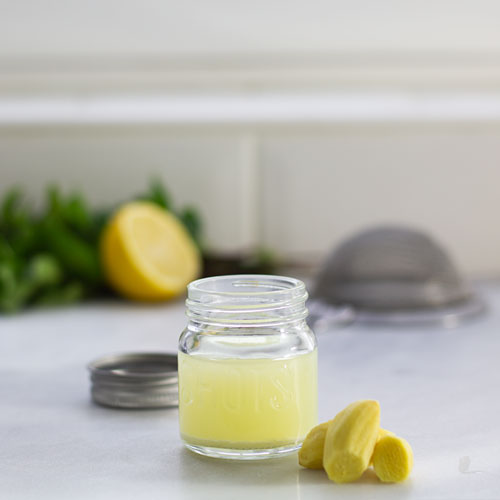 Stir 20ml fresh lemon juice into 40ml ginger juice.
Superboost bonus – add 1/2 teaspoon carrot powder 
Ginger and pomegranate shot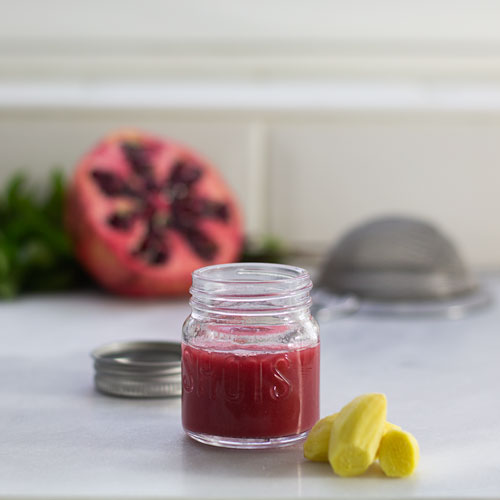 Combine 20ml fresh pomegranate juice with 40ml ginger juice.
Superboost bonus – add 1/2 teaspoon acai powder
So, three easy ginger shots to start you off on your ginger shot journey to optimised health. Try all three, and see what variations of your own you can come up with…
As always, you can find more ingredients for smoothies than you can shake a stick here at Boost Nutrients, or visit our bulk food store for superfoods at wholesale prices.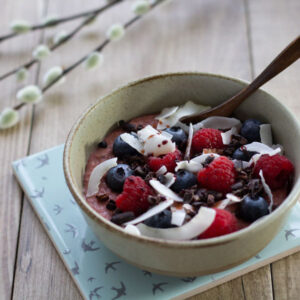 With a few well chosen ingredients you can make a delicious and healthy bowl smoothie in minutes. No chopping. No blending. Which means no fuss, and no mess! Our recipes are all tried and tested because we believe that healthy eating should be about delicious food that puts a smile on your face. No more face pulling at the thought of a green smoothie, or chugging down breakfast because it is good for you. Easy to follow, step by step deliciousness.
Step-by-step recipe for super quick berry bowl smoothie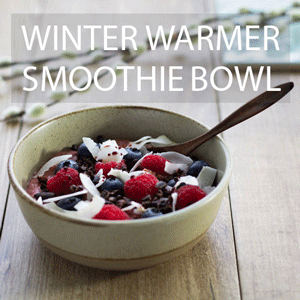 Step 1
Measure 30g porridge oats into a bowl. Because this recipe calls for a quick method (ie microwave) you will need oats that say quick on the packet. These are just like regular oats, but are milled more finely. You can of course use regular porridge oats but they may not be suitable for microwave. In fact you may just end up with exploding milk so be warned. You could also use a porridge blend like our 5 Grain Organic Porridge, but you may need to cook on the stovetop.
Step 2
Add 180ml coconut milk. For a creamier coconutty porridge you could use canned coconut milk, or the creamed coconut that you rehydrate yourself. For regular milk, without the dairy, then go for coconut milk in a carton from the fridge.
Step 3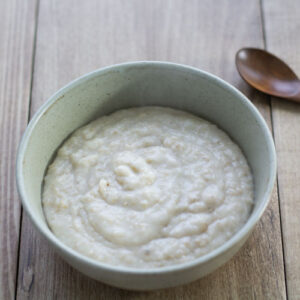 Microwave on full power for 2 mins. Stir. Again, bear in mind the above notes on the type of porridge you use. There are plenty of other base options for a healthy quick smoothie, something we will run through in another post. If your porridge is a little on the undercooked side, give it another minute.
Step 4
Add 1 teaspoon coconut oil. You don't have to do this. There are plenty of essential fatty acids in the flaxseeds, but it does give an extra rich boost to your bowl smoothie if you are hungry or simply feeling decadent.
Step 5
Add 2 tablespoons flaxseed powder or our LSA mix. A blend of linseed (aka flax), sunflower seeds and almonds, it gives a nutty boost as well as added texture.
Step 6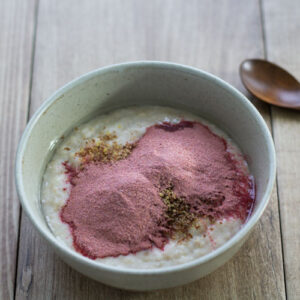 Add 2 teaspoons berry powder, acai powder; or both. Either way you will be bringing maximum berry flavours to your bowl smoothie with minimum effort, and a whole bunch of antioxidant goodness too.
Step 7
Stir to combine.
Step 8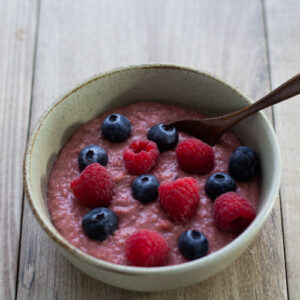 Garnish with berries…
coconut flakes…
cacao nibs…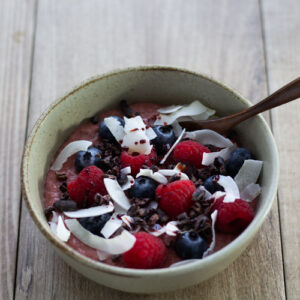 …and finally a flourish of date syrup.
That's how quick and easy it can be to maximise nutrition, and flavour, at breakfast (or indeed any other) time.
You can find lots of lovely smoothie ingredients here at Boost Nutrients or why not bulk buy food online at wholesale prices from our parent company gourmet store.?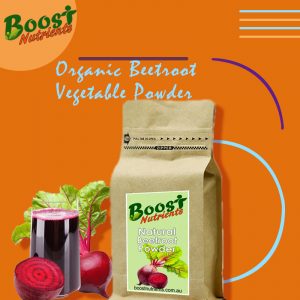 Organic beetroot vegetable powder by Boost Nutrients is perfect for healthy breakfast smoothies. It is manufactured from premium organic beetroot juice. Healthy smoothies can be easily made with the help of naturally dried vegetable powders. Besides this, it is ideal for an acai bowl and granola bowl toppings.  The products of Boost Nutrients are made under certain HACCP certified grounds and it is also manufactured from respective organic certified manufacturers as well as processors in which organic products are shown. Organic beetroot vegetable powder contains high nutrient retention and it is a gluten-free and allergen-free product. The ingredients of organic beetroot vegetable powder are 100% organic beetroot juice. It is rich in protein, fibre, calcium, minerals and vitamins.
Organic beetroot vegetable powder has a long shelf life if respective products are stored properly. This product is sealed in foil-lined resealable bags. Please never left the bags open as it may get expired due to absorbing moisture from respective air.
Visit Boost Nutrients website for more information to know more details about the product.  Book your favourite product now and get online discounts on this product.
Organic Acai Powder by Amazon Power, available from Boost Nutrients is 100% pure acai fruit freeze dried. Organic Acai Powder truely is a magnificent concentrated natural food supplement. The perfect way to boost your nutrients with an easy healthy breakfast.
It is termed as an antioxidant power house and it contains no preservatives. Amazon's Organic Acai Powder is ideal for a home made acai bowl or granola bowl topping and for smoothies and juices.
This Organic Acai Powder 250g is a magnificent concentrated natural food supplement. Our high quality Organic Acai Powder helps to develop immune system of individuals and will increase your energy. It is rich in protein, fiber, carbohydrates, minerals and vitamins.
Opera Foods delivers Organic Acai Powder to Consumers Direct and to retailers in Brisbane, Sydney and Melbourne overnight along with our Boost Nutrient brand products. Boost Nutrients also provides consumers directly from our online store.
Visit our online organic store for more information. Book your favorite product now and get online discounts on this and many other products.