Healthy Breakfast
now browsing by tag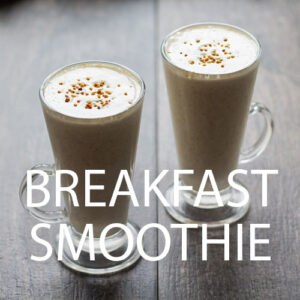 This breakfast healthy smoothie recipe is ready in minutes and can even be made using only store cupboard ingredients.
A thick and satisfying smoothie makes the perfect breakfast, quick to make and easy to digest it gives you everything you need in one delicious go.
So why not start your day the right way with all the nutrients you need to be at your best.
Breakfast healthy smoothie recipe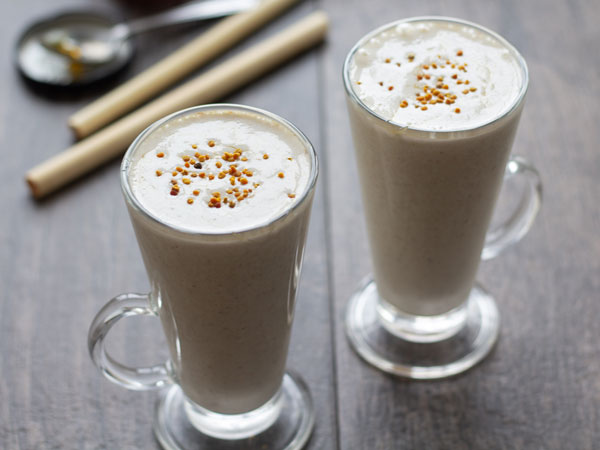 Easy to drink, and easy to digest, this breakfast smoothie will fill you up and keep you feeling fuller for longer. Made with milk as a base, it is up to you whether you go dairy or non-dairy. With added protein powder for a creamier texture and extra amino acids, again you can choose whether to go dairy or plant-based. Banana is the ideal fruit for breakfast, particularly in a smoothie where it blends into creamy sweetness. Not just about flavour though, banana packs a punch in the nutrient department with resistant starch for blood sugar control and plenty of heart-healthy potassium. Oats deliver that all important carbohydrate energy, but in the slow-release form of beta-glucan.
Throw in some maca powder for its magical powers and add in a dash of flax for fibre. By the way, did you know that both of these superfoods helps to balance hormones? Yeap. And that is just as relevant for men as it is for women. 
To make this recipe you will need…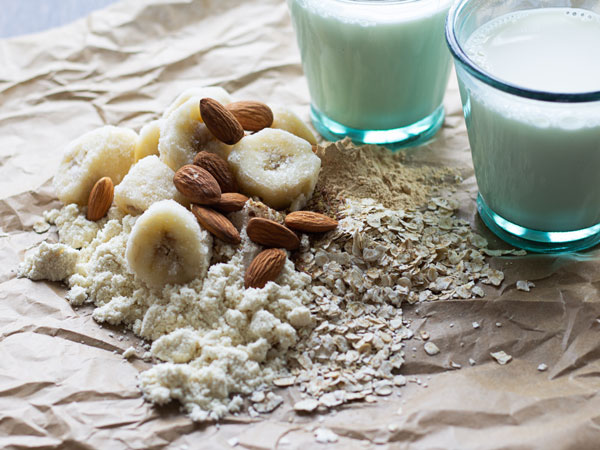 2 cups milk, dairy or non-dairy
1 banana, frozen in chunks or 1 tbsp banana powder
1/3 cup oats
3 tbsp whey concentrate or vegan protein powder
1 tbsp maca powder
1/4 cup raw almonds
1 tbsp flax powder or LSA mix
For the garnish
Drizzle of honey
1 tbsp bee pollen
And now for the method…
There's only 3 steps.
Blitz
Pour
Garnish with bee pollen and a drizzle of honey
Take a look at all of our ingredients for smoothies or you can even bulk buy online direct from us.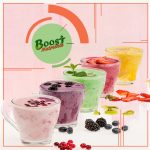 A Fruit smoothie with its wonder properties, when taken, as a breakfast food offers the triple benefits of increased Metabolism, weight Reduction and Diet Maintenance.
The most nutritious is Berry Banana, which contains banana, berries, crushed rice, plain yogurt, and honey, ready to go into the fine mix. It supplies Vitamin C antioxidants and minerals.
Green powders and freeze-dried powders make up the rest of the assortment, as ingredients for the whole range of smoothies.
Buy your requirements of smoothie ingredients from or Boost Nutrients superfoods powder from Boost Nutrients.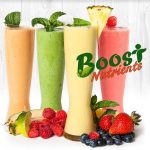 A fruit smoothie is made up of purely whole fruit powder and sometimes diary product such as a little soy milk or a nonfat diary. They are very nutritious and healthy for our body. It provides extra boost of minerals and vitamins to our body as it is made up of crushed fruit skins and pith.
The most nutritious fruit smoothie is the Berry Banana. The ingredients required are 1 ripe banana, cut into pieces, and two cups of berries (mixture of blueberries and strawberries), ½ cup of crushed rice, 2 cups of plain Yogurt and ¼ cup of honey, then you put all of them into the blender and blend them and your berry banana smoothie will be ready. As the Berry Banana smoothie contains strawberries, blueberries and banana they are very rich in Vitamin C and antioxidants.
The benefits of having a Fruit smoothie as your breakfast is, it increases metabolism boosting and further aids in weight loss and diet maintenance.