vegetable smoothies
now browsing by tag
Making a healthy smoothie for kids is more about increasing their fruit and vegetable intake than boosting with superfood nutrients. When we make smoothie recipes for adults, yes it is about getting in lots of the good stuff, but we also try to make every calorie count with nutrient boosts such as maca or goji.
Here we take some simple ingredients, and maybe a few hidden veg, to make some delicious child-friendly smoothies. Perfect for morning or afternoon snack time to keep energy levels up and little brains ticking.
Secret greens smoothie recipe
Sharp kiwi and mild sweet pear act as the perfect foil for the green goodness of spinach. You could use milk as the base to create a milder creamier smoothie, or just stick to water. You could use apple juice but that will up the sugar content for little teeth. Feel free to use fresh, frozen or canned pear; frozen will give a thicker, more frosted texture. You can add more or less liquid according to your child's preference. Instead of fresh spinach, you could substitute with a half teaspoon of our spinach powder. Straight from the pantry, it is an easy way to sneak in those hidden veggies.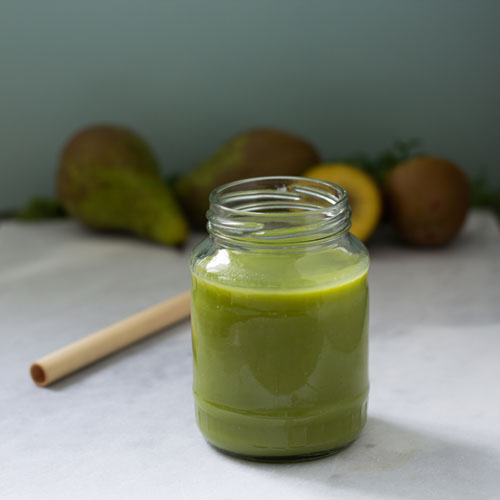 Makes 2 x 4oz servings
1 cup water or milk
1 cup pear chunks, fresh or frozen
1/2 cup baby spinach leaf
1/4 cup chopped kiwi fruit
Add to a blender and blitz until smooth
Tropical treat healthy smoothie for kids
Kids seem to love mango. Maybe its the sweet fruity flavour or maybe its that thick slippery texture. Whatever the story, it is all good news as mango is packed with vitamin C and other healthy goodies. You can hide a bit of carrot in here for extra veg; use juice or substitute with half a teaspoon of carrot powder. Again, feel free to use fresh, frozen or tinned fruit and adjust the consistency to your child's taste.
Makes 2 x 4oz servings
1 cup coconut milk
1 cup mango chunks, fresh or frozen
1/2 cup pineapple chunks, fresh or frozen
1/4 cup carrot juice
Add to a blender and blitz until smooth
Peach melba shake smoothie recipe
By using more milk to fruit, and even a spoonful of whey protein powder, you create more of a shake than a smoothie. Using frozen fruit will give a thick shake effect, like a burger shake made with ice cream. For a quick storecupboard fix you could use our fruit powder; substitute about a teaspoon of either the berries or the peach. If you wanted to use both powders, add more banana for texture.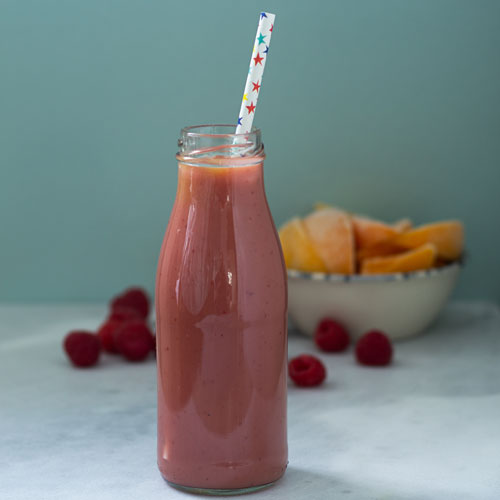 Makes 2 x 4oz servings
1 1/2 cup of milk
2 teaspoons whey protein powder
1/2 cup frozen raspberries
1 cup frozen peaches
1/2 banana
Add to a blender and blitz until smooth
To sum up, it is easy to get more fruit (and even veg) into kids and set them up with good habits for life.
Check out our range of smoothie ingredients that are perfect for the pantry, or head over to our bulk store for organic wholesale prices.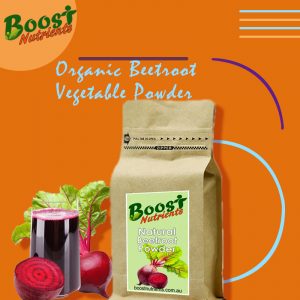 Organic beetroot vegetable powder by Boost Nutrients is perfect for healthy breakfast smoothies. It is manufactured from premium organic beetroot juice. Healthy smoothies can be easily made with the help of naturally dried vegetable powders. Besides this, it is ideal for an acai bowl and granola bowl toppings.  The products of Boost Nutrients are made under certain HACCP certified grounds and it is also manufactured from respective organic certified manufacturers as well as processors in which organic products are shown. Organic beetroot vegetable powder contains high nutrient retention and it is a gluten-free and allergen-free product. The ingredients of organic beetroot vegetable powder are 100% organic beetroot juice. It is rich in protein, fibre, calcium, minerals and vitamins.
Organic beetroot vegetable powder has a long shelf life if respective products are stored properly. This product is sealed in foil-lined resealable bags. Please never left the bags open as it may get expired due to absorbing moisture from respective air.
Visit Boost Nutrients website for more information to know more details about the product.  Book your favourite product now and get online discounts on this product.
Boost Nutrients produce great ingredients for smoothie, acai bowl toppings, fruit and vegetable powder and natural goji berry powder is very popular among those that taste superior and fine foods.
Boost Nutrients, a division of Opera Foods are health ingredient distributors of Australia.  They provide products for gourmet grocery as well as organic food in Sydney, Brisbane as well as Newcastle. With the help of natural goji berry powder, healthy smoothies can be made for breakfast and also it can be used for toppings for acai bowl or granola bowl.
Goji berries have been utilized as a kind of medicine herb in China for many decades. It is usually given with tea and many others in China. The Chinese medicine was believed on perceived results without any scientific analysis as well as information. According to the researches of modern science, goji berries possess distinctive level of respective anti-oxidants namely Lycium barbarum polysaccharides that help to increase an immune system of an individual.
Goji berries are rich in protein and moreover these super berries contain significant amount of amino acids that is higher than other berries.
Natural goji berry powder is rich in protein, fats, carbohydrates, sugars, sodium that aids to prevent against illness. It is also gluten free as well as allergen free. Natural Goji berry powder contains certain health benefits including improves healthy skin, lowers blood sugar, and reduces anxiety.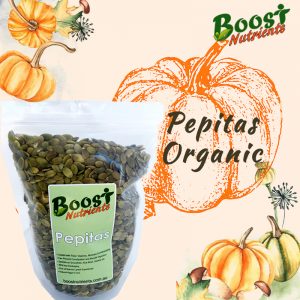 Boost Nutrients produce great smoothie ingredients, vegetable powders, fruit powders; toppings for acai bowl. Our organic pepitas are very much popular among them. They taste superior and fine and are easy to sprinkle on meal with a great boost to nutrition.
Organically grown Pepitas are rich in vitamins, fiber, antioxidants and minerals that helps to strengthen your immune system and so prevent illness. It is considered as a perfect superfood topping for smoothies and acai bowl.
It is generally utilized for nutritious breakfast smoothie as well as acai bowl ingredients.  Organic Pepitas can be sprinkled on acai bowl, salads, smoothies, oatmeal, cereal, chicken as well as vegetable platters. It is also great for stews and soups and it adds a superior consistency in cookies, puddings and several other desserts. Buy Organic Pepitas online now.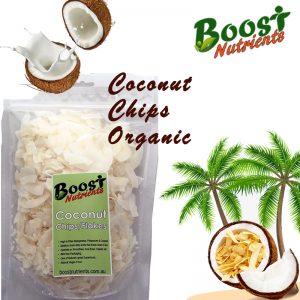 Organic Coconut  Chips is another prime acai bowl ingredient product of a Boost Nutrients brand. Boost nutrients are organic food and ingredient distributors and suppliers to Australian retailers and groceries. Opera Foods are the parent company of Boost Nutrients.
Shaved Organic Coconut  Chips contain protein, fats, carbohydrates, sugars, sodium all natural wholefood goodness that helps our immune system to resist against illness.
Organic Coconut Chips an ideal ingredient
Organic coconut is an ideal food for morning breakfast and snacks that can be taken with muesli or granola, moreover, it can be used for the purpose of baking as well as desserts and sometimes as a garnishing for an exotic dishes.
The highly nutritious acai bowl, as well as smoothies, can be topped with the help of Organic Coconut  Chips. Organic Coconut  Chips are rich in zinc and other minerals that help to advocate the natural defense system of an individual. It aids to control blood sugar as well as cholesterol level of an individual.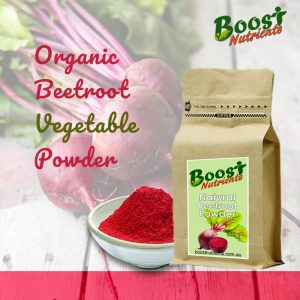 Organic beetroot powder is a vegetable powder product of the Boost Nutrients brand. Boost nutrients are the distributors of respected superior quality food powders to retailers as well as cafes.
Boost Nutrients is conducted and owned by an Australian Family Food Business Opera Foods. Organic beetroot vegetable powder is basically allergen-free as well as gluten-free. Healthy and nutritious smoothies can be produced with the help of organic beetroot powder.
Healthy smoothies can be regarded as a healthy breakfast as it contains protein, carbohydrates, sugars, sodium. It contains high nutrient retention owing to the unique process of drying technology. It is produced from the natural pulp of organic beetroot. It helps to increase immune power as well as the vitality of an individual. Its another vegan food ingredient for vitality.
Our 500g bag is pictured and also available in 100g pouch for consumer direct orders.
Buy it online from Opera Foods, Australia's wholesale cafe foods suppliers.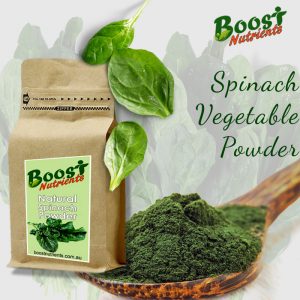 Boost Nutrients produce multi-varied items such as vegetable powder, fruit powder and several kinds of smoothie recipes. Boost Nutrients is basically an Aussie brand which consumes mainly garden-fresh raw ingredients, from Australia where possible, and it also consumes high-quality ingredients from respective overseas suppliers. The main goal of Boost Nutrients is to provide healthy energy drinks and meal toppings and to ease the respective process of producing smoothies.
Spinach vegetable powder is one of the vegetable powders that help to prevent blood pressure, cancer, and several other severe diseases. Spinach vegetable powder is rich in phytonutrients, antioxidants, flavonoids as well as carotenoids. It is produced by the process of drying whole spinach leaf pulp. Spinach powder is green in color and it has a mild flavor of spinach. Using this powder, people can make smoothies and juices of spinach. Moreover, it can be used in soups, salad dressings as well as savory dishes.