organic ingredients
now browsing by tag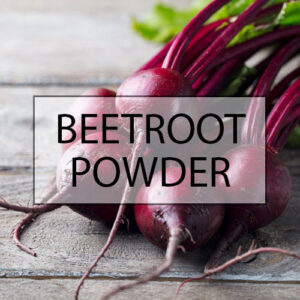 Beetroot powder has long been used for its sweet flavour and vibrant red colour. Once the best kept secrets of pastry chefs and food manufacturers it is now popular as a nutritional supplement and superfood ingredient.
Is beetroot good for you?
Beetroot is a root vegetable that looks something like a turnip. Brightly coloured, not all beetroots are red, yet most beetroot powder is made from the red variety. It is actually a relative of spinach.
Red beetroot are home to a unique group of antioxidants known as betacyanins. Their main role is to support the liver, purify the blood, and improve circulation.
It is also rich in B vitamins, Vitamin C, and folate, as well as minerals potassium, manganese, magnesium, and iron. Not to mention fibre.
So yes, in short, beetroot is pretty good for you.
Beetroot powder benefits
Beetroot powder is a great way for those who don't like beetroot to benefit from its substantial array of nutrients. Even if you do like beetroot, it is heavy to carry and a nightmare to prepare. Just one teaspoon of beetroot powder is the equivalent of 1 beetroot. It won't go soft in the vegetable rack and needs no further thought than a quick stir into whatever happens to be going on in the kitchen at the time.
Beetroot powder ingredients
Beetroot powder is literally just that. Whole beetroot with all the water removed. Dehydrated and ground to a powder. All the fibre, all the nutrients; still there.
How to use beetroot powder
The complex flavours of beetroot make it a really versatile ingredient. Earthy and sweet, with slightly bitter tones, it sits happily in both sweet and savoury dishes. In sweet dishes it pairs particularly well with berries and also chocolate. Try pairing with our organic berry powder for a double dose of pink, or with raw cacao powder.
You can pretty much stir a spoon or two into anything. It dissolves readily in water.
Mix with water, juice or milk for a simple shake or add to smoothies for a nutrient boost. Make a beetroot pumpkin spiced latte. Or a decadently pink hot chocolate.
Try adding to dips and sauces. Beetroot hummus anyone?
How to use in baking
Beetroot powder is ideal for baking, with its earthy sweetness and bold pink colour. It is the perfect addition to red velvet cake and also a classic twist on chocolate cake. It can lose its colour due to oxidation though so don't expect everything to be a perfect pink. A touch of acid such as vinegar goes a long way to preventing oxidation and keeping the colour though.
Try adding to your pasta dough, bread dough, pastry, cakes or cookies. Or you could make some pretty yet powerful beetroot bliss balls.
How much can I eat per day?
You would be surprised how much power just one teaspoonful of vegetable powder can have, so start off small and build up to 4 or 5 teaspoons a day.
If you want to buy organic beetroot powder then you have come to the right place. Why not check out our organic wholesale too?
There isn't always time to mess about with chopping boards and blenders so we created five of the best recipes for smoothies that you won't need to chop or blend.
Some ingredients, such as maca or hemp powder, blend into liquid less readily than others so a few of the recipes require a jug and a wire whisk. Fruit and vegetable powders blend far more easily, so they need nothing more than a spoon and a glass.
Thickening ingredients such as protein powders, chia or oats may be used to create a thicker or creamier texture.
Five of the best recipes for smoothies
Banana, maca, almond butter no-blend smoothie recipe
A creamy blend of milk, oats and banana powder with added maca powder for hormone balance. Enriched with a spoon of almond butter and garnished with crunchy sweet bee pollen.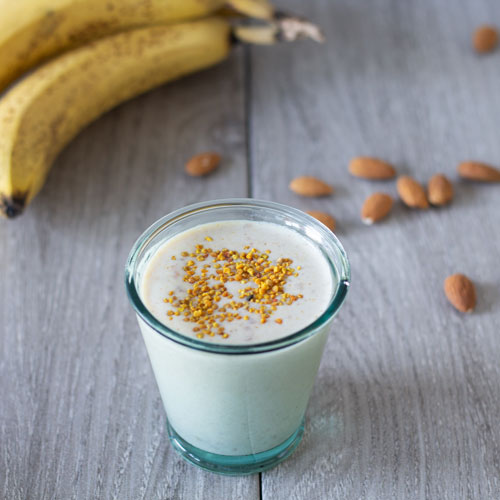 200ml oat milk
1 tbsp banana powder
2 tbsp quick porridge oats
1 tsp maca powder
1 tsp almond butter
Drizzle of honey
Scatter of bee pollen
Whisk all of the ingredients, except the bee pollen, together in a jug using a wire whisk.
Pour into a glass and garnish with the bee pollen.
If you wish, allow the smoothie to stand for 20 minutes to soften the oats to a creamier texture.
Pomegranate, berries, and acai no-blend smoothie recipe
More of a boosted juice than an actual smoothie this will however provide a blast of antioxidant berries and sharpen the senses with its zingy flavours.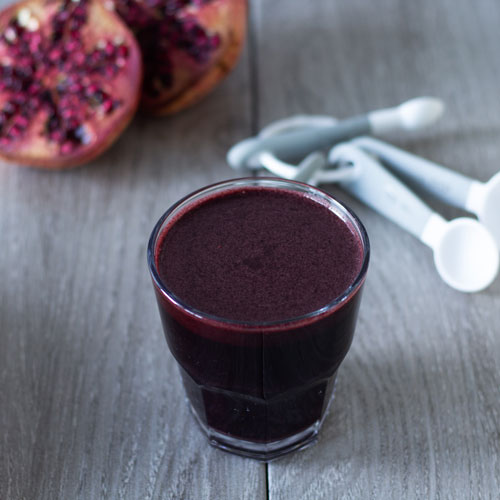 200ml pomegranate juice
1 tbsp mixed berry powder
1 tbsp acai powder
Stir all of the ingredients together until blended.
Cacao, date and chia no-blend smoothie recipe
Calming cacao provides energy and boosts your mood, with a touch of sweetness from date syrup, and chia to keep you feeling fuller for longer.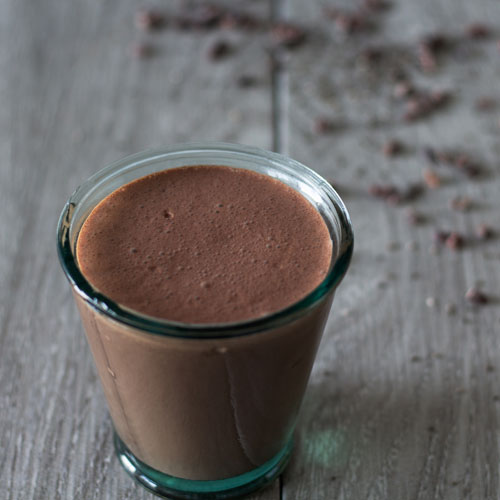 200ml milk
2 tbsp cacao powder
1 tbsp chia seeds
1 tsp date syrup
Whisk all of the ingredients together in a jug using a wire whisk.
Pour into a glass and, if preferred, stand for 20 minutes to allow the chia to thicken.
Kombucha, mango and goji no-blend smoothie recipe
Fizzy and fruity, this no-blend smoothie is full of anti-oxidant power. Kombucha brings its unique flavours and gut healing qualities to the glass.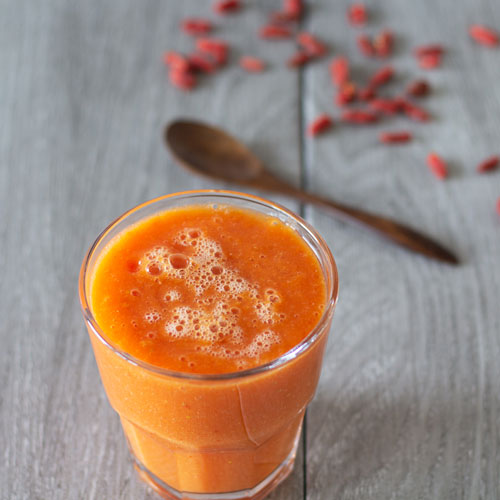 200ml kombucha, flavour of your choice
2 tbsp mango powder
1 tbsp goji powder
Stir the powders into the kombucha until smooth.
Apple, hemp and greens no-blend smoothie recipe
Sweet apple juice takes the edge off the green flavours whilst hemp adds texture and protein.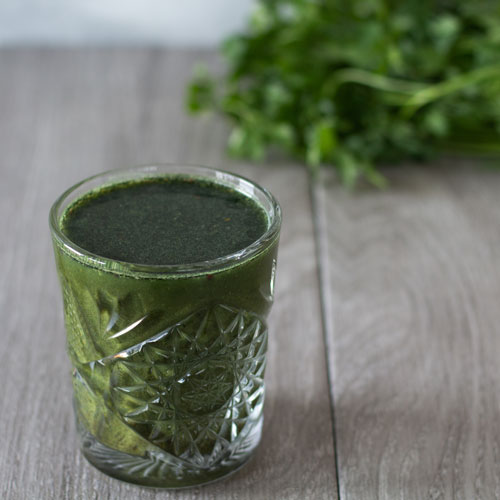 200ml pressed apple juice
2 tsp spinach powder
1 tbsp hemp powder
Whisk all of the ingredients together using a wire whisk.
Pour over ice to serve.
We hope you try these no-blend recipes for yourself and see how easy it can be to make the most of fruit and vegetable powders.
Find out more about these smoothie ingredients or head straight to our sister site for wholesale organic food.
Organic Cacao Nibs by Boost Nutrients is amoung ideal organic wholefood ingredients & toppings for an acai bowl or granola bowl and nutritious breakfast smoothies. The only ingredients of organic cacao nibs organic are of course organic cocao beans.  Cacao Nibs are tiny chunks of crushed cacao beans which contain a chocolaty as well as slightly bitter flavour. These cacao beans are a natural plant food produced from beans of the cacao tree. Our Organic Cacao Nibs contain 300 photochemical, flavonoids as well as 4 times the antioxidants of dark chocolate. Cacao nibs are regarded as the greatest source of antioxidants of natural plant products. Great foods to boost your immune system
Antioxidants are helpful for preventing age symptoms as well as assisting with several kinds of disease. Raw cacao is also good for the central nervous system; hence, the professionals of health suggest having raw cacao every day. Raw cacao nibs are gluten-free.
Boost Nutrient brand Organic Cacao Nibs are  packed in resealable bags. We always suggest keeping all unopened packs in a cool and dry place.  Never keep the bags open as it may get moisture.
Visit the Boost Nutrients website for more details. Buy Organic Cacao Nibs wholesale now and grab online discounts for bulk orders.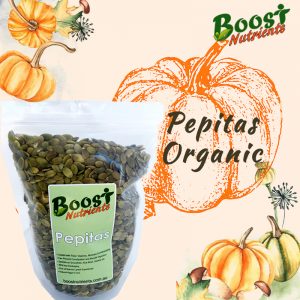 Boost Nutrients produce great smoothie ingredients, vegetable powders, fruit powders; toppings for acai bowl. Our organic pepitas are very much popular among them. They taste superior and fine and are easy to sprinkle on meal with a great boost to nutrition.
Organically grown Pepitas are rich in vitamins, fiber, antioxidants and minerals that helps to strengthen your immune system and so prevent illness. It is considered as a perfect superfood topping for smoothies and acai bowl.
It is generally utilized for nutritious breakfast smoothie as well as acai bowl ingredients.  Organic Pepitas can be sprinkled on acai bowl, salads, smoothies, oatmeal, cereal, chicken as well as vegetable platters. It is also great for stews and soups and it adds a superior consistency in cookies, puddings and several other desserts. Buy Organic Pepitas online now.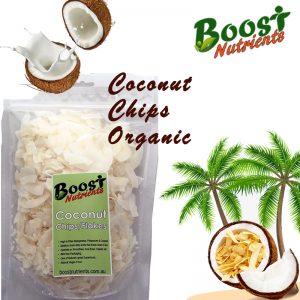 Organic Coconut  Chips is another prime acai bowl ingredient product of a Boost Nutrients brand. Boost nutrients are organic food and ingredient distributors and suppliers to Australian retailers and groceries. Opera Foods are the parent company of Boost Nutrients.
Shaved Organic Coconut  Chips contain protein, fats, carbohydrates, sugars, sodium all natural wholefood goodness that helps our immune system to resist against illness.
Organic Coconut Chips an ideal ingredient
Organic coconut is an ideal food for morning breakfast and snacks that can be taken with muesli or granola, moreover, it can be used for the purpose of baking as well as desserts and sometimes as a garnishing for an exotic dishes.
The highly nutritious acai bowl, as well as smoothies, can be topped with the help of Organic Coconut  Chips. Organic Coconut  Chips are rich in zinc and other minerals that help to advocate the natural defense system of an individual. It aids to control blood sugar as well as cholesterol level of an individual.