cacao
now browsing by tag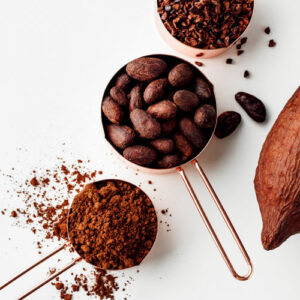 If you are simply avoiding gluten, then discovering that some ingredients may contain trace amounts of gluten is not such a major thing. But if you have coeliac disease, or are cooking for someone who does, then you need all the knowledge that you can get.
The most recent food to be called into question for its gluten content is cocoa powder.
So, is cocoa powder gluten-free?
When it comes to gluten, some foods are more obvious than others. We all know that most baked goods, traditionally made with wheat flour, are a no-no. Then there are the stumbling blocks, where we just aren't quite sure. Like the gluten content of oats, for example…
Yet most often it is the hidden perils of food processing that are to blame. Cross contamination of gluten is a big issue, as is the use of gluten containing foods as fillers and flavorings. The use of gluten in lollies is a prime example.
Basically, the further you get down the processing chain, the more likely it is you will find added (or even hidden) gluten in your food.
Does chocolate contain gluten?
The most processed form of cacao is chocolate. And let's face it, the reason that we choose to add cocoa powder to our food is to make it taste of chocolate. We may not want the additional fats, sugar, dairy or even gluten, but we do want that glorious chocolate hit.
There are degrees of processing in chocolate, from the small-batch artisanal bars to the mass-produced big brands. Some, made with the fewest ingredients in a certified free-from-contamination zone, may be gluten-free. These are the high quality chocolates made from cocoa liquor, cocoa butter, and sugar, with perhaps added milk or cream. Whilst likely to be gluten-free, particularly on the ingredient front, it is a sad fact that the smallest artisan producers are the least likely to have the financial resources required to invest in gluten-free certification.
Mass produced commercial chocolate is more likely to include gluten-containing ingredients. Powdered milk, soy lecithin, and even vanilla extract are all known to have been contaminated with gluten.
Is soy lecithin in chocolate gluten-free?
Soy lecithin itself does not contain gluten. But it may contain residues used in processing, or even additives that do. And these may not be on the label. Used as an emulsifier, lecithin helps to bind and hold the ingredients in chocolate together for a smooth mouthfeel.
Many coeliacs report sensitivity issues with soy lecithin, whether through gluten contamination or other related issues.
Is cacao gluten-free?
Cocoa powder has long been thought to be a safer option for coeliacs than chocolate, as it should contain one ingredient only. Cacao. Essentially, cocoa powder (and cacao powder) is cocoa liquor with the cocoa butter removed. Cacao nibs are crushed cocoa beans, with the cocoa butter content left intact. We explore the differences between cacao vs cocoa in this article.
Most gluten-free organisations recognise cocoa powder as a gluten-free ingredient, and advise as such. However cross contamination can occur, and most products (unless certified gluten-free) will carry a disclaimer as such. Cocoa powder is a different thing to drinking chocolate, or hot chocolate powder. Once fairly benign, these products are now highly likely to contain gluten in the form of thickeners and fillers.
Raw cacoa, in the form of cacao nibs or cacao powder, is the least processed cacao product of them all. Not all brands will be certified free from gluten contamination, but it is the closest to the natural cacoa bean that you will get.
Explore our range of superfoods and buy all your smoothie ingredients direct online.
---
This article was reproduced on this site with permission from operafoods.com.au the "Online Asian Wholesale Grocer".
See original article:- Is cocoa powder gluten free?
Cacao vs cocoa. What is the difference between the two? Is cacao really better for you than cocoa?
What is cacao?
Strictly speaking, cacao is the name given to the plant that gives us the raw form of chocolate. The cacao tree, with the botanical name Theobroma Cacao, bears fruits known as cacao pods, with cacao seeds inside. Just to confuse matters more, these seeds are what we also know as cocoa beans. There is no legislation on the naming of related products so the word cacao is interchangeable with the word cocoa.
However it is generally accepted nowadays, as we come to appreciate the power of raw chocolate, that when we say cacao what we mean is the raw natural form. Bought as cacao powder or cacao nibs, this raw unsweetened source of chocolate is a bonafide superfood. Find out more about superfoods here.
Be aware that when you are buying cacao you need to clarify that it is indeed raw. Some manufacturers label products as cacao (and it is perfectly acceptable for them to do so) but it has been roasted. Our cacao powder and cacao nibs are in their natural raw form.
What are cacao nibs?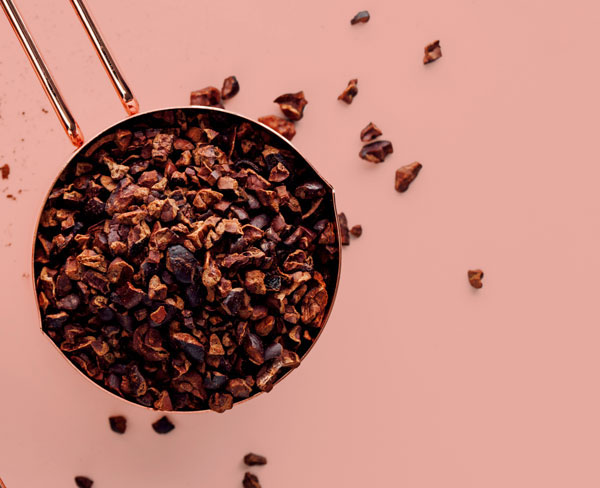 Cacao nibs are crushed cocoa bean fragments. All cacao, raw or roasted, has been through certain steps of processing. The production of nibs is one of those steps.
The pods of the cacao tree are first harvested and then split open. The cocoa beans are removed and left to ferment for about a week. This step is vital as it develops the flavour of the beans into the chocolate tones we are all familiar with. The moist beans are then left to dry.
You can buy organic cacao nibs right here.
The difference between cacao and cocoa
If the difference between cacao and cocoa is that cacao is the raw product, then this is the stage at which the difference lies. Once dried, the beans are either roasted or left in their natural un-heat processed state. They are then cracked open and crushed to produce nibs.
To produce powder the nibs are ground into a mass. As the beans contain fat (cocoa butter) this is a liquid mass known as cocoa liquor. This is then pressed to remove the fat. What is left is powder. Cacao powder from raw nibs, cocoa powder from roasted nibs.
Cocoa powder is sometimes processed even further to reduce acidity. Treated with an alkalising process, it becomes less bitter, sweeter, darker in colour and more soluble. Which is great for chocolatiers; less great for the nutrient levels.
Does cacao have caffeine?
Both cocoa and cacao do contain caffeine but analysis has shown that raw cacao can contain over twice as much caffeine as its roasted brethren.
Is cacao healthy?
Both cacao and cocoa are rich in vitamins and minerals, but the raw form has more of its nutrients intact. Cocoa nibs also have all the healthy fats of the original bean. Raw cacao is rich in magnesium, potassium and calcium. One of the highest antioxidant foods on the scale, raw cacao is packed full of plant-based chemicals that energise both body and mind. The heat processing involved in production of cocoa powder severely depletes the levels of many of these nutrients.
The benefits of cacao for weight loss
We all love chocolate, right? And we already know that it is full of feel good chemicals. But it also comes with a not-so-healthy dose of fats and sugars. So not exactly a health food. But raw cacao can actually aid weight control. A mood booster that helps us to stay positive, cacao may also boost metabolism and help to burn calories more efficiently. It may also suppress the appetite by regulation of certain hormones.
Are cacao nibs keto friendly?
Cacao nibs and cacao powder are both low-carb, but nibs provide more fat so are an excellent choice for those on a keto diet.
How to use cacao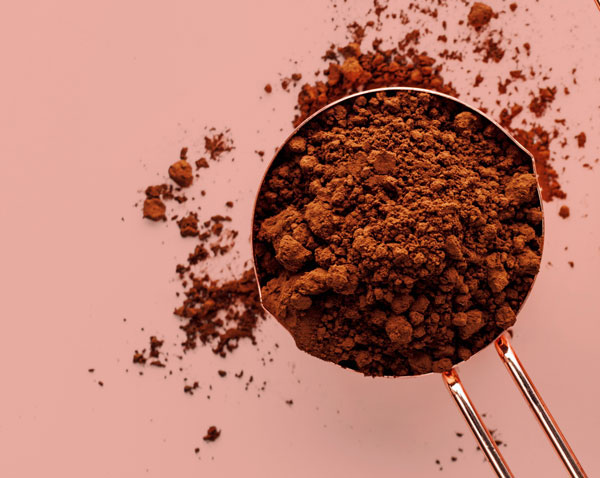 Can I use cacao instead of cocoa?
Cacao powder can be used interchangeably with cocoa powder, anywhere that you want add the flavour of chocolate. It may have slightly different properties, such as being a little less soluble, but you can begin by swapping out on a 1 to 1 ratio. Take note that if you bake with raw cacao powder the heat will destroy some of the antioxidants and other heat sensitive nutrients. Your best bet is to use cacao in raw products such as raw brownies, bliss balls, and smoothies.
You can use cacao nibs in place of chocolate chips but they will not melt like chocolate. So, you can't use them to melt and pour, but you can add them into cookies and cakes. Again, beware of nutrient loss under baking temperatures. They do make a great crunchy addition to granola, trail mix, or nice cream.
There really are lots of creative ways that you can enjoy cacao instead of cocoa or chocolate.
Does cacao taste like chocolate?
Yes, cacao does taste like chocolate in that it has the unmistakable character of chocolate. Porridge with cacao powder stirred in is most definitely chocolately. Ditto smoothies. Added to creamy ingredients rounds out the bitterness and enhances sweetness so you don't need to add sugar to make it yummy.
Raw chocolate and cacao are strong and bitter, like eating 90% chocolate. Eating raw cacao nibs on their own is a little like eating coffee beans, but with other ingredients the chocolatey flavour is enhanced.
How to store cacao powder
Store your cacao products in an airtight container away from the light to prevent degradation of valuable nutrients.
Buy raw organic cacao powder from our store and buy in bulk online! We are a major online supplier of superfoods Australia, so check out the rest of our superfoods range.