3 great healthy recipes for smoothies. Boost your power with superfood ingredients.
Gone are the days when smoothies were purely a way to get your 5-a-day in liquid form. A convenient nutrient booster yes, but mother nature, via modern nutritional science, has given us so much more to play with. These three healthy recipes for smoothies are not only delicious and nutritious in their own right, but also make the most of some clever superfood nutrient boosters to really up the ante. With little or no chopping, and a quick blitz in the blender, these super smoothies will keep you going for the day.
Be prepared!
Alongside your larder of smoothie ingredients, there are a few easy tips you can follow to get the most from these healthy recipes for smoothies. A little quick and easy advance preparation is all it takes. Some of the best smoothies are ice cold and full of semi-frozen texture so make good use of both the freezer as well as the cupboard and you will always be good to go.
Frozen fruits are the mainstay of many a good smoothie. In these recipes we make use of frozen berries and frozen banana slices. Freeze 1 inch chunks of banana laid flat in a freezer bag. Once solid you can fill the bag and store away in the freezer for easy use. This is an excellent way to use up those browner bananas in the fruit bowl, and they taste sweeter that way too. Ditto berries. Whilst you may use commercial bags of frozen berries, freezing those you have left over from fresh is also a great waste saver.
Ice cubes are another good way to get frosty flavour into your healthy smoothie recipes. We make use of coconut milk in these recipes, but you can experiment with anything that might make life a little easier and even control kitchen waste. Try freezing cold teas such as green, earl grey or herbal blends. Think of liquids that you might use and could freeze to give maximum flavour to your smoothies rather than dilute them with ice made from water.
What will I need to make these healthy recipes for smoothies?
As well as coconut milk ice cubes, frozen mixed berries, and frozen banana chunks, here's the list of ingredients we used for these 3 smoothie recipes. Most of the ingredients came straight from the storecupboard for minimum waste and maximum speed.
Vanilla Extract
Flaxseed powder, or LSA mix
Chia seeds
Maca powder
Hemp powder
Acai powder
Goji powder
Spinach powder
Cacao powder
Cacao nibs
Dried mulberries
Dried dates
Milks; coconut, oat, cow
Juices; pomegranate
Whole limes
Pom berry smoothie recipe
Full of fruity sharp flavour, this berry based smoothie is packed with antioxidant power. Best served immediately whilst still semi frozen, yet still great later if you need to put it a bottle and go.
Makes 1 serving
1 cup pomegranate juice
1/2 cup frozen berries
1 tablespoon acai powder
1 tablespoon goji powder
2 tablespoon dried mulberries
Blitz all ingredients in a blender until smooth and slushie thick.
Lime and green smoothie recipe
A great tasting green smoothie thanks to a healthy shot of lime juice and the creamy calm of coconut. The chia adds an almost ice cream texture and lots of fibre.
Makes 1 serving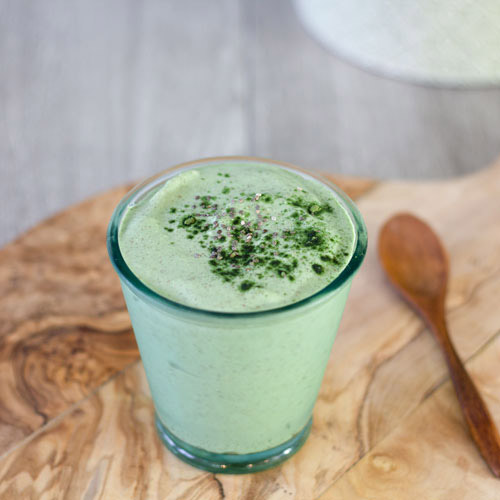 1 cup coconut milk
1 tablespoon flax seed or LSA mix
1/2 cup coconut ice
Flesh of 2 whole limes, plus the zest
2 teaspoon chia seeds
1 tablespoon spinach powder
Blitz all ingredients in a blender until smooth and ice cream thick.
Choc date shake smoothie recipe
Like your favourite chocolate shake with nutritional powerhouse cacao, the sweetness of dates and a kiss of vanilla. The maca powder gives it a hint of malted flavour.
Makes 1 serving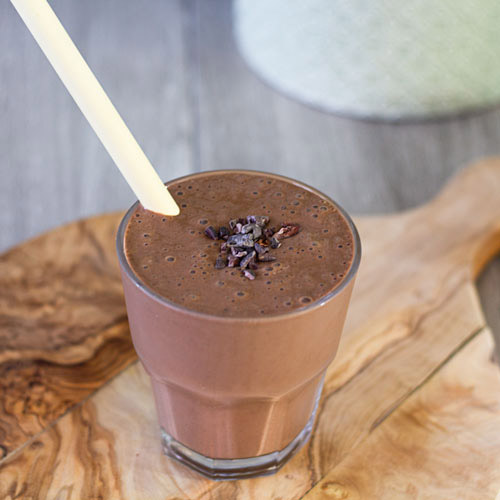 1 cup milk (dairy or non-dairy)
3/4 cup frozen banana
2 tablespoon cacao powder
1 tablespoon cacao nibs
1 teaspoon vanilla extract
2 pitted dates
1 tablespoon hemp powder
1 teaspoon maca powder
Blitz all ingredients in a blender until smooth and shakey thick.
We hope you are inspired to try these three healthy recipes for smoothies. Let us know how you get on. Our post on top ten acai ingredients looks at the benefits of some of the ingredients used here.
Don't forget to check out our range of smoothie ingredients, or buy your wholefood bulk groceries online.