How to make life easier with stunning smoothie recipes straight from your pantry
Although a smoothie made in a blender is a beautiful thing, there are times when you really need your smoothie recipes to be more grab and go. With a wide range of powders beyond the protein variety now available, it is perfectly possible to make all kinds of smoothies straight in the shaker or glass.
Let us talk you through the process so that you can create your own no blend smoothie recipes at home.
Step by step smoothie recipes straight from your pantry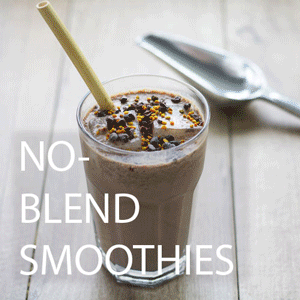 When creating blender smoothie recipes you make a series of decisions. When making smoothies without a blender you follow this same procedure yet think a little more carefully about how those ingredients will blend together by stirring of shaking. Consider what you want from your smoothie; do you want a refreshing fruity drink or something creamy and full of protein? Many superfood powders such as maca or hemp have quite strong flavours that blend best in sweet creamy concoctions, whilst fruit powders and berries such as acai or goji are well suited to the less creamy sharper end of the spectrum.
Step 1 – Choose your liquid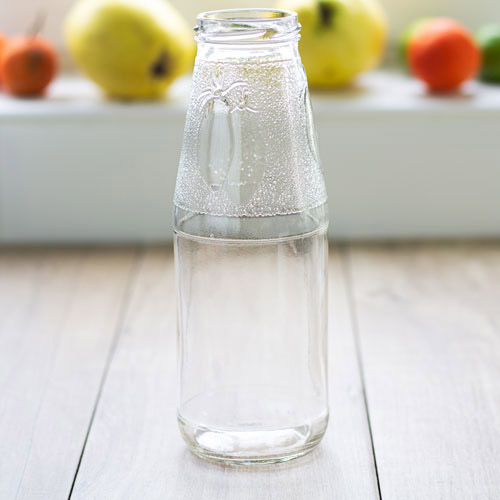 Depending on the overall result you want to achieve, there are so many options available to you. On the heavier milky side, you have the obvious choice between dairy or non-dairy. Non dairy milks tend to have a thicker texture so will affect the end consistency of your smoothie recipes. Coconut milk out of the can is the creamiest thickest option, and the full coconut flavour it brings can be quite decadent. You could also consider kefir, or just plain old yoghurt thinned down with milk or water.
On the non-creamy side think kombucha, cold teas, or fruit juice. Or even just water.
Here, we chose dairy cow milk.
Step 2 – Choose your fruit or vegetable powders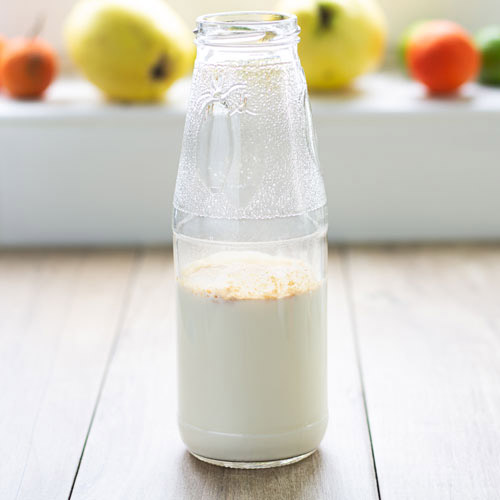 Again, you will have some idea of where you are going based on those original decisions. Because here we have taken the creamy route, we chose banana powder. There is absolutely nothing to stop you mixing any fruit or vegetable powder with a creamy liquid of course. Vegetable powders would go particularly well with yoghurt or kefir for example. And berries go beautifully with coconut milk. Mmm peaches and cream…
Step 3 – Choose your superfoods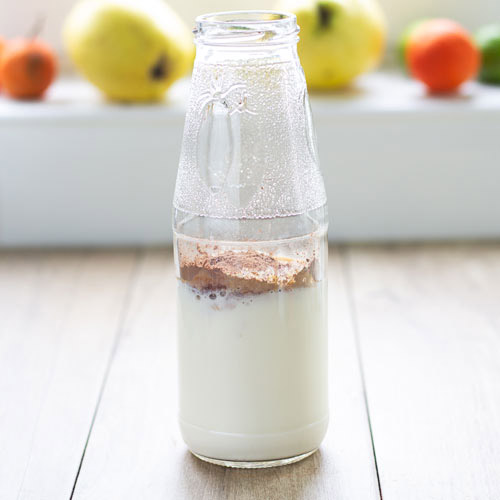 Not that fruits and vegetables aren't the original superfoods, but we are talking about all those little extras now available to us. Some superfood powders need a milky creamy base to taste their best. Maca, for instance, can be overpowering, but in a thick creamy banana shake it lends a hint of malty goodness. Hemp has a distinct flavour that can be almost grassy. Cacao goes with most things, but sits particularly well in creamier concoctions. Goji powder and acai powder are deeply fruity and acidic, so go particularly well with fruit juices, teas and kombucha. Don't forget that making great smoothie recipes is all about flavour. Chugging something down just because it is good for is not the aim here at all. So, superfood powders. We chose cacao, maca, and hemp to go with our banana and milk.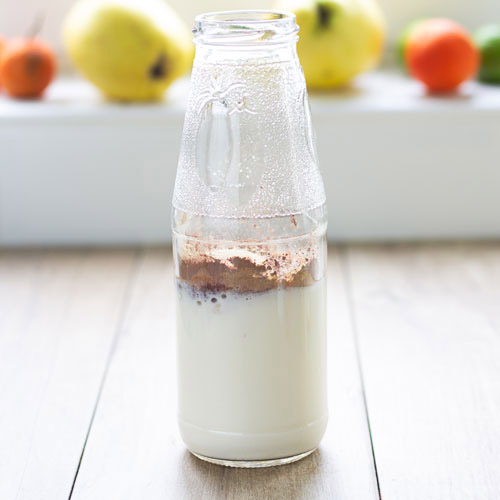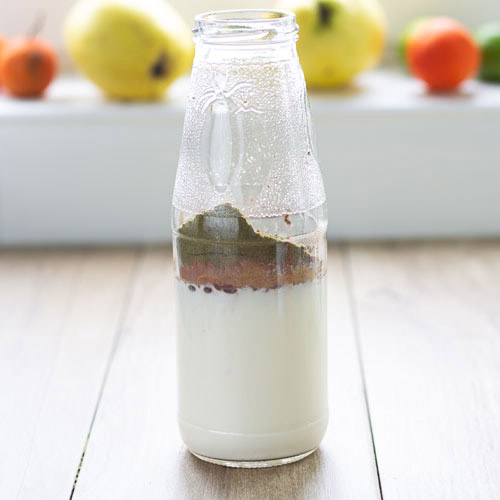 Step 4 – Choose any sweeteners and additional flavours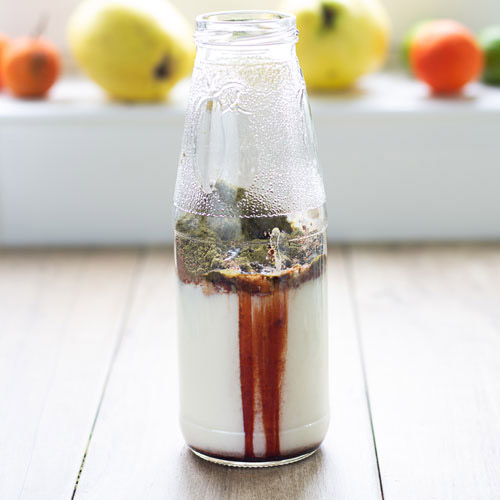 You may need to sweeten your smoothie to suit personal taste or simply to bring the best out in all the flavours. Maybe you want a specific flavour like mint, or rosewater. Maybe you want to bring in a bit of texture with a nut butter. Keep sweetener to a minimum to hold on to nutrient value and keep excess calories to a minimum, and choose all natural extracts.
Here we added a teaspoon of date syrup for sweetness, and a teaspoon of vanilla extract.
Step 5 – shake or stir
That's it. Shake or stir it all together until well blended.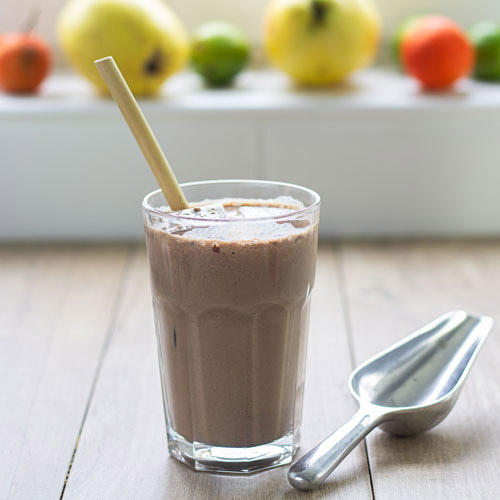 Pour over ice. You could pour it through a strainer to get rid of any small lumps of powder that did not so mix so well.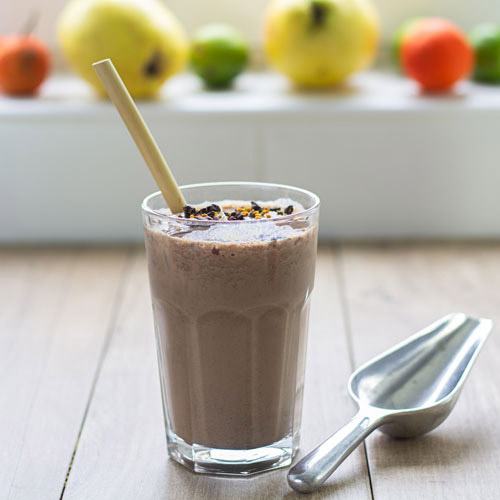 Add a garnish if you wish. Here we added a boost with cacao nibs and bee pollen. A bit of texture and some extra nutritional benefit.
We hope you learned from this post how easy it can be to think a little differently and make some fantastic smoothie recipes without the mess or fuss of a blender.
Head on over to find some fantastic no-blend smoothie ingredients on site, or buy direct from the wholefoods bulk store.