Make a healthy smoothie for kids with these three great recipes
Making a healthy smoothie for kids is more about increasing their fruit and vegetable intake than boosting with superfood nutrients. When we make smoothie recipes for adults, yes it is about getting in lots of the good stuff, but we also try to make every calorie count with nutrient boosts such as maca or goji.
Here we take some simple ingredients, and maybe a few hidden veg, to make some delicious child-friendly smoothies. Perfect for morning or afternoon snack time to keep energy levels up and little brains ticking.
Secret greens smoothie recipe
Sharp kiwi and mild sweet pear act as the perfect foil for the green goodness of spinach. You could use milk as the base to create a milder creamier smoothie, or just stick to water. You could use apple juice but that will up the sugar content for little teeth. Feel free to use fresh, frozen or canned pear; frozen will give a thicker, more frosted texture. You can add more or less liquid according to your child's preference. Instead of fresh spinach, you could substitute with a half teaspoon of our spinach powder. Straight from the pantry, it is an easy way to sneak in those hidden veggies.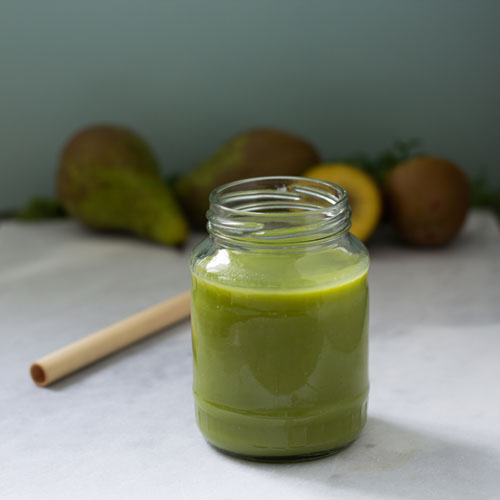 Makes 2 x 4oz servings
1 cup water or milk
1 cup pear chunks, fresh or frozen
1/2 cup baby spinach leaf
1/4 cup chopped kiwi fruit
Add to a blender and blitz until smooth
Tropical treat healthy smoothie for kids
Kids seem to love mango. Maybe its the sweet fruity flavour or maybe its that thick slippery texture. Whatever the story, it is all good news as mango is packed with vitamin C and other healthy goodies. You can hide a bit of carrot in here for extra veg; use juice or substitute with half a teaspoon of carrot powder. Again, feel free to use fresh, frozen or tinned fruit and adjust the consistency to your child's taste.
Makes 2 x 4oz servings
1 cup coconut milk
1 cup mango chunks, fresh or frozen
1/2 cup pineapple chunks, fresh or frozen
1/4 cup carrot juice
Add to a blender and blitz until smooth
Peach melba shake smoothie recipe
By using more milk to fruit, and even a spoonful of whey protein powder, you create more of a shake than a smoothie. Using frozen fruit will give a thick shake effect, like a burger shake made with ice cream. For a quick storecupboard fix you could use our fruit powder; substitute about a teaspoon of either the berries or the peach. If you wanted to use both powders, add more banana for texture.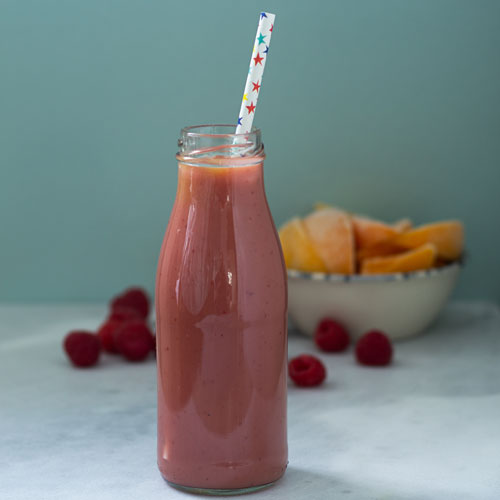 Makes 2 x 4oz servings
1 1/2 cup of milk
2 teaspoons whey protein powder
1/2 cup frozen raspberries
1 cup frozen peaches
1/2 banana
Add to a blender and blitz until smooth
To sum up, it is easy to get more fruit (and even veg) into kids and set them up with good habits for life.
Check out our range of smoothie ingredients that are perfect for the pantry, or head over to our bulk store for organic wholesale prices.