Organic Beetroot Vegetable Powder is Perfect for Healthy Breakfast Smoothies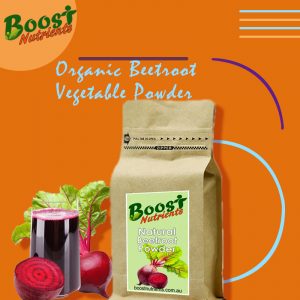 Organic beetroot vegetable powder by Boost Nutrients is perfect for healthy breakfast smoothies. It is manufactured from premium organic beetroot juice. Healthy smoothies can be easily made with the help of naturally dried vegetable powders. Besides this, it is ideal for an acai bowl and granola bowl toppings.  The products of Boost Nutrients are made under certain HACCP certified grounds and it is also manufactured from respective organic certified manufacturers as well as processors in which organic products are shown. Organic beetroot vegetable powder contains high nutrient retention and it is a gluten-free and allergen-free product. The ingredients of organic beetroot vegetable powder are 100% organic beetroot juice. It is rich in protein, fibre, calcium, minerals and vitamins.
Organic beetroot vegetable powder has a long shelf life if respective products are stored properly. This product is sealed in foil-lined resealable bags. Please never left the bags open as it may get expired due to absorbing moisture from respective air.
Visit Boost Nutrients website for more information to know more details about the product.  Book your favourite product now and get online discounts on this product.