Organic Peach Fruit Powder Perfect for Making Healthy Smoothies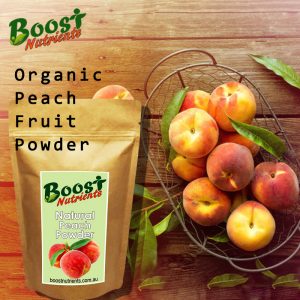 Boost Nutrients produce great fruit and vegetable powders, toppings for acai bowl, and smoothie ingredients. The Organic Peach Fruit Powder is very popular among and provides a superior taste and fine nutrition. Boost Nutrients utilize completely different technologies for drying products and it is generally made with low temperature with the constant process of evaporation that does not destroy nutrients.
Fruit Powder Re-hydration Rate
Understanding fruit powder re-hydration rate. Our Organic Peach Fruit Powder  has a high re-hydration rate. Add 572ml of water to 100g of this product to give 672 of re-hydrated product. So you can literally pull a fresh highly nutritious fruit juice out of your pantry to make the basis of your smoothie. Not fruit to fetch and carry and chop or squeeze?
Organic Peach Fruit Powder is produced from organic peaches which is perfect for making healthy smoothies. It is also an ideal for acai bowl and granola toppings. This Organic Peach Fruit Powder is GMO free, vegan friendly, gluten free as well as allergen free. It is rich in protein, fiber, vitamin E, minerals and more that helps to build natural immunity to resist illness. Organic Peach Fruit Powder contains no chemicals and other preservatives.