Organic Pepitas a Fresh Natural Super Food Helps Digestion and Boosts Nutrition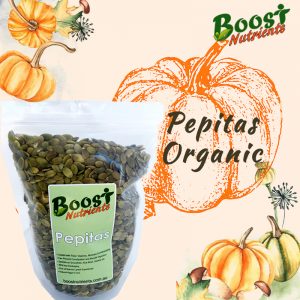 Boost Nutrients produce great smoothie ingredients, vegetable powders, fruit powders; toppings for acai bowl. Our organic pepitas are very much popular among them. They taste superior and fine and are easy to sprinkle on meal with a great boost to nutrition.
Organically grown Pepitas are rich in vitamins, fiber, antioxidants and minerals that helps to strengthen your immune system and so prevent illness. It is considered as a perfect superfood topping for smoothies and acai bowl.
It is generally utilized for nutritious breakfast smoothie as well as acai bowl ingredients.  Organic Pepitas can be sprinkled on acai bowl, salads, smoothies, oatmeal, cereal, chicken as well as vegetable platters. It is also great for stews and soups and it adds a superior consistency in cookies, puddings and several other desserts. Buy Organic Pepitas online now.