Spinach Vegetable Powder Prevents Oxidative Stress and Blood Pressure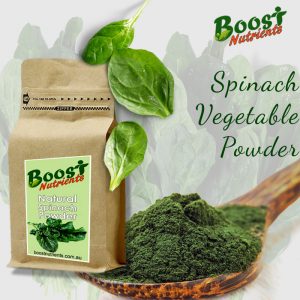 Boost Nutrients produce multi-varied items such as vegetable powder, fruit powder and several kinds of smoothie recipes. Boost Nutrients is basically an Aussie brand which consumes mainly garden-fresh raw ingredients, from Australia where possible, and it also consumes high-quality ingredients from respective overseas suppliers. The main goal of Boost Nutrients is to provide healthy energy drinks and meal toppings and to ease the respective process of producing smoothies.
Spinach vegetable powder is one of the vegetable powders that help to prevent blood pressure, cancer, and several other severe diseases. Spinach vegetable powder is rich in phytonutrients, antioxidants, flavonoids as well as carotenoids. It is produced by the process of drying whole spinach leaf pulp. Spinach powder is green in color and it has a mild flavor of spinach. Using this powder, people can make smoothies and juices of spinach. Moreover, it can be used in soups, salad dressings as well as savory dishes.