banana smoothie
now browsing by tag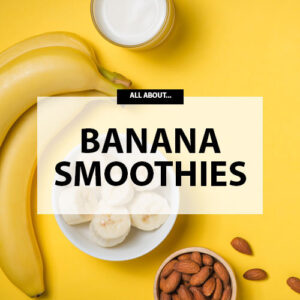 Bananas are one of the most used ingredients in smoothies, milkshakes and smoothie bowls. Their soft texture is instantly creamy and they have a sweet flavour that goes with everything.
You can make a banana smoothie with fresh or frozen banana or you can use a dehydrated banana powder for instant store-cupboard convenience.
We take a look at why bananas deserve superfood status, and the many ways you can use them in your smoothies.
Are bananas good for you?
Because of their sugar content bananas became a bit of a dirty word with the anti-carbohydrate crowd. Yet bananas contain both quick release sugars and slow release sugars so provide a great overall energy boost. Higher in calories than other fruits, they also provide more fat, more fibre and more protein.
Bananas are an excellent source of potassium which is essential for controlling fluid balance and blood pressure. A natural prebiotic, they also contribute to gut health by feeding the good bacteria in your tummy. Bananas also contain antacids which are why they are so good for indigestion and soothing an upset stomach. A great beauty food, they contain antioxidant lutein that boosts skin elasticity and controls sebum levels. Ripe bananas have higher levels of antioxidants.
One medium banana provides, on average, 105kcal, 0.4g fat, 10g sugars, 3g fibre and 1.3g protein. It is rich in vitamin B6 and C, biotin, copper, manganese, potassium, fibre and lutein.
Basic banana smoothie recipe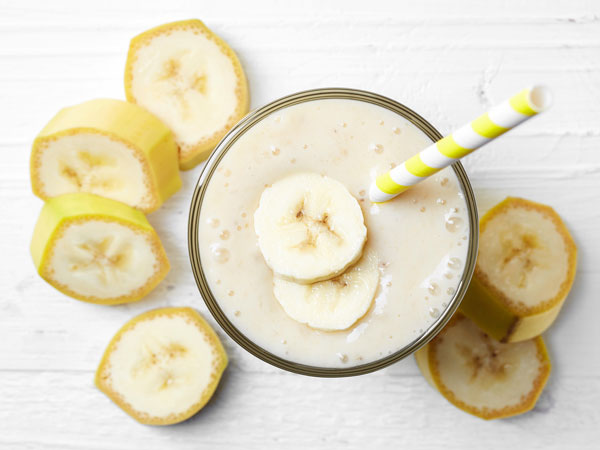 A basic banana smoothie is made from milk (dairy or otherwise) and bananas. Fresh banana will thicken and sweeten, whilst frozen banana will thicken, cool and sweeten. The frozen banana will have a less pronounced sweetness and banana flavour because the cold dulls the senses a little. Banana powder will not thicken, but it will flavour and sweeten. It also contains all the nutritional value of a fresh banana.
For a basic banana smoothie
1 cup milk
1 banana, frozen or fresh
or
1 tbsp banana powder
Banana powder, and other powders, are useful if you don't have a blender. Just put the ingredients in a shaker and shake to blend. Or put them in a bowl and whisk together. Other ingredients such as peanut butter, vanilla extract, or seeds and grains such as oats or chia, can also be added without a blender.
Make your banana smoothie more interesting by adding…
Mango
Add fresh, frozen or powdered mango to your smoothie. Not only will it add extra tropical flavour, but is also full of antioxidant beta-carotene and vitamin C. Mango is also full of fibre and a good-for-your-gut prebiotic.
Nut butter
Adding a nut butter such as peanut butter to your banana smoothie will add a lovely creamy nutty texture and salty flavour. Nuts are high in essential fatty acids and are super good for your skin.
Berries
Berries bring additional fruity flavour and you can add them in fresh, frozen or powdered form. Full of antioxidant plant power, berries are immune boosting, inflammatory fighting superfoods.
Oats
A few tablespoons of oats added to your smoothies will help to thicken and add extra creamy texture. Oats will slow down the release of blood sugars and lower LDL cholesterol levels. They also add as a natural sedative. Oats are the original comfort food.
Protein powder
Protein powder will help to thicken your smoothies and help keep you feeling fuller for longer. Choose dairy or non-dairy but the nutrient values will differ.
Maca
Maca powder has a unique malty flavour that goes particularly well with bananas and milk. It is a powerful adaptogen that helps to balance stress and hormones as well as enhancing energy.
Chia seeds
Chia seeds will help to thicken your smoothie and boost the levels of essential fatty acids and protein. Leave it to stand once mixed in order for the chia seeds to swell.
Cacao
Cacao, the raw form of chocolate, goes well with banana and turns your banana smoothie or shake into chocolate heaven. Don't be put off by the fact that it is raw as the flavour is actually less bitter than cocoa powder. Or you could add cacao nibs for crunchy texture. Either way you get a healthy dose of powerful antioxidants.
Honey
You can add extra sweetness with a spoonful of honey, or add an interesting crunch with bee pollen. Both have a range of natural nutrients than can only enhance the quality of your smoothie.
Vanilla
Vanilla adds a comforting sweetness to anything, especially banana. Use good quality extract. Freshly grated nutmeg also gives a comforting sweetness to the milk/banana combo.
You could choose just one of these elements to make your banana smoothie more interesting, or combine a few. The variations become endless.
You will find these smoothie ingredients and more here at Boost Nutrients, or head over to the online store to buy bulk food online.