gluten-free
now browsing by tag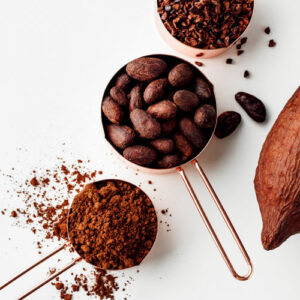 If you are simply avoiding gluten, then discovering that some ingredients may contain trace amounts of gluten is not such a major thing. But if you have coeliac disease, or are cooking for someone who does, then you need all the knowledge that you can get.
The most recent food to be called into question for its gluten content is cocoa powder.
So, is cocoa powder gluten-free?
When it comes to gluten, some foods are more obvious than others. We all know that most baked goods, traditionally made with wheat flour, are a no-no. Then there are the stumbling blocks, where we just aren't quite sure. Like the gluten content of oats, for example…
Yet most often it is the hidden perils of food processing that are to blame. Cross contamination of gluten is a big issue, as is the use of gluten containing foods as fillers and flavorings. The use of gluten in lollies is a prime example.
Basically, the further you get down the processing chain, the more likely it is you will find added (or even hidden) gluten in your food.
Does chocolate contain gluten?
The most processed form of cacao is chocolate. And let's face it, the reason that we choose to add cocoa powder to our food is to make it taste of chocolate. We may not want the additional fats, sugar, dairy or even gluten, but we do want that glorious chocolate hit.
There are degrees of processing in chocolate, from the small-batch artisanal bars to the mass-produced big brands. Some, made with the fewest ingredients in a certified free-from-contamination zone, may be gluten-free. These are the high quality chocolates made from cocoa liquor, cocoa butter, and sugar, with perhaps added milk or cream. Whilst likely to be gluten-free, particularly on the ingredient front, it is a sad fact that the smallest artisan producers are the least likely to have the financial resources required to invest in gluten-free certification.
Mass produced commercial chocolate is more likely to include gluten-containing ingredients. Powdered milk, soy lecithin, and even vanilla extract are all known to have been contaminated with gluten.
Is soy lecithin in chocolate gluten-free?
Soy lecithin itself does not contain gluten. But it may contain residues used in processing, or even additives that do. And these may not be on the label. Used as an emulsifier, lecithin helps to bind and hold the ingredients in chocolate together for a smooth mouthfeel.
Many coeliacs report sensitivity issues with soy lecithin, whether through gluten contamination or other related issues.
Is cacao gluten-free?
Cocoa powder has long been thought to be a safer option for coeliacs than chocolate, as it should contain one ingredient only. Cacao. Essentially, cocoa powder (and cacao powder) is cocoa liquor with the cocoa butter removed. Cacao nibs are crushed cocoa beans, with the cocoa butter content left intact. We explore the differences between cacao vs cocoa in this article.
Most gluten-free organisations recognise cocoa powder as a gluten-free ingredient, and advise as such. However cross contamination can occur, and most products (unless certified gluten-free) will carry a disclaimer as such. Cocoa powder is a different thing to drinking chocolate, or hot chocolate powder. Once fairly benign, these products are now highly likely to contain gluten in the form of thickeners and fillers.
Raw cacoa, in the form of cacao nibs or cacao powder, is the least processed cacao product of them all. Not all brands will be certified free from gluten contamination, but it is the closest to the natural cacoa bean that you will get.
Explore our range of superfoods and buy all your smoothie ingredients direct online.
---
This article was reproduced on this site with permission from operafoods.com.au the "Online Asian Wholesale Grocer".
See original article:- Is cocoa powder gluten free?