kombucha
now browsing by tag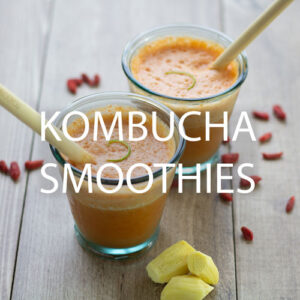 One of the best ingredients for a smoothie, kombucha is an excellent way to bring an interesting twist to your smoothies and acai bowls.
Kombucha is said to offer many health benefits whilst the fizzy texture and sweet sour flavours can bring endless interest to your smoothie recipes.
A mildly fizzy sweet/sour drink made from fermented tea, kombucha is brewed by adding a live culture, known as a scoby, to sweetened tea. A live mixture of bacteria and yeasts, this converts the sugar into a very small amount of ethanol and acetic acid. This accounts for the slightly vinegary taste. People have been drinking fermented tea for thousands of years and it is through increased interest in gut health that we are seeing a revival.
What are the health benefits of using kombucha as a smoothie ingredient?
Kombucha is one of the best ingredients for a smoothie for digestion because kombucha is an excellent source of probiotics. Live organisms that can improve digestion, probiotics help to balance the gut flora. Made from green or black tea, kombucha is also full of the antioxidant benefits these teas provide.
How can I use kombucha as an interesting ingredient in my smoothies?
Kombucha adds interest in the form of fizz. It also brings a sweet yet sharp taste. It makes an excellent alternative to water, juice or milks as a base. When added before blending, the result will not be fizzy but the bubbles form a nice cappuccino style froth on the top. Poured in as a top-up after blending, kombucha adds a nice fizzy edge. Try mixing fruit powders straight into kombucha for a quick nutrient boost.
Because kombucha comes in a range of flavours, you can make interesting combinations. Try mixing peach and goji powders with mango flavoured kombucha. Or add acai powder to apple and pomegranate. In the recipe below we use ginger kombucha alongside fresh ginger. Ginger is also know for its digestive properties so its a double whammy.
Recipe for pineapple and ginger kombucha smoothie
A refreshing blend of pineapple, lime and ginger with a hint of mint. Boosted with goji berries for extra antioxidant action, and enlived with the pep of ginger kombucha.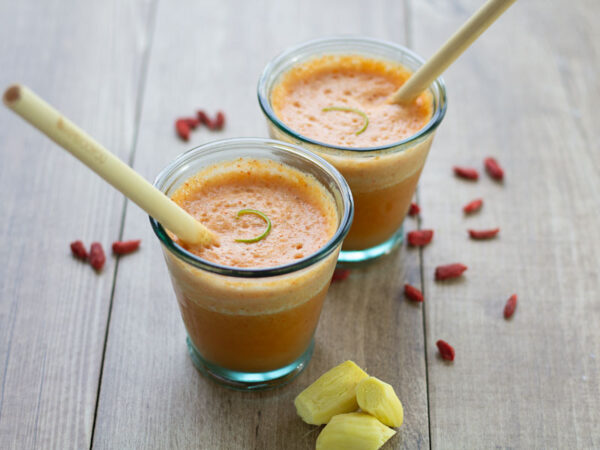 Makes 2 x 150ml servings, or 1 x 300ml serving
1 cup frozen pineapple

1 inch peeled fresh ginger

1 teaspoon lime zest

1 cup ginger kombucha

1 teaspoon goji powder

2 sprigs fresh mint
Blitz all of the ingredients in a blender and serve.
If you haven't tried using kombucha in your healthy smoothies and shakes, why not give it a go?
We have many other great smoothie ingredients and you can buy bulk food online at our wholesale store.