smoothie recipe
now browsing by tag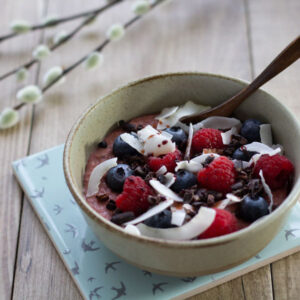 With a few well chosen ingredients you can make a delicious and healthy bowl smoothie in minutes. No chopping. No blending. Which means no fuss, and no mess! Our recipes are all tried and tested because we believe that healthy eating should be about delicious food that puts a smile on your face. No more face pulling at the thought of a green smoothie, or chugging down breakfast because it is good for you. Easy to follow, step by step deliciousness.
Step-by-step recipe for super quick berry bowl smoothie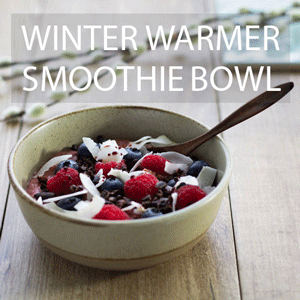 Step 1
Measure 30g porridge oats into a bowl. Because this recipe calls for a quick method (ie microwave) you will need oats that say quick on the packet. These are just like regular oats, but are milled more finely. You can of course use regular porridge oats but they may not be suitable for microwave. In fact you may just end up with exploding milk so be warned. You could also use a porridge blend like our 5 Grain Organic Porridge, but you may need to cook on the stovetop.
Step 2
Add 180ml coconut milk. For a creamier coconutty porridge you could use canned coconut milk, or the creamed coconut that you rehydrate yourself. For regular milk, without the dairy, then go for coconut milk in a carton from the fridge.
Step 3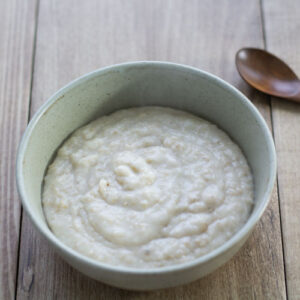 Microwave on full power for 2 mins. Stir. Again, bear in mind the above notes on the type of porridge you use. There are plenty of other base options for a healthy quick smoothie, something we will run through in another post. If your porridge is a little on the undercooked side, give it another minute.
Step 4
Add 1 teaspoon coconut oil. You don't have to do this. There are plenty of essential fatty acids in the flaxseeds, but it does give an extra rich boost to your bowl smoothie if you are hungry or simply feeling decadent.
Step 5
Add 2 tablespoons flaxseed powder or our LSA mix. A blend of linseed (aka flax), sunflower seeds and almonds, it gives a nutty boost as well as added texture.
Step 6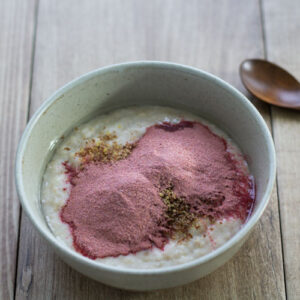 Add 2 teaspoons berry powder, acai powder; or both. Either way you will be bringing maximum berry flavours to your bowl smoothie with minimum effort, and a whole bunch of antioxidant goodness too.
Step 7
Stir to combine.
Step 8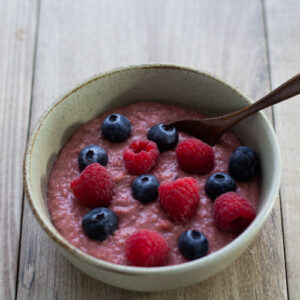 Garnish with berries…
coconut flakes…
cacao nibs…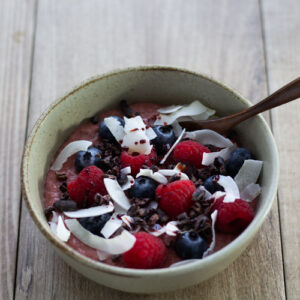 …and finally a flourish of date syrup.
That's how quick and easy it can be to maximise nutrition, and flavour, at breakfast (or indeed any other) time.
You can find lots of lovely smoothie ingredients here at Boost Nutrients or why not bulk buy food online at wholesale prices from our parent company gourmet store.?