Are Fruit Smoothies Healthy?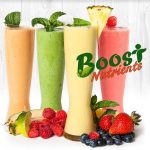 A fruit smoothie is made up of purely whole fruit powder and sometimes diary product such as a little soy milk or a nonfat diary. They are very nutritious and healthy for our body. It provides extra boost of minerals and vitamins to our body as it is made up of crushed fruit skins and pith.
The most nutritious fruit smoothie is the Berry Banana. The ingredients required are 1 ripe banana, cut into pieces, and two cups of berries (mixture of blueberries and strawberries), ½ cup of crushed rice, 2 cups of plain Yogurt and ¼ cup of honey, then you put all of them into the blender and blend them and your berry banana smoothie will be ready. As the Berry Banana smoothie contains strawberries, blueberries and banana they are very rich in Vitamin C and antioxidants.
The benefits of having a Fruit smoothie as your breakfast is, it increases metabolism boosting and further aids in weight loss and diet maintenance.