acai berry powder
now browsing by tag
Organic Acai Powder by Amazon Power, available from Boost Nutrients is 100% pure acai fruit freeze dried. Organic Acai Powder truely is a magnificent concentrated natural food supplement. The perfect way to boost your nutrients with an easy healthy breakfast.
It is termed as an antioxidant power house and it contains no preservatives. Amazon's Organic Acai Powder is ideal for a home made acai bowl or granola bowl topping and for smoothies and juices.
This Organic Acai Powder 250g is a magnificent concentrated natural food supplement. Our high quality Organic Acai Powder helps to develop immune system of individuals and will increase your energy. It is rich in protein, fiber, carbohydrates, minerals and vitamins.
Opera Foods delivers Organic Acai Powder to Consumers Direct and to retailers in Brisbane, Sydney and Melbourne overnight along with our Boost Nutrient brand products. Boost Nutrients also provides consumers directly from our online store.
Visit our online organic store for more information. Book your favorite product now and get online discounts on this and many other products.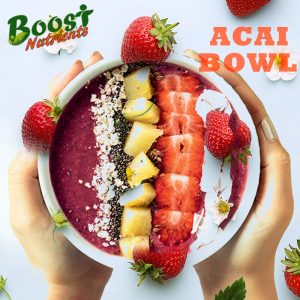 Boost Nutrients are an established brand, who provides powdered Fruits & Vegetables for smoothies along with protein powders, healthy cereals, organic ingredients, and café foods.
There are numerous superfood toppings available with us that can be used to make Acai bowl ingredients, Granola bowl, and Smoothie bowls. These will make your breakfast healthy as they will be loaded with anti-oxidants which will improve our cholesterol levels and boost brain function. Acai bowls are filled with vital vitamins which prevent wrinkles, dark spots, lines, and dryness on face.
Boost Nutrients are an Australian owned company; all our products are Australian made from real pulp of vegetables and fruits with a unique low-temperature drying processes.
To avail discounts and offers, buy through Boost Nutrients or its parent company Opera Foods.