Acai Powder Match Powder
now browsing by tag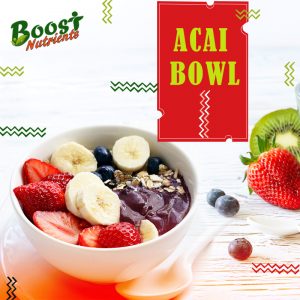 Acai Bowl is a variation of Smoothie Bowl. The main ingredients in an Acai Bowl are pureed Acai Berry (also available as powdered acai berry puree), then they are topped with Granola and sprinkled with goodies. Boost Nutrients offers a large amount of acai bowl or acai porridge ingredients which can be found in our online store. The choice of the toppings can be selected according to one's taste.
You can create your own Acai Bowl with our quick and easy acai bowl recipe. You can buy the Organic Acai Berry Powder which is easily available in our online store. Add some mixed berry powder and add one fresh banana or banana Powder, to create a thick smoothie. Then add some protein powder into the mix, you can add the Hemp nutrient powder. Mix the mixture and add a bit of nut butter for taste. Finally add various toppings in the Acai Bowl like Chia Seeds, Coconut Chips, Pepitas, and Sunflower Kernels. Blend all of it together and you have the perfect healthy breakfast ready within some minutes.
You can buy all the ingredients and toppings through Boost Nutrients or its parent company a wholesale food Suppliers, Opera Foods.