beetroot powder
now browsing by tag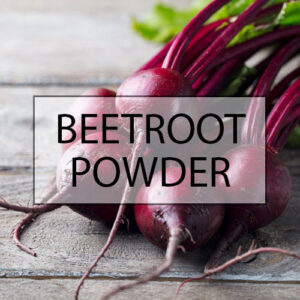 Beetroot powder has long been used for its sweet flavour and vibrant red colour. Once the best kept secrets of pastry chefs and food manufacturers it is now popular as a nutritional supplement and superfood ingredient.
Is beetroot good for you?
Beetroot is a root vegetable that looks something like a turnip. Brightly coloured, not all beetroots are red, yet most beetroot powder is made from the red variety. It is actually a relative of spinach.
Red beetroot are home to a unique group of antioxidants known as betacyanins. Their main role is to support the liver, purify the blood, and improve circulation.
It is also rich in B vitamins, Vitamin C, and folate, as well as minerals potassium, manganese, magnesium, and iron. Not to mention fibre.
So yes, in short, beetroot is pretty good for you.
Beetroot powder benefits
Beetroot powder is a great way for those who don't like beetroot to benefit from its substantial array of nutrients. Even if you do like beetroot, it is heavy to carry and a nightmare to prepare. Just one teaspoon of beetroot powder is the equivalent of 1 beetroot. It won't go soft in the vegetable rack and needs no further thought than a quick stir into whatever happens to be going on in the kitchen at the time.
Beetroot powder ingredients
Beetroot powder is literally just that. Whole beetroot with all the water removed. Dehydrated and ground to a powder. All the fibre, all the nutrients; still there.
How to use beetroot powder
The complex flavours of beetroot make it a really versatile ingredient. Earthy and sweet, with slightly bitter tones, it sits happily in both sweet and savoury dishes. In sweet dishes it pairs particularly well with berries and also chocolate. Try pairing with our organic berry powder for a double dose of pink, or with raw cacao powder.
You can pretty much stir a spoon or two into anything. It dissolves readily in water.
Mix with water, juice or milk for a simple shake or add to smoothies for a nutrient boost. Make a beetroot pumpkin spiced latte. Or a decadently pink hot chocolate.
Try adding to dips and sauces. Beetroot hummus anyone?
How to use in baking
Beetroot powder is ideal for baking, with its earthy sweetness and bold pink colour. It is the perfect addition to red velvet cake and also a classic twist on chocolate cake. It can lose its colour due to oxidation though so don't expect everything to be a perfect pink. A touch of acid such as vinegar goes a long way to preventing oxidation and keeping the colour though.
Try adding to your pasta dough, bread dough, pastry, cakes or cookies. Or you could make some pretty yet powerful beetroot bliss balls.
How much can I eat per day?
You would be surprised how much power just one teaspoonful of vegetable powder can have, so start off small and build up to 4 or 5 teaspoons a day.
If you want to buy organic beetroot powder then you have come to the right place. We are a major stockist of superfoods in Australia, so check out the rest of the range.
Beetroot is a bonafide superfood. To find out more about superfoods, read our in depth guide…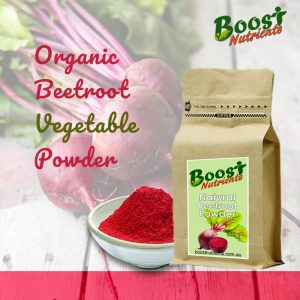 Organic beetroot powder is a vegetable powder product of the Boost Nutrients brand. Boost nutrients are the distributors of respected superior quality food powders to retailers as well as cafes.
Boost Nutrients is conducted and owned by an Australian Family Food Business Opera Foods. Organic beetroot vegetable powder is basically allergen-free as well as gluten-free. Healthy and nutritious smoothies can be produced with the help of organic beetroot powder.
Healthy smoothies can be regarded as a healthy breakfast as it contains protein, carbohydrates, sugars, sodium. It contains high nutrient retention owing to the unique process of drying technology. It is produced from the natural pulp of organic beetroot. It helps to increase immune power as well as the vitality of an individual. Its another vegan food ingredient for vitality.
Our 500g bag is pictured and also available in 100g pouch for consumer direct orders.
Buy it online from Opera Foods, Australia's wholesale cafe foods suppliers.