Coconut chips organic
now browsing by tag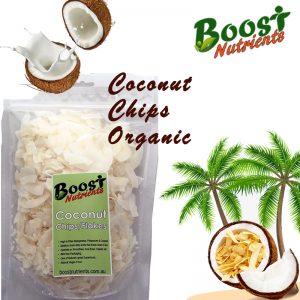 Organic Coconut  Chips is another prime acai bowl ingredient product of a Boost Nutrients brand. Boost nutrients are organic food and ingredient distributors and suppliers to Australian retailers and groceries. Opera Foods are the parent company of Boost Nutrients.
Shaved Organic Coconut  Chips contain protein, fats, carbohydrates, sugars, sodium all natural wholefood goodness that helps our immune system to resist against illness.
Organic Coconut Chips an ideal ingredient
Organic coconut is an ideal food for morning breakfast and snacks that can be taken with muesli or granola, moreover, it can be used for the purpose of baking as well as desserts and sometimes as a garnishing for an exotic dishes.
The highly nutritious acai bowl, as well as smoothies, can be topped with the help of Organic Coconut  Chips. Organic Coconut  Chips are rich in zinc and other minerals that help to advocate the natural defense system of an individual. It aids to control blood sugar as well as cholesterol level of an individual.