Fine Food Distributors
now browsing by tag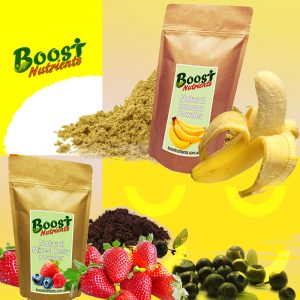 Boost Nutrients has a range of fresh powdered fruits and vegetables which are highly concentrated and rich in nutrients and vitamins. We are a local Australian brand who provides high-grade smoothie ingredients for healthy breakfast smoothies.
All the products of Boost Nutrients are made in a unique way so that the rich puree of the fruits and vegetable is dried out. We have a variety of fruit and vegetable powder in our online store all equally consisting of its essential vitamins and benefits. As consumers, we are trying to make our diets healthier with natural and organic products. Fruit and vegetable powders are a great source of vitamins and minerals along with protein and fiber.
The Mixed berry fruit powder and the Organic Banana fruit powder are highly recommended products because of its high nutritional value.
See our full range of smoothie and acai bowl ingredients and toppings in our group online shop to get more detailed information about our products.