organic carrot powder
now browsing by tag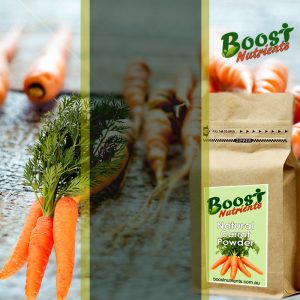 Boost Nutrients offers a wide range of Fruits and Vegetable Powders online. These ingredients are used to make healthy breakfast smoothies which are super healthy. All our products are manufactured and packed under the HACCP certified conditions, using organic and high-grade Australian products where possible. All of the Boost Nutrients products are gluten and allergen free. They are pure and natural which contributes high nutritional value to the diet.
The Australian Organic Carrot Vegetable Powder is a stand-out product among our range of fruit & vegetable powders. They are made from Australian carrot juice, this super powder can be used as toppings in Acai Bowl or granola bowls.
Carrots are a good source of Vitamin A, which is one of the most powerful antioxidants. It helps in the surface protection of our eyes and empowers us with a strong vision. It also wards of small eye disorders if taken regularly.
Organic Australian Carrot Vegetable Powder is highly nutritious ingredient for any healthy meal. You can store it conveniently in your pantry and serve with no preparation or mess.
You can avail the Australian Carrot Vegetable powder in two easy to carry packs. Our 100gm pack is perfectly suited for your home pantry. Whereas if you want to order it in bulk you can order our 500gm packs.
Visit the online store of Boost Nutrient's label partner Opera Foods. ( Wholesale food suppliers to Sydney Melbourne & Brisbane). Book carrot powder among your first order of Acai Bowl & Smoothie Ingredients for a healthy and nutritious breakfast diet.