smoothie
now browsing by tag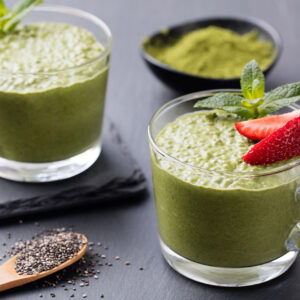 A matcha tea and chia smoothie is an easy healthy breakfast and a combination that you can easily keep in your home pantry.
Use 3 teaspoons of Chia seeds to 1 teaspoon of Match tea Powder. Preparation is easy just add water and stir. The gel that forms around Chia Seeds is due to soluble fibre in the chia seeds
About Match Tea
Matcha is a highly nutritious concentrated tea powder made form the whole of the tea leaf making it an antioxidant powerhouse . Matcha is high in epigallocatechin gallate (EGCg) the cancer fighting catechi. Whereas Chia seeds are high in vitamins, minerals and antioxidants.
Chia Seeds
Chia seeds can soak in up to ten times their weight in water. This helps in maintaining the proper level of hydration and electrolytes in your stomach and actually optimize your body's ability to effectively absorb other nutrients. Chia seeds have an extremely low glycaemic index of 1, (below 55 is considered low) and actually helps to lower the rate at which other carbohydrates are converted to sugars.
Your Chia and Matcha smoothie is another example of simple clean eating of natural foods that are chosen to focus on boosting nutrients and sustaining energy levels.
Buy Pep Tea Brand Organic Matcha Tea through this website along with Boost Nutrients brand Chia Seeds.